Epicor:Sticking to Mid-market and Stepping for Success
On May 13th 2014, Dr. Pei Huang had an interview with Mr. Erik Johnson, vice president, technical strategy for Epicor and Mr. Craig Charlton, senior vice president, Asia Pacific operations for Epicor. They analyzed advantages of Epicor ERP 10 in addressing enterprises' changing business requirements and shared their insights and view for Chinese manufacturing management software market. Based on mid-market, Epicor has keeping a steady growth. With this milestone oriented product Epicor ERP 10,I believe Epicor will have a fast growing in the future.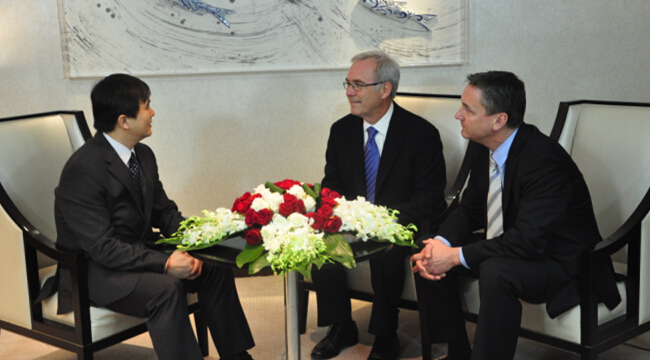 Dr. Pei Huang interviewing with Mr. Erik Johnson (Middle) and Mr. Craig Charlton (Right)
Huang: Today we will talk about your new product Epicor ERP 10. I would like you two to share your view about the trend of management software globally and also in Asia Pacific area. So let's start. First question is please share your view about the status and trend of global management software market. In your view, which are the growing factors of global management software market and especially for manufacturing industry?
Craig:
You start with the global trend?
Erik:
sure, I'll start with the global. First of all, Software like ERP is becoming more important. There are opinions sometimes maybe ERP is too big, too old, and too fragile to survive in a dynamic changing business environment. A lot of products do need to be re-architected as we've done in some ways. ERP is extremely important because smaller manufacturers are being born every day. They need every bit of the same complexity of software as big manufacturers. It's putting a new pressure on ERP to be an agile platform and that's we've done with Epicor ERP 10.
Huang:
So that means the software should be more flexible and can extend the functions more easily.
Erik:
yes, because a lot of businesses can't tell you where they will be in two years. They can't tell you which business processes will win or lose. So it's very important that software make inventing new business processes easy.
Huang:
Right now, there are some new technologies and a lot of new trends on Internet. I'm sure you have used this type of new technologies.
Erik:
The internet is extremely important to ERP. First of all, the internet has taught many people how to use software for the first time. A lot of people use e-mail, social collaboration like Weibo, Facebook and YouTube, and applications on iPads and iPhones, mobile technologies. Enterprise software needs to harness those skills that have been learned naturally today and make the software more appealing for users to use.
Craig:
I think that there's an expectation particularly from kids coming at university that when I approach software applications, it's going to behave like an app, because they are so used to have something which they can download and consume very easily. If you look at traditional ERP, it's very big and very complex. You have to takes weeks of training to get someone up to speed. In those days, need is behind us. We need to have a special new era where the applications are very approachable, they are very easy to use, and concepts like social which something we built into Epicor ERP 10. It becomes crucial in terms of helping people assimilate with ERP very easily.
Huang:
Epicor focus on mid market, but actually to some extents, it's a little bit dangerous because there are other vendors also focus on mid market. If some companies become larger maybe they will move to some large ERP solutions. So, what's the strategy of Epicor to compete with other mid-market vendors? I think one of your advantages is that you have some new technologies and you have very good cooperation with Microsoft and use very good technology. Are there any other factors?
Craig:
I think the other thing is the power of hardware increasing in such a rapid pace and what we've done with Epicor ERP 10 is we massively increase the scalability. So there is a very small number of companies which are outside of the ability of Epicor ERP 10 to scale. We've been increasing scalability from previous version of Epicor ERP by 4 times. What we expected is as our customers grow they don't need to get to point where they go off and buy a monolithic ERP big end of the town application. I think, with the scalability that gives us a much broader range, so yes we can start the SMB market and we can also grow up to a very high-end market. The thing continues to make us unique is our ability to mold the application to suit the changing business. The concept of best practice which is something that banded around by ERP providers everywhere, best practice is a journey not a destination. I think that is something important in your ERP system is to underpin the ability for you to change and mold. Particularly at the big end market, they still need to be relevant, still need to acting like smaller companies more agile, flexible and innovative etc. The ERP has to support that and I think that's one of our key differentiators.
Huang:
So what's your view?
Erik:
The scalability improvements in Epicor ERP 10 are huge and thousands of users are easy to accomplish on standard hardware. We have pinged the core performance to 1.6G HZ cores which you find in the cloud, for example, to make the product easier to use in the cloud. We are certifying all the different virtualization technologies and big companies like all of that. They like these virtualization to create a fabric of processing power and deploy ERP across it. So, that's great and we can build very huge instances of Epicor ERP with thousands of users. But our other chief advantage is being able to have multiple ERP instances for companies that are widely distributed. Especially manufacturing when we talked about acquisitions, manufacturing plants come together but they do not often harmonized very quickly get the same item codes, part numbers, and customer information, and all that takes time and expense to get synchronized completely. So a lot of enterprises want to keep loosely coupled, distributed ERP systems available in that scenario as well. We are extremely good in that distributed scenario.
So, you are right about the mid-market. The mid-market is tough because you need to be a very good product for small companies, but you also have to be extremely good for big companies. You have to be specialized in both which is making for a very interesting product.
Huang:
For SMB companies, the advantage for Epicor is that you can support longer for them to grow into a big company. For large companies, if they use Epicor they can still have very good functions, ease of use and is quicker than some other big vendors.
Erik:
Yes. Craig has mentioned some of this little before. Small companies need an ERP system to outmaneuver big competitors to be able to change direction very quickly and understand whether they are making money and controlling costs. Big companies grow by replicating their business processes quickly as they acquire and expend.
Huang:
Right now actually The management software suite of Epicor has not only included ERP but also MES, SCM, PLM and CRM, etc. Please introduce the product strategy and several customer references of using Epicor component, not only ERP but also others.
Erik:
I spend most of my time on the technology for example MES and look at how companies really want to bring machine information and ERP together just making sure that it is a holistic solution meaning that it's not just production schedule, quality management and preventive maintenance, it's bi-directional so that we can push plans out to the machinery and machines can come back and tell us about quality and management etc. Then we can use all these information in analytics to help drive efficiency of the production process. That has probably been the No.1 reason that companies want a very tight integration between MES and ERP. I know Craig has seen that opportunities in that space as well. It's exactly what companies need to do.
Craig:
I think our strategies always been that we want to own as much of that functional stack as we possibly can. From the shop floor to the top floor, we want to own everything because of the cost of administering and burden of trying to pull together multi applications. It's not one business want be doing. They've got enough on their plate that they don't have to worry about the on-going cost and headache of integration. We do have MES right through SCM and manufacturing to the financials and analytics. We want own that stacks that we can make life easy for our customers and out suite delivers a lower total cost of ownership. In terms of references, we have a lot of great customers here in China. Borch machinery is a good example and its CEO told us a story of growing rapidly without having putting more headcounts because of the use of our technology. LX Precision at Shanghai who makes components for BMW in the automotive industry is very successful. We have toy manufacturing customers, and Peer bearing once again in Shanghai. Lots of these references take advantage of our full suite essentially. With MES, there's a recent acquisition we bought that into Epicor ERP 10, so it's fully bi-directional integration. We have already seen success from that because there's lot of customers looking for ways becoming more efficient and ways taking people out of process. When you can integrate real-time to the second information from the machine and to the machine, wrap up to the supply chain. That's critical. We expect to a good tail wind from that new acquisition.
Huang:
Let's move to Epicor ERP10. You have taken years move from Epicor ERP last version to Epicor ERP10, about 6 years. You must have some breakthrough in technology. So Erik, please introduce the key breakthrough. I think it's a very important milestone for Epicor.
Erik:
Yes. Epicor ERP 10 is a huge milestone for us and for our customers as well. It's an interesting release as far as ERP releases go because it wasn't so much focused on new modules, new markets, and expansion. It's about putting ourselves in a really solid position for our customers to make easier for them to run ERP systems and for Epicor to build our next ERP system on new modules and capabilities. We just talked about process manufacturing a moment ago. The reason why our Asia Pacific team were able to do more processes manufacturing is because the architecture. "Last mile development", as they say, being able to add new things to an ERP system that may be headquarter never thought of or didn't get the time abundance to do, but making that viable is our No.1 architecture goal. It's been proven numerous times in these cases. But in the six years since Epicor ERP came out, really on the last two years were spent really working on the Epicor ERP 10. The first three to four years were research & development with very small number of people. This is the right way to the project like this. The objectives were extremely disciplined. We need to make sure the barriers from moving last version to version 10 are very low. The customers should not have to buy any hardware, should not have to spend money on new infrastructure, and should not have to retrain users. That's make sure IT can move to a new ERP system. The only thing the users notice is that it's a faster system. That was our goal. By architecting completely on Microsoft .Net, we are able to optimize the entire application from performance standpoint, making it extremely easy to install, deploy and manage because the IT scale sets are very common for Windows SQL server. Our customers just really enjoy having less complexity and higher performance.
Craig:
One other thing that I love Epicor ERP 10 is that with Epicor ERP we provided an embedded toolset that our partners can use. In Asia Pacific, our potential can only be realized when we have a very vibrant partner network which we do at the moment. What Epicor ERP introduced was the ability with embedded toolset to be able to extend the application. When I look at every industry, there are lots of industries with very particular requirements, so our aim is to essentially go, find, and skill up those sorts of partners who can actually own a particular vertical market. Epicor ERP made that possible and Epicor ERP 10 makes it easy. I suppose one of the principle reasons is that Microsoft .Net skills are very easy to find for anyone coming into the university. We've set up China Technology Center (CTC) in Guangzhou and that's been very successful. One of the key drivers there is to provide a backstop for a partner ecosystem to develop for particular verticals. We've got partners specializing in mining, apparel and footwear, toy manufacturing, and real estate management. These partners have a lot of inherent skills but they may have an old legacy application which wasn't going anywhere so they need to rebuild that expertise on the new stack with the next generation technology, Epicor ERP 10 makes it easy. What we've done with our enablement process and our CTC is providing a mechanism to get them screw up as quickly as possible so that they can actually get out there and start introducing new customers.
Huang:
Right now, the real situation is that Manufacturing companies have used software provided by several vendors. So, what's the strategy of Epicor to help them to really integrate with other software together?
Erik:
the first thing that has to happen is that the architecture of the product needs to be service-oriented. Epicor ERP 10 has a lot of services and all of them are available for customer to use and to integrate. There are no services that are not available for customers. We do not have a private API or any secrete way for our products to talk to each other and talk to application whether it's a mobile app, browser or the client. So step one is make sure you have services and 100% coverage across the capabilities with services. The second thing to do is to make sure that around the services are helpers.
For example, service orchestration for doing long conversations between two systems, or you have to do back and forth many times and transform data, and execute workflow is key, so, Epicor Service Connect fulfills that role of orchestration. Another one is BPM, business process management. BPM allows our customers to direct how our services behave, route the call into a different set of services, make decisions, get approvals, do all of the such things to make sure that no matter where a call is coming from, business processes are being followed correctly. Then, there are others like master data management which is used to synchronized data and also business use of portals something like that all help the situation. You put all the five things together and that's what our services architecture is and what it means to do is to make situations where there are multiple vendors in the computer room all working nicely.
Huang:
Please introduce ICE framework.
Erik:
Well. ICE was firstly invented 12 years ago on .Net 1.0. Epicor released the product called Epicor for Service Enterprises all on Microsoft .Net 1.0. This is one of the reasons Microsoft loves Epicor. We take the ideas in and move and this is one of the situations we've done that. So ICE 1.0 was the basis of the platform. Our applications developers use ICE as a platform to make sure that hundreds of forms we have in the products all consistently working and looking and feeling are the same. The programming standards are followed. So it does all those sorts of things for programmers. It also has dashboards, queries, enterprise search, and all kinds of capabilities that are on the top of the applications. So it is both a platform and a set of services for using enterprise software. ICE1.0 is 12 years old. ICE2.0 was built for Epicor Vantage 8, our previous Epicor ERP product. ICE3 was the new version built for Epicor ERP 10. But the interesting thing about ICE version 3 is that we actually released that to customers more than a year ago, actually more than 18 months now because it was something that was useful for our other software products, Prophet 21, Eclipse, iScala, and Epicor for Service Enterprise etc. That enables our customers of those products to create dashboards and use the search features and build things with it. For Epicor ERP 10 customers, this means that the framework has actually been in customer hands for more than 18 months and it has been proven.
Huang:
So if a customer buy Epicor ERP 10, how can they really do customization?
Erik:
There is lot of ways. The interesting thing is that every companies approaches customization differently. Some companies need something to change the forms around and as Craig has mentioned we have embedded integrated development environment. With the right permissions, you can just be in any form and something switch to the developer mode and get rid of the actual fields you don't want to see and the new fields you do want to see publish it out and it's the deployed automatically. But with .Net now it's much easier to create brand new services so we delivered 1,400 services. If a customer wants to add services, they can drop them into the folder, they get automatically out to the server and can use Microsoft .Net build all new services and create new forms share more services.
Huang:
So right now, the social media is very hot in China. Recently we have a new social media (application) in mobile phone, we called weixin. Its English name is "Wechat". Actually just in about 3 years, it has almost 500 million users, not only in China, but also in other Asia Pacific countries. So right now, some management software companies are also interesting in social media, so how can Epicor ERP 10 connect social media functions to your enterprise management software?
Erik:
We have a really clear focus on how ERP and social can work together. There are millions of social applications out there. We are not trying to be in social application business broadly. We want to make sure that ERP can contribute to social community of any kind, whether it is just users, department, enterprise or supply chain. There is a lot of thing happening in ERP system that is useful. In social media you tend to follow people, groups or things. You tend to have an interest and you form a community around the interest. With ERP you can have an interest in a part, customer, or a particular aspect like defective materials that are coming back. You can follow those aspects of ERP and then you see an activity stream when facts happen when things happen you are interested in. Then you might have a conversation with other people around it. Some may notice something or pattern or trend and they can contribute in observation that would not been caught by business process. So we see, first of all, making sure that ERP is contributing to conversations, and the conversations are captured with ERP data, just like any other transaction, so that they can be found forensically as they say or you can look back to the past and see what's happened with a very clear picture. The other thing we really see about social media is that it allows companies to do things reactively. ERP is always being about creating business processes and majoring in how well the business processes are working. But today things happen in such a speed. Unexpected things happen every day. Social media is one way can help ERP solve those problems by bringing people together to figure out how to solve new problems as they come up, and maybe they will never happen again. So, you don't want to take on an IT expense to create a new business process for something that only happens one time. People just want to simply solve the problem and then move on. That's how social and ERP work together.
Huang:
Please introduce the social media module in Epicor ERP 10.
Erik:
Epicor ERP 10 has Epicor Social Enterprise which is a new module. It is part of the basic product. We believe so strongly in this idea of social and ERP working together that we certainly put it in the basic product at the core. Social enterprise allows you create groups, interest groups, follow people, follow those groups, but they also follow data. So, you can follow certain transactions or types of transactions or transactions with specific entities like customers or group of customers, orders of certain size, returns, jobs, productions, quality exceptions, all these things can be followed. I'll give you an example. We use Epicor Social Enterprise inside our R&D organization, so, every single new defect, bug, request, all of these things come through activity feed. I can simply follow for example, the ICE framework. I can follow new issues and request that coming through ICE framework. I can see the product manager and decide what priority to give them. I'm not an R&D anymore but I can help R&D with making a decision. It just brings a lot of more clarity because I can decide to follow ICE one day, maybe follow MES another day, change my mind about what's important. I can follow a customer I know me maybe have a difficulty in implementation to make sure everything is going smoothly. Everything is being resolved, and we stop following that customer when issue is resolved. That is the power of social.
Huang:
So you also have a commerce connect platform. Just last week Alibaba sent their IPO document to U.S. stock market. it's a very big e-business company. I think e-commerce will be more and more important and popular in China. It is very important for companies to collaborate with partners, distributors, and suppliers. So please introduce your platform, and how this platform can help your customers better collaborate with their partners.
Erik:
Epicor Commerce Connect is all new for Epicor ERP 10. What we did was we adopted the Magento platform which is a very popular, open source-based e-commerce platform. Then we focus on the connectors and creating a B2B connector for customers, suppliers and supply chain in general. But Magento is important because it is evolving on its own. It gets better every year. We can take on those improvements separately and don't have to worry about having to really be an e-commerce production house. E-commerce is always tricky for us because the mid-market again, want something is out of box that is very capable, but large companies want to have a very big website, very differentiated. So, what happened a lot of times is we would use a partner for these things. Getting a first-class big website put together is expensive, so we would start with a good project and right things but then our customers would decide: "Well, I really want these extra capabilities then I want a very stylish website", things like these and became very expensive very quickly. So Magento platform let us keep those costs down by getting the best broadest product out there. I think we are using it across companies. Our retail group is using the enterprise Magento edition for example, for big retail soft goods e-commerce sites and our smaller customers are using it for B2B.
Craig:
One of the things that particularly excited for a lot of our customers, if you think about the markets we do exceptionally well in engineering to order, make to order, etc, we have a lot of customers who use configurator. So, we have our own embedded configurator that I supposed better than our competitors. Having that configurator has been wonderfully received by our customers for a long time, but I supposed the weakness was it wasn't exposed to a commerce site. So, with the latest version, the version of Commerce Connect, we actually have the ability for customers to configure on the fly. So, whether they are ordering a new truck, whether they are ordering a new PC, whether they are configuring up any other element, it's actually using our embedded configurator to build up an order, which's in place. That's something we have not been done before. I'm really excited about that.
Huang:
So Erik mentioned about cloud computing in this interview. So what's the cloud strategy? Because you know, some other companies also want to promote their cloud solutions in China, but you know, maybe Chinese solutions are a little bit different. Many manufacturing companies still don't believe public cloud actually. So, what's your strategy, especially in A&P area?
Craig:
So, what we've done is essentially from a product perspective we've done which is unique. With Epicor ERP and Epicor ERP 10, we have the same code line which you can choose to run on premise or in the cloud, and that is unique. Other vendors come up with completely different products. We don't believe that make sense. So all the benefits you get from being very nimble in the cloud, you get on premise and all the benefits that ensue from working with premise customers are automatically applied to cloud. So, we initiate launch to US. We want to make sure we get the right feedback.
You know, we indeed to ensure the customers outcome were there, and they were, so we had quite a lot of success. We then launched it to New Zealand. If you look at the customers who prepare to adopt next technology, the strength to move for whatever reason is very quickly. So, we've seen a very rapid move from our customers who traditionally based on premise and they are now considering the cloud. Actually they are interested in our cloud version of Epicor ERP. So our plans are to take this global. My plans are set in the year which we have instance in Southeast Asia and North Asia by the end of our fiscal years which is 30th September 2014, so, within next few months. That's something Erik actually looks after.
Erik:
First of all, as Craig mentioned, we are very strong in symmetry between on premise and cloud offering. When we say it's in cloud, we mean multi-tenant SaaS in the cloud as well as single-tenant as well as hosting solutions we've done hosting for ever like other companies, but we are unique in having multi-tenant SaaS on the same code line as around on premise solution. In terms of who's adopting the cloud, I absolutely agree. We've seen non-manufacturing ERP really has already accepted the cloud. The bulk of projects we are seeing, new project that we are being asked to participate in, the bulk of those are in the cloud for non-manufacturing ERP. In manufacturing ERP it's not that case yet. But almost every company is asking us for both a proposal on premise and a proposal on clouds. They can start to think about it. Manufacturing will come to the cloud in some point. It is inevitable. You know, it's probably taking longer because most manufacturers already have infrastructure, they have a lot of integrations, they have complex integrations, things like that really don't make the value moving to the cloud as apparent yet. That's fine. Our business plan is not relying on pushing people to cloud or keeping people away from cloud. We are strongly believe that every company needs to decide for themselves and larger companies would actually put maybe a new operation in cloud and then bring in others from on premise. So we choose to make sure that our customers can choose.
Huang:
So recently there are many discussion about China, Chinese economy, Chinese manufacturing, so what is your view about Chinese manufacturing and Chinese management software market and what's your opinion about the Epicor growth of Epicor in China, maybe Craig can share more.
Craig:
From my perspective, China is such an important market for us. China's been incredibly successful at dominating in the manufacturing context. I can see things that changing though because China has been so successful of a huge talent pool, so a talent that was relatively cheap. You can go and take a very intensive manufacturing operation and do a far more cost-effective than in the rest of the world. The challenge we are seeing and when I am talking with Chinese customers is with wage inflation, with relatively full employment, with people being a lot picky in terms of the jobs they want to do. It's becoming a lot harder to be as cost-effective with obviously exchange rate variation and something else. So what's happening is previously, Chinese manufacturers could say that if I got a problem I need to fix, I can throw more people on the problem. I think those days are gone. They are realizing and Borch machinery is one classic example. They are growing so rapidly without adding any people , and the way they do that is technology. Erik has a great slide that shows the manufacturing recovered in the US, and it's being a recovery without a recovery in employment. The only way to do that is through technology. I think that it's still relatively young days in terms of ERP I think that most Chinese manufacturers obviously they have core finance application and maybe an inventory application in terms of automating all the components of what they do, There is a huge potential out there. That's the potential that we want to be there to satisfy.
Huang:
So the final question is: do you satisfied with the growth of Epicor in China, and what's the hope in your view to grow in China?
Erik:
I come from manufacturing software that I invent program in around manufacturing software, I'm a big fan of everything related to manufacturing so I wish Epicor do a lot better. We have such good understanding in manufacturing and software that we will be a huge value to many markets in this country absolutely. I think we are a right technical platform that people are looking for and building something that can best optimize their business processes and make what's unique about its company, something that turns into being competitive. I'm very strong on China.
Craig:
I'm never satisfied. We can always be doing better.
Huang:
Thank you very much. I'm very sure that Epicor can have rapid growth in China in the near future.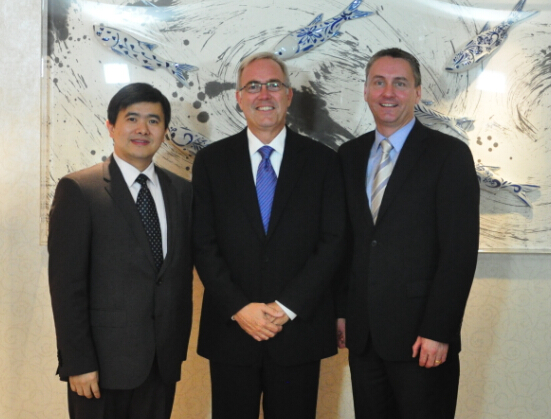 From left to right: Dr. Pei Huang, Mr. Erik Johnson and Mr. Craig Charlton