Dassault Systemes: embracing experience economy with 3D technology
From 11th to 12th June, I attended the annual Dassault Systemes Global Analyst Conference in France. Together with PLM senior analysts from Gartner, IDC, CIMDATA, and ARC, we learned Dassault Systemes's strategy, products, technology and industry development. Through the introduction, I have a new impression on 3DExperience Platform. Here I'll share with you my learning and understanding.
Having been through agricultural economy, industrial economy, and service economy, human beings are stepping into the experience economy. The reason for purchase is not only relying on the product use value, but also a better user experience including a better purchasing experience and a better use experience. As Dassault Systemes CEO Bernard Charles mentioned that the world is not flat, it is three dimensional. As a leader in 3D technology, Dassault Systemes proposed 3DExperience vision in 2011. Through continuous independent research and acquisitions, they have turned the 3DExperience into reality. The 3DExperience Platform can not only let customer virtually experience product performance even before it's been manufactured and delivered but also make architects build much proper system architectures so that designers can develop customer favorite products and manufacturing engineers can fast put their design into products and guarantee product quality. All of these can help sales staff win customer's preference over products through authentic product experience even before the production.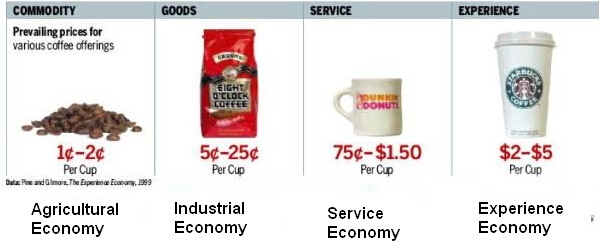 Experience Economy
What is experience? Experience refers to that when customers are involved into some event in personalized way, their emotions, bodies, intelligence and spirits all reach to a certain level that good feelings generated. Experience planner is not only going to provide products or services but also the final experience. The perceptual feelings will leave customer a pleased memory that is hard to erase. Agriculture products can be processed; commodities are entities; service is intangible; only experience is unforgettable. The same coffee beans worth 1 or 2 cents in agriculture economy but in experience economy people form a habit and lifestyle to go Starbucks and drink coffee. Certainly, the value of beans increased more than a hundred times. Now as we are in this internet and mobile era, the ways of experiencing products are changing. Usability and mobility are the two key ways and cloud computing should be included to make applications and maintenance more convenient.
It is because of the understanding of experience economy trend that Dassault Systemes proposed their 3DExperience Platform timely. They are no longer positioned as PLM software company but a leading vendor in providing 3DExperience software and service. By doing this, their differentiated competitive advantage will be further consolidated.
After more than 30 years' development, Dassault Systemes now has 12,000 employees and 190,000 enterprise customers all over 140 countries. There are 43 laboratories with 4,500 developers globally and partners over 3,500. From 2009 to 2014, the annual growth rate of Dassault Systemes remains 14%, in which independent growth takes about 9% and acquisition growth is about 5%. In 2013, the revenue achieved 2.8 billion US dollars. Dassault Systemes plans to keep the growth rate from 2014 to 2019 and maintain a good profitability. In order to achieve the goal, Dassault Systemes divided the global market into 12 important regional markets including China. Now Dassault Systemes has built four cloud service centers and the plan for this year is three more.
12 industries have been covered in Dassault Systemes's portfolio including aerospace and defense, transportation and mobility, high-tech, industrial equipment, AEC, life sciences, consumer goods and retail, natural resources, marine and offshore, energy process and utilities, financial and business services, and consumer packaged goods and retail, Dassault Systemes's products increased to 11 brands. Besides the major brands like CATIA (digital product experience), SIMULIA (realistic simulation), SOLIDWORKS (3D design), ENOVIA (collaborative innovation), DELMIA (digital manufacturing), there are EXALEAD (enterprise search), 3DVIA (consumer 3D experience), BIOVIA (chemical research and material science R&D software), 3DXCite (high-end and real-time 3D visualization, high-impact storytelling for marketing and promotion), NETVIBES (dashboard intelligence), and GEOVIA (virtual planet). Continuous expansion in industries and portfolios indicate Dassault Systemes's ambitious development strategy and endow with its landmark V6 platform Compass a clearer and rich picture. We can see that Dassault Systemes's marketing is done from 3 dimensions namely, product, industries, and regions. Marketing and services are strengthened through these three dimensions.
The vision of 3DExperience Platform is to build a new collaborative innovation platform in this internet era. ENOVIA is actually a new IT platform for Dassault Systemes's newly developed system or acquisitions. Users don't have to store any documents on the platform but to store data object in the database so as to improve use efficiency and provide more convenience for management and security. Interoperability can be easily achieved between each system, for example, enterprise research and business intelligence can be applied in each system. There are 6 factors drive Dassault Systemes growth in the future: new customers from laser focused industries, existing users upgrade to V6 platform, coverage of emerging industries, emerging market expansion in developing countries, cloud and mobile applications, and acquisitions. Now there are over 600 enterprises applied V6 platform.
Dassault Systemes has a very clear picture on acquisition strategy. By continuous improvement of portfolios, they hope to provide business innovation solutions for various industries. In past 5 years, Dassault Systemes has invested 2 billion dollars in acquiring a set of software companies that covering specific industries and specialized areas. These acquired applications are later being integrated to the 3DExperience Platform and combined together to form industry solution aiming at specialized requirements in each industry.
CATIA is one of the core products in Dassault Systemes portfolio. The latest version of CATIA V6 has 84 components and can support 54 processes. It provides engineering functions for machinery, electrical, mould, embedded system, and composite material and even organic modeling for designing artificial limbs. Besides, CATIA offers complete solutions for concept design and system engineering. Its system engineering solution is built on Modelica and enabling complex physical system modeling and simulation that across different fields. It offers solutions for automotive, machinery, and shipbuilding industries.
The conference highlights the expansion on Dassault Systemes's V+R solution through the acquisition of APRISO. In 2013, Dassault Systemes acquired American MES vendor APRISO and realized direct mapping between virtual manufacturing and realistic manufacturing. Delmia offers both powerful process simulation and process planning function and the results can be transmitted to Delmia Apriso. In addition, Apriso has extended to supply chain management. I think that in the future Dassault Systemes can present MES shop floor and equipment status in virtual 3D shop floor and operators can click each equipment to see real-time production status and OEE data etc. Thus, the transparency in shop floor will be largely improved and 3D experience will be achieved in production process. Now Airbus who applied Delmia and Apriso has become a typical case of Dassault Systemes in realizing virtuality and reality combination.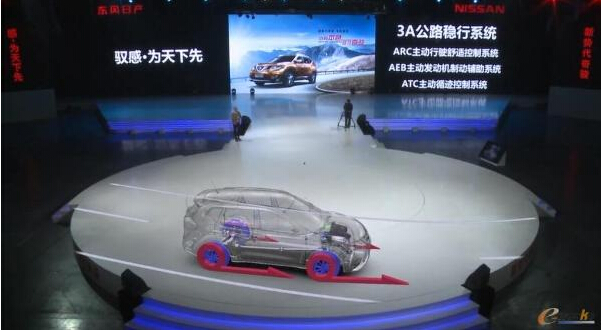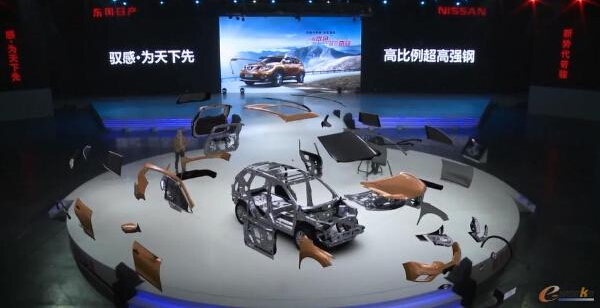 Dongfeng Nissan using augmented reality technology provided by 3DXCite in launching new cars
Another interesting highlight is the 3DXCite. Dassault Systemes acquired Germany-based RTT, which has very cool technology. Based on product 3D modeling, RTT enables realistic rendering and virtual reality effects. When Dongfeng launched their new SUV model X-Trail, the augmented reality technology of 3DCite stunned all the 1800 audience with special unique effects. (watch the video here
http://www.rtt.ag/zh/work/references/-00007
).
BIOVIA is a new product released in the beginning of this month. Dassault Systemes acquired Accelrys and got this innovative solution for pharmaceuticals, chemical, and material industries. The acquisition addressed formula industry requirements in innovation management and compliance.
In this conference, I mainly discussed with people charging ENOVIA platform and automotive, machinery, hi-tech, and aerospace and defense industries. In machinery industry, South Korean Doosan Group completely applied 3DExperience Platform and made themselves a model-based engineering (MBE) enterprise. Dassault Systemes provides product configurator which suits industries that have complex product configuration requirements very well. Now Dassault Systemes is offering internet of things solutions.
Dassault Systemes is embracing experience economy through promoting 3DExperience technology in 3 dimensions (products, industries, and regions). In the future, what fields will be covered in 3D applications and what prospective technologies, products, and services will Dassault Systemes release? We are expecting that.
For Chinese version please click here.