Dassault Systemes: The new Era of 3DExperince
On June 14th and 15th, I participated the annual Global Analyst Conference at Dassault Systemes headquarter near Pairs. As one of the global industrial software giant, DS shared the growing status and the strategy of the company with leading research companies in the world on this conference.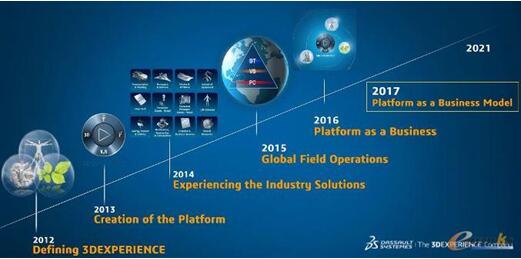 The evolution of Dassault Systemes development strategy
New business model brings continuous growth
What impressed me most was the extending of 3DExperience Platform from a digital platform that supports R&D, process, production, and supply chain management to a professional service trading platform. Ms. Monica Menghini, Dassault Systemes EVP and Chief Strategy Officer pointed out that in the future Dassault Systemes would adopt a mixed business model by providing both 3DExperience Platform and Marketplace. At present, its trading service has started with 3D printing and 3D parts digital model. Users can purchase these services through CATIA, SOLIDWORKS, and Edrawing. The evolution reflects Dassault Systemes' further expansion strategy that to be a specialized manufacturing service operator. 3DEXPERIENCE Marketplace can bridge the gap between designers, engineers, and industrial service providers. It takes 3D as a language, not only can it realize full traceability and IP protection but also provide more integrated end-to-end service.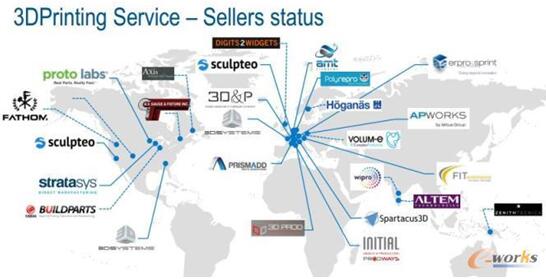 Worldwide 3D printing store in 3DExperience Marketplace
In terms of business performance, Dassault Systemes also had good growth last year. In fiscal year 2016, Dassault Systemes revenues up 7% to 3.066 billion euro; operation margin reaches 31.3%; EPS grows 11% to be highly at 2.49 euro. The growth in fiscal year 2017 is expected to reach 7% to 8%. In terms of industry growth, Dassault Systemes is always been working on industry market. In software revenue of 12 industries in 2016, transportation & mobility takes 31%, industrial equipment takes 16%, aerospace & defence takes 13%, business services takes 9%, and other industries takes 31%, in which high-tech industry market grows 16%, marine and offshore market is as high as 55%, energy, process and utilities up 12%. According to Thibault DE TERSANT, Dassault Systemes Senior EVP & CFO, the objective of EPS in 2019 is expected to be doubled compared to that in 2014. Thibault said that the core growth drivers mainly came from the acceleration with 3DExperience, diversification of segment and domain, manufacturing, and cloud.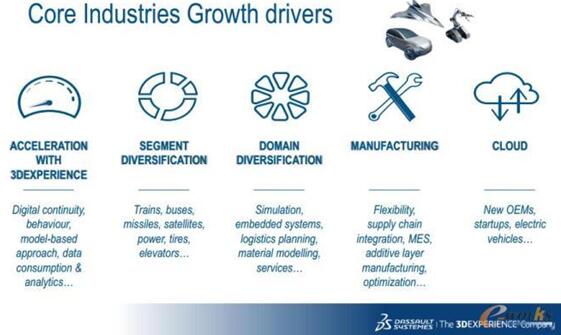 Dassault Systemes core growth drivers
Accelerating digital transformation of manufacturing
Mr. Bernard Charles, Dassault Systemes CEO believes that the digital transformation of manufacturing is at the right time. The connecting of virtual and physical world will bring new opportunities for manufacturing companies to enhance their competitiveness. Since the debut of 3DExperience strategy in 2012, Dassault Systemes has been working on the vision for five years. In 2013, it created the 3DExperience Platform and released industry solutions in 2014, global field operations in 2015, and 3DExperience Platform as a business in 2016. Now, 3DExperience Platform becomes a core business model of Dassault Systemes.
Dassault Systemes' faith in 3DExperience rooted in their DNA. Based on 3D technology, Dassault Systemes has all the time been making efforts on providing realistic experience environment, including virtual design, simulation, operation, maintenance, services, and experience. The full virtual environment enables engineers of R&D, process, manufacturing, and service comprehensively consider product functionalities in actual use. That ensures product quality, cost-effectiveness, high reliability, and environmental friendliness and users will get a better experience. It also helps Dassault Systemes creates business value and enhances product innovation capacity for customers.
Dassault Systemes 3DExperience Platform realizes the integration and interaction of the "real" and "virtual" throughout full product lifecycle. It accurately defines complex products by demonstrating, modelling, simulating, and visualizing product structure and features. Therefore, product performance has been largely optimized and user experience greatly improved. Whether it is an airplane, automobile, or artificial heart, users can create its Digital Twin on Dassault Systemes 3DExperience Platform.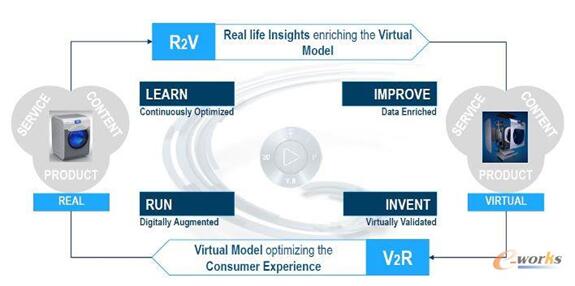 Bridging the Real and Virtual to accelerate manufacturing digital transformation
Continuous acquisitions for comprehensive products and solutions
For many years, Dassault Systemes has been completing its product solutions and ecosystems through continuous mergers and acquisitions. According to the product technology roadmap 2017-2019, Dassault Systemes will develop more portfolios to perfect the platform and address customers' needs on interdisciplinary and multi-industry product R&D. In the year 2016, Dassault Systemes completed 7 main acquisitions, including PLM Software, CST (electromagnetic simulation), Next Limit Dynamics (fluid simulation), and Ortems (production planning and scheduling).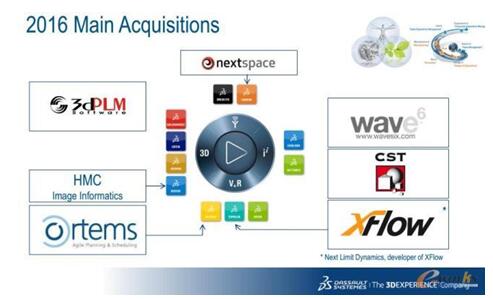 Dassault Systemes 2016 main acquisitions
The two that received the most attentions are Ortems and CTS acquisitions. Ortems is a France-based production and operation management company. Dassault Systemes plans to enhance its product planning and scheduling model through the deal. Together with DELMIA Quintiq's supply chain planning and optimization function and DELMIA Apriso, the acquisition will provide users with single data module-based experience.
CST is an industry leader in electromagnetism (EM) simulation and electronic simulation. The 220 million euro purchase brings Dassault Systemes a full electromagnetic simulation portfolio and further enriches its multi-physics simulation solutions. In fact, electromagnetism simulation solution is an indispensible part in developing a multi-physics simulation strategy of smart connected devices and IoT devices. EM is comprised of complex design and verifications for performance, reliability, and safety interacting with surroundings. So the CST acquisition is very important for Dassault Systemes.
Dassault Systemes steadily transforming to cloud
With less than one week after the meeting in June, Dassault Systemes had another acquisition—Outscale, an enterprise-level cloud service company. The acquisition is expected to help the customer accelerate the transformation to cloud. Since its foundation in 2010 in France, Outscale established 10 data centres in Europe, North America, and Asia to provide customers with enterprise-level IaaS clouds. Outscale created his own secure cloud operating system TINA OS, which can coordinate and automate cloud resources, including calculation, storage, and network. Outscale can help companies realize easy deployment, management, higher cloud availability.
It is noteworthy that, as an industrial software company Dassault Systemes has acquired this IaaS provider, which has fully manifested its determination for cloud strategy. The investment brings Dassault Systemes cloud resources and service portfolios that cover 3D design, simulation, and digital manufacturing. The further diversified industry segments and new functions will provide customers with choices on private and hybrid cloud solutions.
At present, Dassault Systemes has the largest cloud offerings in PLM market, including 16 cloud-based industry solutions experiences, 67 industry process experiences, and 175 roles. It has built 8 data centres in Europe, America, Japan, Hong Kong etc. There are also 3 new openings in 2016 to address cloud demands in China, Singapore, and Korea. It shows that Dassault Systemes will promote extensive and deeper applications in the cloud to further release the potential of 3DExperience Platform.