Leading the Manufacturing Simulation technology
CGTech, the global leader of simulation, verification and optimization, has been on business for over 20 years. VERICUT, the product of CGTech is well known in CAM industry. In October, 2008, I interviewed Jon Prun, the founder and CEO of CGTech. Mr. Xianbin Wong, the General Manager of CGTech China also joined the interview.
Pei Huang: Please introduce the background of your company and the development.
Jon Prun: Before I started up CGTech, I worked at McDonnell Douglas Corporation and Occidental Petroleum in the CAD/CAM department as a consultant. And then I worked for MCS, a CAD/CAM company. After that, I accumulated abundant experience of computer software, computer graphics, mathematics and digital control technology. Also I found there was a great need of digital control simulation technology by manufacturing. So I wanted develop a suite of digital control simulation software, and this view was supported by several companies also. In 1998, I left MSC and developed VERICUT and from the beginning we benefited from the customers' money, so we didn't need to ask investment from outside. And clearly it's the best way to go.
CGTech has been developed steadily for almost 21 years, and it has many branches in worldwide. And fortunately, we still control our destiny now.
In the early days, CGTech partnered with Unigraphics and Dassault Systems. In 1989 we signed partnership with Unigraphics and in 1990 we had partnership with Dassault Systems. So we always get support from these good CAD/CAM companies. And a few years later we signed partnership with PTC.
The headquarters of CGTech is in California, United States, and now we have many branches in England, France, German, Italy, Japan and China. We have fortunately found Mr. Wong as our general manager in China and he has found a very good group in China as well.
Pei: Please introduce technology development of CGTech.
Jon Prun: VERICUT software was first run in UNIX system computers based on Sun workstation. And then we upgraded it to PCs, HP, IBM, DEC workstations and so on. And now almost all the customers are running VERICUT on PCs.
CGTech started from nc verification software and then to nc optimization and simulation software. Recent 5 years, we have also started working on composite manufacturing and simulation, and we have developed manufacturing and simulation software which is supported for fiber placement of composite. It because that most aircrafts now need sheet metal and fibers, such as carbon fiber. Five years ago, one of our best customers invited us to work with them on the Boeing 787 program to develop the manufacturing and simulation software of composite. So after 5 years, composite manufacturing and simulation is one of our core businesses now.
During the first 15 years, CGTech has concentrated on removing material, and recently we start working on adding material. For the fiber composite, we can not only simulate, but also can do the fiber placement program. Therefore, composite manufacturing and simulation has become a new growth for us.
From left to right: Pei Huang, Mr. Wong, Jun Prun
Pei: CGTech have been leading in the global simulation, verification and optimization domain for 20 years, so I think you can absolutely develop a very good CAM solution. Why don't you do that?
Jon Prun: I used to develop CAM, and somebody also suggested me to develop CAM software. But we have many partners who work on CAM solution. They have already developed a lot of good CAM software. I don't think the world needs another CAM member. So we are specialized on simulation, verification and optimization market. And I think it is right. We could make some money with CAM, but we really do a very good job with VERICUT, so I don't want to lose this advantage. And we can focus on our specialty and progress; we can always maintain our advantage. And we can also cooperate well with all the CAM vendors.
Pei: Do you have any direct competitors? Now there are some CAM vendors also delivering CAM software with verification and simulation functions.
Jon Prun: I think VERICUT is unique. Though there are some CAM software providing nc verification function, they only can be used in their own CAM system and they just have basic functions, they can not do the right and continuous simulation for the multi-axis machining and mill-turn machining such complicated programs. All the CAM/CAD vendors still say if you want advanced nc verification, simulation and optimization functions, buy VERICUT. Some companies are doing the same business as us, but we started much earlier and we have already had many typical customers in manufacturing and gained their confidence. So we have big differences from our competitors. And those customers have steady relationship with us. We help them to improve the machining efficiency greatly, and our products can support all kinds of CAM systems and machining tool. Our digital control simulation totally bases on the solid modeling technology with higher accuracy.
Pei: What type of companies are your main customer bases? Are they the large-sized manufactures?
Jon Prun: Yes, our best customers are the lager manufacturers in the reign of aerospace, automotive and consumer industry, for example, Boeing, Airbus, General Motor and so on. And it includes the primary and secondary parts system manufacturers as well. In the other side, we also have smaller customers, even there is one person who is the program engineer for the company uses VERICUT. And right now we have more than 2000 customers in the worldwide and the users are over 100,000.
Pei: Do the customers buy VEICUT only when they need to manufacture complicated products, like when they need 5 axis machining?
Jon Prun: Our best customers are those people who are using 5 axis machining, mill-turn machining or 4 axis operation. Because it's very complicated to visualize also the machine tool is very expensive. The crashes of machine tool will make a huge loss. Meanwhile, we have many customers using VERICUT to do simulation of 3 axis machining and turning machining. Because turner and machine, cooling and lubricating, they are all close to the machine. So the customers want everything is fine when they turn on the machine tool. But there are some customers who are doing simple 2 axis turning, maybe they don't need VERICUT, but they can still use our optimization software to make it running faster.
Pei: So your software has several modules-verification, including verification, simulation and optimization. How many percent of VERICUT coming from each module?
Jon Prun: All the customers have verification module, and I think at least 80% customers have multi-axis function, simulation, verification for 4 or 5 axis milling, drilling, milling and turning machining; and also about 80%customers have simulation module; and probably half percent have optimization function. And those are the most important modules. Besides, we have AUTO-DIFF function which enables you to compare a CAD design model to a VERICUT simulation automatically detect differences; almost everybody has that module, maybe there are 90% customers.
Pei: If the customers use VERICUT, could you completely guarantee the spindle will not be broken?
Jon Prun: In all our history, we can't guarantee because we can't control what happen, we can't control the customers put the tool in the wrong place or use the materials wrong. So we tell customers that we can only guarantee that VERICUT can avoid the accident and problem from the nc code mistake.
Pei: You have developed your software for 20 years, what's your technological trend of this domain? What will be the technology innovation in future?
Jon Prun: I think there will be more and more composite material used in manufacturing. So the companies which used to do metal cutting will change to use composite material gradually. Therefore, we will continuously develop the software supporting for composite placement and winding. And we will add this software to verification and simulation software of cutting machining to make a package to analyze. It because that there will be machinery machining parts and unmachinning part of composite in the future. No company in the world can do it but CGTech. We are the only one can apply composite and machining composite and so we are working with composite machining builders because they are not good at software, but we are good in software. So it's a good cooperation.
Pei: Right now there are many CAM vendors applying very special CAM. For example, Delcam has SwissCAM for Swiss-type lathes and also they have CAM software for machining shoes. Does VERICUT also have functions of simulation and verification to support this very specialized CAM?
Jon Prun: Yes. Actually, it keeps us so busy because every time we finish supporting all machines around the world, we keep getting new special machines. The machine builders never stop. Customers always tell machine builders they need more complex, more specific, more axis, more subsidiary and more components. So we constantly improve our software to keep up with all customers and machine tool industry.
Meanwhile, aerospace, automotive and ship building industries are coming to use composite because they want products slighter and very strong. Before, the set and lay of composite are by hand, but it waste time and energy. So they combine machines to settle this problem. Recently, our automotive customers, like Mercedes-Benz, they develop carbon fiber autos. So there will be more composite machining builders in future. And there are other companies like KUKA, ABB which have a robot using laser to cut the composite, so VERICUT supports the similar simulation and verification functions. In addition, VERICUT also supports water cutting, EDM, linear cutting such kind of machine tool. In fact, many composite machining builders are our customers. They use VERICUT add a point as to model and show the customers before build machine. And you probably saw an article written by GE recently. They used VERICUT to model a machine that they want to build and told their customers that is what they want.
Pei: Some CAE vendors are also very specialized; for example, they support the simulation of product feature and machining process. And CGTech is good at simulation of manufacturing process. Do you cooperate with those CAE vendors?
Jon Prun: Yes. For example, we recently signed with a company called VISTAGY which is specialized in composite design work. Their product FiberSIM does the composite design simulation; and our VERICUT does the composite manufacturing simulation. It's a very good partnership.
Pei: Right now the CAM market and technology is mature. So the growth rate is single digit. How do you think of your area, the digital control simulation market?
Jon Prun: I'm not a good visionary. When I first started the company 20 years ago, I thought maybe it would be in business for one or two years. Because I thought that all the CAM/CAD companies had very good solid modeling technology. I thought they could use that technology to do nc verification and simulation, so we would be priceless. But here we are almost 21 years later, many those companies have been not in business or being bought. And we are still doing well.
On average, we are still doing double-digit growth. So we will still have more customers, more special machines and each of our customers will doing more. And our company's operating capitals are being expanded around the world. Recently, an office is opened in Detroit. And we take the compound direct and channel sales and we have a strong and direct relationship with our customers. So we still have many world-class manufacturing customers. And they constantly improve their technology so that they force us to innovate and grow up with them.
Pei: Please introduce the structure of your company's revenue.
Jon Prun: We have revenue about 40% in United State, about 35% in Europe and the rest in Asia. The structure of revenue from each city has big differences. The maintenance revenue around the world is about 40% of the revenue because many companies have worked with us for 20 years. The service revenue in the worldwide is maybe 10-15% and the rest is the software revenue. We have many old customers. So the maintenance revenue is the main revenue. But in China the data of this is still slow. Many customers update their software in 2 or 3 years, and we basically charge them the price of maintenance during that period.
Pei: I think to use your software better; the customers need very good knowledge and experience. So how do you help the customers to use VERICUT better?
Jon Prun: In United State, all the customers are willing to pay us to help them to take at least two pieces of work to support and train the people. But in China, they expect the vendors to do everything with nothing. It's not fair because it is software. If you want us to configure it and customize it, you should pay us to do that.
Pei: Right now the Chinese manufacturing is coming into the global market. They depend on the global market heavily. They are impacted by the recession of global market. To upgrade technology becomes the only choice for them in this period. Do you have some suggestion for Chinese manufacturing? How could they improve their ability?
Jon Prun: Let me answer this question as an US professor first. The main reason that American consumers bought Chinese products was price. But right now as you know, people in China won more salaries; the cost of living has increased; the raw material cost has increased. So the customers in the United State have seen the price difference is not the same as before. And during the outsourcing, they will face many problems, like the additional cost and time of transportation, communication and also intellectual property issues. So now they are producing everything back to America, particularly the specific manufacturing people. So they started buying more expensive and more specific machine tools to improve machining efficiency. Therefore, in the past 3 years, the composite machining capability machine tools had increased a lot, like the turning machine and the very specific small machine. And our simulation and optimization products are heavily needed by all the customers around the world. For example, our optimization software can make the machining process faster, more efficient and of higher quality.
I think if Chinese manufacturing want to improve their international competitiveness, they should not depend on low cost labor but the manufacturing ability. So if they want to compete with the more specific companies in the United State, they need to buy more composite machine tools. And there is another to be without is using our simulation and optimization software to avoid the destruction of machine tool and the huge loss by the nc code mistake during the machining process.
Pei: I'm sure there are many good PLM companies want to acquire CGTech, but I think you want to develop independently, it that right?
Jon Prun: Yes. We have excellent people around world, and we have good sale channel, and we have excellent customers. We've been good. And I think the employees are also enjoying their work. We've fortunately to find many people and most of the people have stayed with us for a long time. The steady employee team helps us to gain the confidence from our customers. But there are some companies acquired by other companies. After that, the loyalty of their customers gets affected. Some big companies constantly acquired the others, sometime they can stay alone, and sometimes they were integrated. And sometimes the big company acquired the small ones just for the customers and then destroys the company. All these will impact the customers. So we want to be independent.
Pei: Do you have any plan to become a public company or acquire the other companies to enlarge your customer base and to have more technology to provide?
Jon Prun: There is no plan today. To be a public company you have to concern the revenue of each quarter and each quarter you need the increasing revenue. That's dangerous because some public companies even lie to the others. I don't like that. I prefer to pay more attention to our development, our employees and customers as well. And I don't think it easy to succeed by acquisition. Over the years the small companies come out and we beat them and they disappear. So we don't need money to buy them. I like the simple way. I don't want to make the structure of our company so complicated.
Pei: Do you treat CGTech as one of your children?
Jon Prun: I have found CGTech but it's not just me. CGTech exists because the whole employees around the world, all officers, engineers, sales, marketing, service and staff people. Even the person who picks the phone is an important employee. Everybody is important and everybody has to do their jobs to obtain the satisfaction from our customers.

Postscript: Jon is an entrepreneur, a technologist and a management officer. He is different from many executives in America because he has lots of experience; he is dedicated in his work; he cares more about the customers; he works on the technology innovation continuously. Actually, we need a lot of entrepreneurs like Jon to promote the improvement of Chinese manufacturing.
As the growth of global manufacturing, CGTech is the leader in verification, simulation and optimization, and it is also doing business on composite manufacturing. Because of the upgrade of Chinese manufacturing, I believe CGTech will gain great success here in China.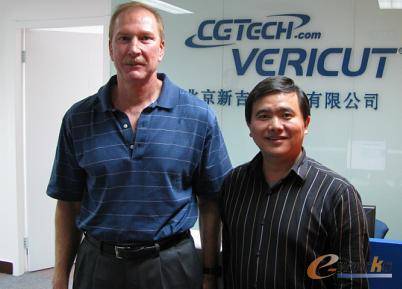 Jon Prun and Pei Huang