EnSight, CSM and CFD Post processing Expert
CEI was founded in 1994 and the founders are still the driving force behind the company. Based in Apex, NC, CEI has US sales offices in Houston and Detroit. In 2009, CEI expanded internationally and now have offices in Germany, China, Japan, and India. In other international locations EnSight sales are led by distributors who are also selling major CAE brands like ANSYS, MSC.Software, ESI, LS-Dyna, and Mentor Graphics. In 2010, CEI China was established in Shanghai. Now nearly four years have passed, what kind of development has CEI China achieved? Aric Meyer, Greater China Director of CEI had an interview with e-works reporter to update their development in China.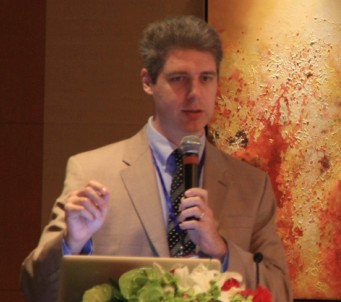 CEI Greater China Director Aric Meyer

WangYang: It's been over three years since our last interview, could you please talk about any marketing developments of EnSight in China over these past few years?
Aric Meyer:
We continue to develop along the path that was described in the previous interview. That is that Shanghai Xiyiai is the center of operations, and we support our partners, customers, and do marketing. It has worked well for us. Sales have increased every year. We continue to work with the same parters as before, and have also added some new ones.
We have put a lot of effort toward localizing EnSight for China. The EnSight GUI has been translated into Chinese, as well as some of the manuals. and tutorial videos. We have redesigned our website, and maintain a blog, miniblog, QQ hotline, and QQ group. We also held the first-ever users group meetings in Shanghai and Beijing.
One other change is that I am now completely focussed on China. At the time of the first interview our Shanghai office was also responsible for most of Asia and Oceania. CEI has expanded since then, and they now have offices in Japan and India. With more offices in Asia, each of us can focus more on our home territories, which is very beneficial. CEI has also opened an office in Germany, but they see the largest potential for growth in Asia.
WangYang:
In the past two years, the CAE market has underwent significant integration, meaning more and more CAE softwares are merging. What's your point of view toward this trend? In the tide of continuous integration in the CAE market, how does EnSight position itself?
Aric Meyer:
Yes, we are certainly seeing larger CAE companies acquiring smaller ones, and even larger software companies acquiring CAE software. The goal of the big players is to provide a total CAE solution to their customers. Since EnSight is not their own software, we are not usually part of their target solution so it is difficult to cooperate directly with them. However, EnSight still has many advantages in this type of market. Often customers and even the software companies themselves find that the default post processors are not good enough to meet the customer's demands. For most CAE companies, post processing remains a low development priority. But even more important is that many customers do not want to be limited by using CAE solvers from one company. We can provide a way to post process their data regardless of where it comes from. There is still a lot of variation in CAE software and we think there always will be. Many customers have their own solvers, or use open source ones in addition to commercial codes.
As far as changes, the biggest change in strategy we have made is to work more closely with smaller CAE companies. There are three excellent examples. Flow Science is a mature CFD solver company that makes Flow3D. It has remained independent and focussed on it's specialty of free surface flow. They have chosen to build their new post processor, called FlowSight using EnSight technology. Soon, every Flow3D will include FlowSight as the native post processor. But there are even more opportunities among new solver companies. New solvers are constantly being created to serve more an more specific and difficult to solve problems. ConvergeCFD, made by Convergent Science Inc. is a CFD solver with automatic grid generation that was originally developed for internal combustion engines. They have chosen to include EnSight as their default post processor. Another new solver is Barracuda by CPFD, specializing in fluids with millions of small particles. EnSight is well-suited to their data, and they have chosen EnSight as their recommended post processing going forward.
WangYang:
In the last few years, what breakthroughs has EnSight achieved in features and technology? And what value can it bring to customers?
Aric Meyer:
At the time of the last interview CEI had just released version 9.1 along with another product called EnSight CFD. Since then we have had 9.2 and 10.0, and very soon 10.1.
9.2 added features for our HPC users, with very large data. One features was a new solution called CEISHELL was added to run separately from EnSight to handle the networking. Many people may not realize it, but EnSight actually has a complicated networking infrastructures. It has client-server, multiple servers, and multiple rendering nodes, all working together. These components can run on hardware at different locations and with dynamically allocated resources. Also high-security environments with passwords and firewalls. Unlike CAE solvers which just launch a job and let it run, EnSight is an interactive application which means the user must be able to interact with EnSight at all times. CEISHELL is a customizable solution that deals with all of these situations. It connects the hardware together so that EnSight can run over it. Our HPC customers really appreciate CEISHELL.
The largest difference most users will notice is the new GUI built on Qt. EnSight 10.0 contains a completely modern GUI which combines the advantages of EnSight and EnSight CFD. At this time, EnSight Lite and EnSight CFD were replaced by a single product called EnSight Desktop, which is an improvement over both products. The new GUI also allowed or high-end and virtual reality product EnSight DR to be run on Windows.
EnSight 10.1 contains many new features covering a wide range of users. Some of the more major improvements are handling of polyhedral cells, more threading for parallel speedup, and a new features for comparing multiple cases.
WangYang:
Please introduce EnSight's China team. Nowadays, more and more CAE products require the ability to provide consulting and services along with the software. What additional services do you offer with EnSight?
Aric Meyer:
We have an excellent group of distributors and sales partners who each have their own specialties. Some are experts in virtual reality hardware and software, others focus on certain CAE software or applications.
As a team, we offer a wide range of consulting services. However, consulting for EnSight is different than other CAE software. With a CAE solver, the customer may need help using the solver to solve their problems. Many of our sales partners sell CAE solvers and also offer these related consulting services. Since EnSight is a post processor, EnSight is not involved at the solution step, but of course post processing is still an important part of the overall solution process. Usually customers who hire consultants will not hire a separate consultant for post processing, so the same consultant who solves their problem will also help with post, if needed.
With that in mind, consulting services that are common for EnSight are technical training, advanced content creation, developing scripts for automated post processing, adding features to the GUI, and developing data readers or convertors for the customer's data.
WangYang:
Could you introduce the work done to build EnSight's partner system? What are the achievements you've gained?
Aric Meyer:
Building a network of partners is a big part of my responsibilities. I was fortunate to have two great advantages. One was that CEI already had existing distributors in China who knew the product and the market. The other was that EnSight was already known and had a good reputation, so many companies were willing to work with me.
Over these years I have met with many, probably most, of the major CAE and VR companies in China. Almost everyone has expressed an interest in selling EnSight. Unfortunately I am not able to work with all of these companies. There are many reasons why a smaller number of partners is better than a large number.
I would say the biggest achievement is building a system of loyal partners, where each partner has their own set of strengths that complement each other. So each partner can operate at full potential, to more fully cover the market while avoiding potential conflict between partners.
WangYang:
Please share us one or two successful customer cases. What benefits did EnSight bring to them?
Aric Meyer:
One of my favorite examples is Proctor & Gamble. I like them because it's a company that most people have heard of and use their products, but it's not a company that one would usually associate with CAE. But in fact they are a huge user of CAE, and maybe that is one reason they have the top products in many markets. They have been featured in Ansys Advantage magazine multiple times. They use CAE for mixing tanks, bottle and package design, product design such as the aerodynamic shape of Pringles potato chips so they did not fly off the conveyor belt (today P&G no longer owns Pringles).
EnSight provides them specific advantages for certain cases, for example being able to handle 10s of thousands of streamlines or pathlines in their mixing tank simulations. But from a higher perspective, EnSight gives them the freedom to control their CAE process. P&G likes to use a variety of software. They can do FEA, CFD, and DEM simulations with commercial and open-source solvers, but use EnSight for the post processing. Maybe one engineer knows Star-CCM+ well, so he does the simulations. But if he happens to be too busy to do the post processing for that job, another engineer can use EnSight to do that. They don't have to know Star-CCM+. Or maybe they changed which solver they use for a certain problem. EnSight can load the data from both the old and new solvers so they can directly compare the cases. They also use scripting. If they had to write different scripts for every post processor it would take a lot of work, and the capabilities of each post processor are different. With EnSight they can write one script which works with multiple solvers and save them a lot of work and potential mistakes.
There are many more examples in more traditional CAE markets like aerospace, automotive, and research. Instead of choosing one example I'll point out one feature which is common to all these customers. Their data is getting bigger and bigger and many post processors can't keep up. EnSight is excellent for large data. On the same hardware, if other post processors are slow, EnSight will be comfortable. If other post processors are unusable, EnSight will be fine. If the data is too large to read into one computer, EnSight can run on multiple computers and split the data. There are many feature of EnSight which take time to appreciate, but this is one feature that will be obvious right away. If you think your post processing is slow, just try EnSight and see if it's faster.
WangYang:
Though your last few years of experience of working in China, how would you view the potential of CAE technology in China's market?
Aric Meyer:
CAE certainly has a lot of promise in China and will be used more and more. People who have been in the CAE industry in China for longer than I have say that the software really became useful starting in 2006 or 2007. Meaning before that time customers did not have sufficient computing power or CAE expertise to apply the software to their problems. So we can see that in the last 7 years the market has matured very quickly, to the point where many companies use CAE as an important part of the design process, and many engineers spend a large part of their time doing CAE. This trend will only increase with time and I am happy to be a part of it and hope we can help our customers to make CAE more useful to them.
WangYang:
Please introduce EnSight's future marketing strategies and goals?
Aric Meyer:
Our strategy is to continue developing the way we are going, using multiple partners. We will help build up the partners we have, and add new partners where it makes sense. We feel our coverage of our existing target markets (aeronautics, astronautics, automotive, defense, rail, shipbuilding, etc.) is sufficient at this time. This does not mean we have already fully penetrated these markets, just that we have a strong beginning and our existing partners are pursuing more opportunities. However, the possible industries where EnSight could be used is much larger. There is still opportunity for us in underserved markets if we can find the right partners or the right strategies.