Siemens PLM:Establishing Digital Enterprise Based on Smart Innovation Platform
From September 3rd to 4th 2014, I attended Siemens PLM Software 2014 Analyst and Media Conference in Boston , in which I listened to the development strategy, industry solutions and latest development in different fields introduced by Siemens PLM senior executives and the speeches by Siemens PLM customer representatives from automotive, machinery, and aerospace industries, thus I got a comprehensive understanding of the latest Siemens PLM strategies, technologies, products and industry applications, which are going to be explained in this article.
I. Trend
Mr. Chuck Grindstaff, CEO of Siemens PLM shared his expectation on PLM vision, he pointed out that digital technologies are more and more widely applied and smart products have increasing intelligence and perception in this connected world. Full digital model has the information on how to manufacture the product and on simulating the product performance in actual scenario, which can be perceived by the intelligent manufacturing system during the manufacturing process of actual products to ensure intelligent decision making and realize optimized and distributed production. As the intelligent product systems are becoming more and more complicated, the risk in innovation process is bigger and bigger; therefore, manufacturers need an integrated platform to support its realization of product innovation and establishment of digital enterprise.
Chuck believes that Siemens not only has global PLM leadership, but also has solid foundation and complete product line in automatic controlling field, thus Siemens can seamlessly integrate the definition process of digital products and the manufacturing and using process of actual products so as to provide complete product innovation solutions to manufacturers. Chuck gave an interesting example: when the industrial robotic using its arm to grab a workpiece, it can automatically select the one with particular shape for processing, as it can automatically identify the shapes of the workpieces with its visual system.
Smart Car
JP Morgan's research report on application of IoT published in August 2014 shows that in the entire IoT application market, manufacturing accounts for 27%, ranking first in the industries, and the application of smart technology will have far-reaching impact on manufacturing industry. According to Chuck, the future Cyber-Physical Production Systems can synchronize the digital and physical world; the manufacturing system will have self-aware production modules, self-optimized processes and continuous PLM integration.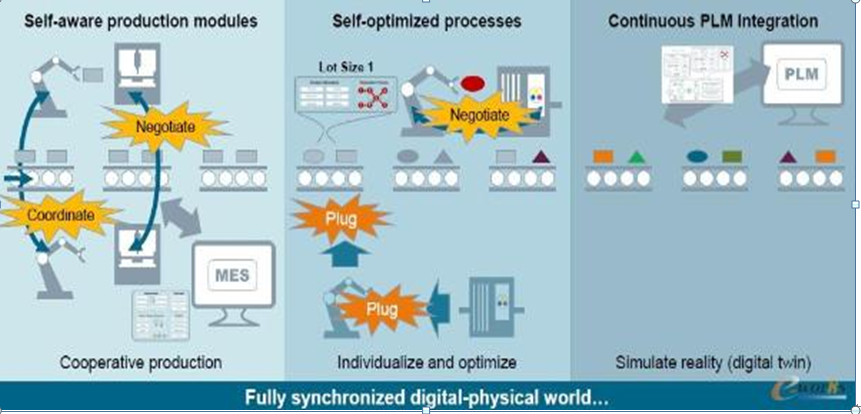 Cyber-physical Production System
The electronic works established by Siemens in Amberg, Germany,which has achieved high quality standard, has become a model of digital enterprise. In fact, digital enterprise doesn't simply stress automation, but emphasizes combination of informationization, automation and intelligentization; and people are essential for planning, supervision and decision-making. In September 2013, the world's second digital enterprise, Siemens digital enterprise in Chengdu was formally put into production.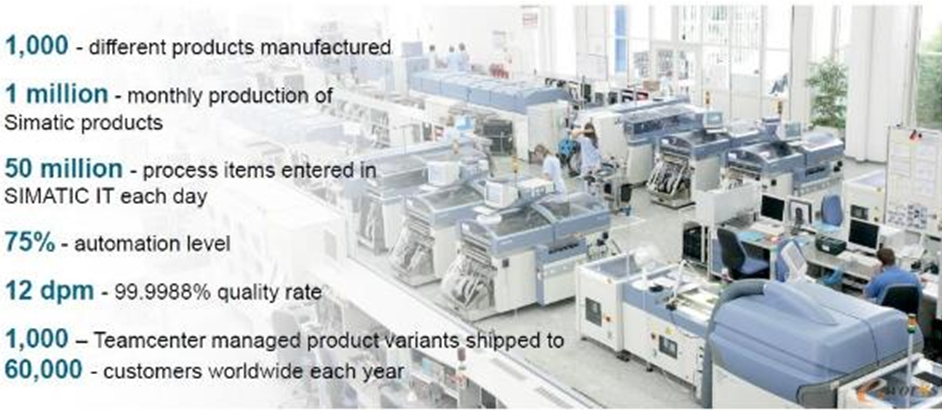 Siemens Amberg Factory
Chuck stressed that Siemens PLM committed itself to delivering the smart innovation platform for digital enterprises, and its core strategy is reflected in four aspects: 1) Engaged Users: to provide needed right information to different users in right wayat the right time and even intuitively deliver exactly what users need before their awareness of demand; 2)Intelligent Models: to accurately describe full information on the products, achieving connectedness; 3)Realized Products: to realize fusing of virtual product definition and real production environment; 4) Open System: easy for deployment and flexible for adjustment, to meet the customers' changing demands. The core strategy was repeatedly interpreted by the Siemens PLM leaders during the two-day meeting.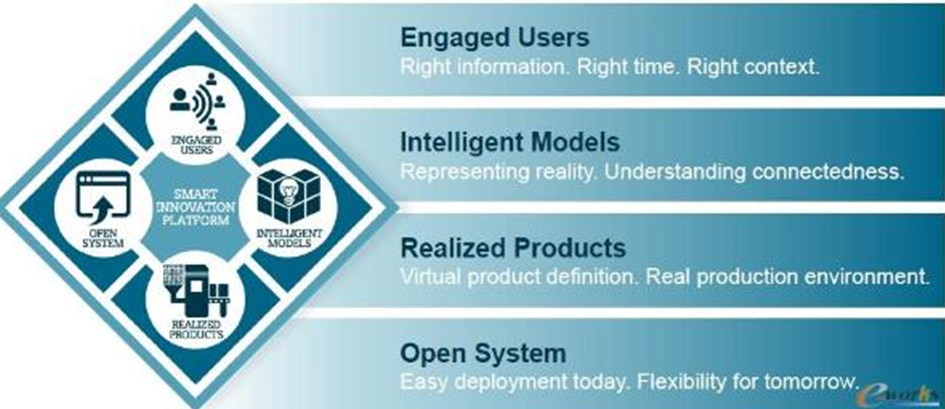 Siemens PLM committed itself to delivering the smart innovation platform for digital enterprises
The LMS acquisition in 2013 greatly improves the system analysis, system simulation and testing management of Siemens PLM's supporting for the innovation of complicated products. To further strengthen Siemens' ability to help customers to establish digital enterprise, Siemens' Simatic IT MES solutions team and IBS quality management solutions team acquired by Siemens were merged into Siemens PLM team since Oct.1, 2012, which lays a good foundation for Siemens actually bringing industry 4.0 concept to the customer enterprises.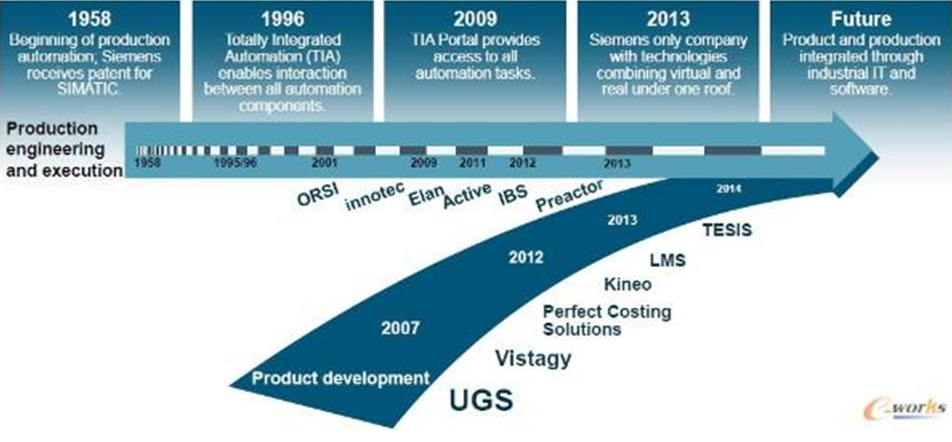 Siemens improves digital enterprise solutions through continuous acquisition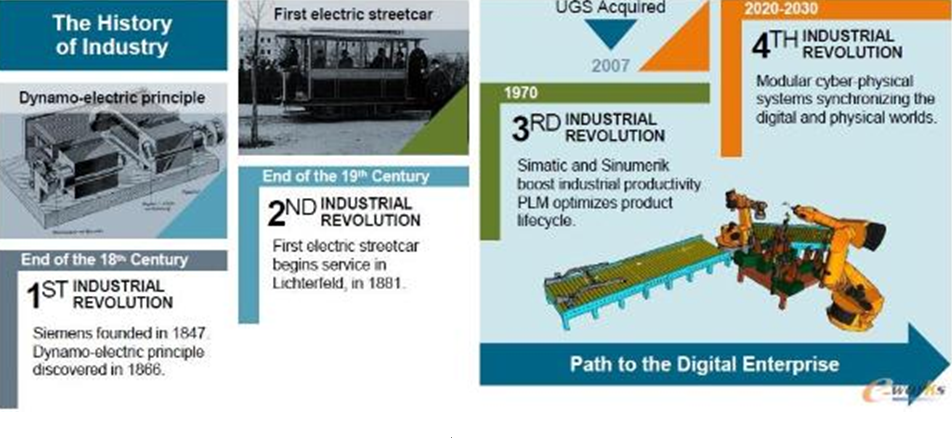 Siemens' interpretation and practice of four industrial revolutions
At this meeting, Siemens PLM expounded the concept and solutions of SLM for supporting products and introduced the ALM solutions for supporting integrated design of mechanicals, electronics and softwares.

II. Product and Technology
Mr. Paul Sicking, SVP of Chief Technology Office of Siemens PLM, made a presentation with in-depth analysis of the development strategy of Siemens PLM products and technologies delivering the smart innovation platform.

Paul pointed out that Active Workspace released by Siemens PLM fully demonstrates the design philosophy of Engaged Users, as it can deliver information proactively and intuitively according to the user's role, and the information is available at anytime and anywhere, therefore, it can help the users to achieve efficient collaboration. Active Workspace can be imbedded within the application systems such as NX and LMS, and it can also operate in Teamcenter environment. Basing on intelligent product models, Siemens PLM solutions can conduct full-range analysis and optimization of the product's systemic performance.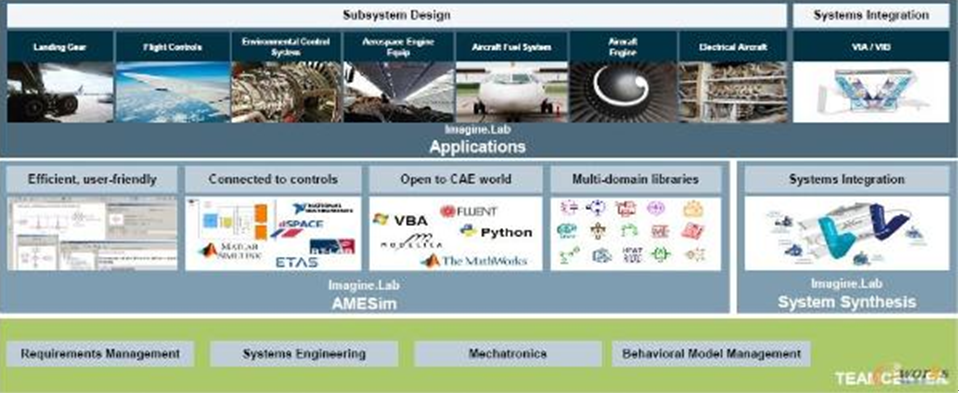 Siemens PLM's system simulation solutions
Noteworthily, Siemens PLM launched Teamcenter Quickstart this time, which concentrates the basic functions of Teamcenter and is oriented towards small and medium-sized enterprises. And when the enterprise becomes bigger, it can be seamlessly upgraded to Teamcenter. The product actually replaced the former Teamcenter Express. I believe the reason is that its framework is more scientific and reasonable, easier to be transferred to the integrated Teamcenter system.

NX10 was introduced at the meeting. As Siemens' core system for delivering the innovation platform, NX covers the integrated functions from product conceptual design, detailed design, and engineering simulation to digital control processing; while NX10 CAE platform is being integrated with the simulation function of LMS acquired by Siemens in order to achieve system driven product development and performance validation. NX10 has enhanced function of conceptual design and multiphysics simulation. Besides, NX10 introduces true multi-touch interaction, which further increases the flexibility in mobile application.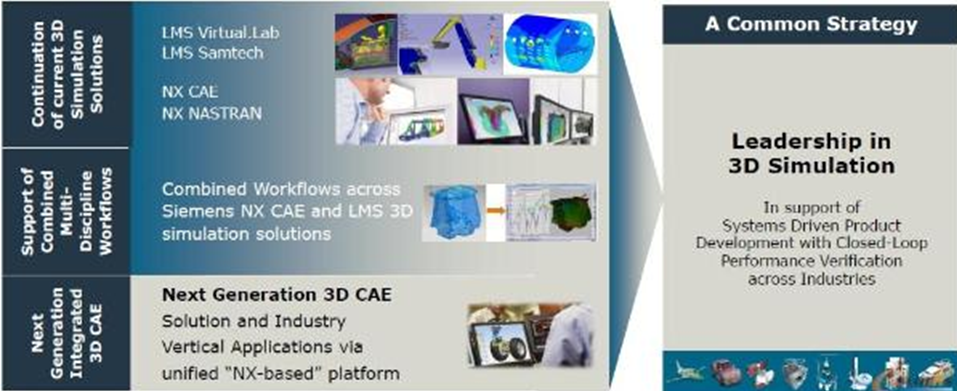 NX CAE development strategy
At the analyst meeting, Siemens PLM launched Simulation & Test Solutions(STS)and set up the STS business segment. Mr. Jan Leuridan, previous LMS president, was appointed as CEO of STS Business Segment. STS Business Segment's vision is to enable the establishment of smart innovation platform. Basing on the previous LMS 1D & 3D simulation solutions, it combines the product data management of Teamcenter and the product design function of NX, and integrates testing, simulation and engineering service, meanwhile, it drives and implements related standards development. Besides delivering special solutions to aerospace and automotive, STS improves and combines different product lines, for example, LMS Samtech Caesam——a unique integrated framework for aero-structures structural certification; LMS Samtech Samcef and NX CAE, integrating high-end non-linear solving with best-of-class FEM pre-post; integration of simulation and testing products, provides scalable multi-physics behavioral modeling and analysis.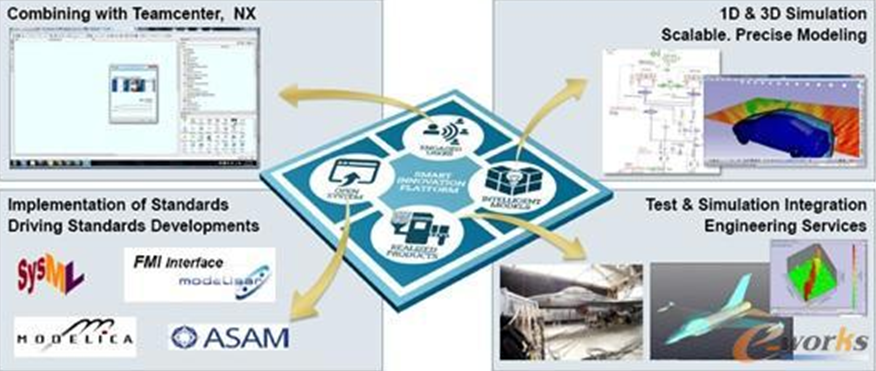 Siemens PLM set up STS Business Segment
III. Industry Application

Mr. Steve Bashada, SVP of Industries of Siemens PLM, made an introduction to the industry application of Siemens PLM.

In 2013, Siemens PLM launched a series of Catalysts, and this year, it successively released a series of Catalyst softwares focusing on 8 industries and updated some Catalysts to provide continuous in-depth support to industry application.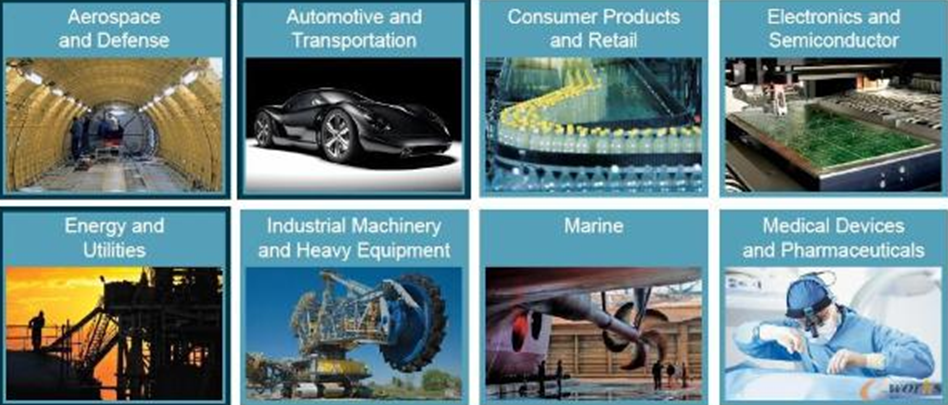 8 industries Siemens PLM focusing on
Mr. Dave Riemer, VP of Aerospace and Defense Strategy (A&D), Siemens PLM, pointed out that the biggest challenge facing A&D industry is to establish a fully digital model based enterprise, which can pass the actual validation at the first time and win more programs through lower quote. Dave Riemer introduced in his keynote speech that the aim of the Catalyst for A&D industry is to provide an open and integrated environment for design and analysis in order to bring systems thinking to the engineers. At the same time, Dave Riemer stressed that the validation management provided by Siemens PLM is a unique and powerful integrated solution as it closes the loop from R&D requirements to product compliance.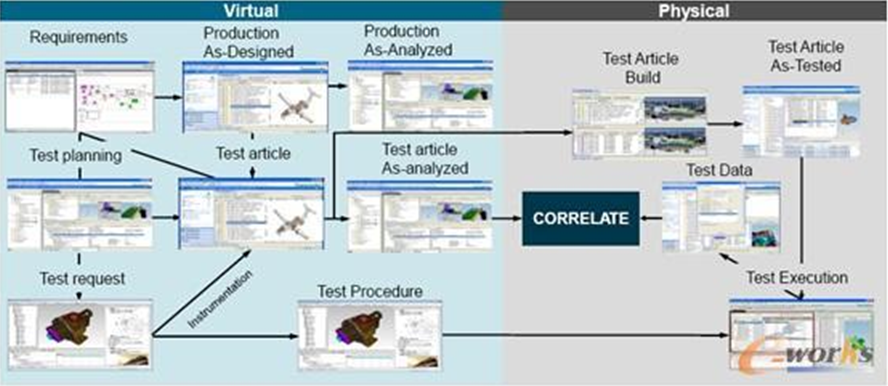 Siemens PLM verification management
Closed loop requirements to compliance
In 2013, global new vehicle delivery rose 3%, reaching up to 83.8 million units. The automotive industry recovered in the US and had strong growth in the Asia-Pacific Region. Mr. Stefan Jockusch, VP of Automotive and Transportation of Siemens PLM, pointed out that at present, the automotive industry faces more challenges than ever before, as there is higher requirements for innovation, standardization and cost reduction. Siemens PLM will continue to put the auto industry as a strategic pillar industry, and provide product solutions for system innovation. In March 2014, Siemens PLM made a 10 million dollars strategic investment in combing Polarion and Teamcenter to integrate ALM within a PLM driven software development process, also supporting software embedded aspects.

CPG(Consumer Packaged Goods)is an emerging industry in PLM field in recent years. Mr. Colin Clinfford, Director of CPG Industries of Siemens PLM, believes that diversity competition in the global market brings new challenges to the CPG industry, especially in the BRIC countries, the current product developing approaches can't rapidly and effectively respond to the upgrade of products. To meet the increasing requirements of low cost, satisfying consumers and flexibility in CPG industry, Siemens PLM's Catalyst for CPG industry will be devoted to delivering a broad and adaptable PLM portfolio to establish end-to-end PLM support system in order to help CPG enterprises create brand value.

Sia Langrudi, VP of Global Strategy and Business Development of Siemens Industry Sector, introduced the following in his presentation: in the electronics and semiconductor industry, Siemens PLM not only delivers basic and common industry solutions, but also brings in-depth knowledge and professional service to the users. At the 2013 Analyst Meeting, Sia mentioned Siemens PLM's Catalyst strategy for E&S industry, which includes common process and practices proven in production, and solutions vetted by E&S Global Executive Council. In the past year, Siemens PLM's Catalyst for E&S industry made new progresses, including improving the management for part, doc and BOM, supporting rapid and standard change processes, strengthening simple and structured document management, and providing UI for "casual" and "power" users. Besides, "Cloud" is ready for E&S industry. Sia also pointed out Siemens PLM's future focus in E&S industry: NPDI(New Product Development and Introduction)cost and risk management, NPDI supply chain management, NPDI multidiscipline design and development, and NPDI smart manufacturing.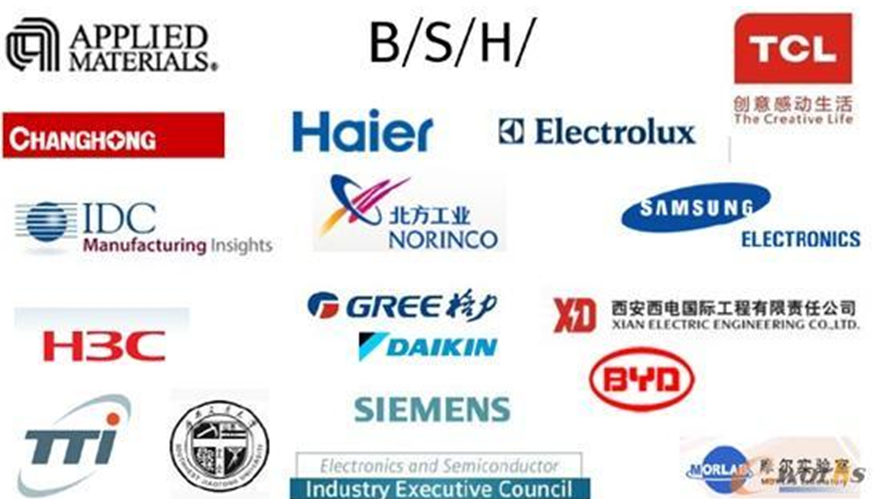 Chinese customers play an important role in Siemens PLM E&S typical customers
Compared with the traditional discrete manufacturing industry, energy and utilities industry hasn't be involved in PLM solutions for long time. But Mr. Dennis Peters, Director of Energy and Utilities of Siemens PLM, regards PLM as a strategic platform for E&U industry. Siemens PLM has achieved rapid development in E&U industry in the past few years. Dennis stated that PLM had gradually become a value driven strategic system for energy industry customers. For oil and gas business, Siemens PLM will take advantage of the breadth and depth of its solutions to drive their innovation and efficiency; besides, with its partner Accenture's abundant experience in energy industry, Simens PLM can achieve faster delivery to its customers; additionally, with Siemen's extensive network and resources, Siemens PLM can provide innovative value to E&U enterprises.

Industrial machinery and heavy equipment is a very important industry for Siemens PLM. Mr.Rahul Garg, Director of IM&HE of Siemens PLM, pointed out that the current trend of customer driven machinery design brings pressure to enterprise from many aspects, and that mass customization drives demand for more flexible and smarter machines. In response to the challenges, Siemens PLM is dedicated to the construction of Cyber-Physical-Systems, and actively involved in the German government's strategy for Industry 4.0.

At the Siemens PLM analyst meeting in last year, Siemens PLM proposed the 4GD concept (fourth generation design) for shipbuilding industry, which mainly deals with the cooperation intensified synergies for the design of big and complicated products. According to Bert Geisler, Director of Marine Solutions of Siemens PLM, Siemens PLM's solution for shipbuilding industry had 4GD extension in last year: strengthened cooperation with Siemens Industries and leverage LMS Hardware in the Loop, besides, the performance enhancement of CAD and CAE softwares whose core is NX, lays a good foundation for the realization of 4 GD. Enhanced Service Lifecycle Management was also offered.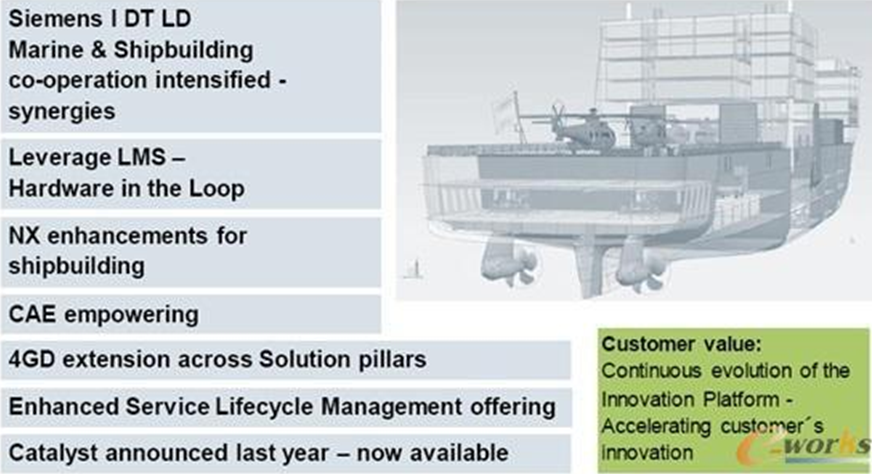 Siemens PLM's Marine Solution evolution continuity
Dr. James B. Thompson, Director of Medical Device and Pharmaceutical Industry of Siemens PLM, believes that the medical device business is more and more competitive, and its products are more and more complex, therefore the design quality is more and more important. He said that the complexity could be turned into competitive advantage through system driven innovation, and Siemens PLM's strategy is "Quality by Design" through integrated quality processes, including embedding quality data and analytics throughout the product lifecycle and integrating QMS processes on PLM platform.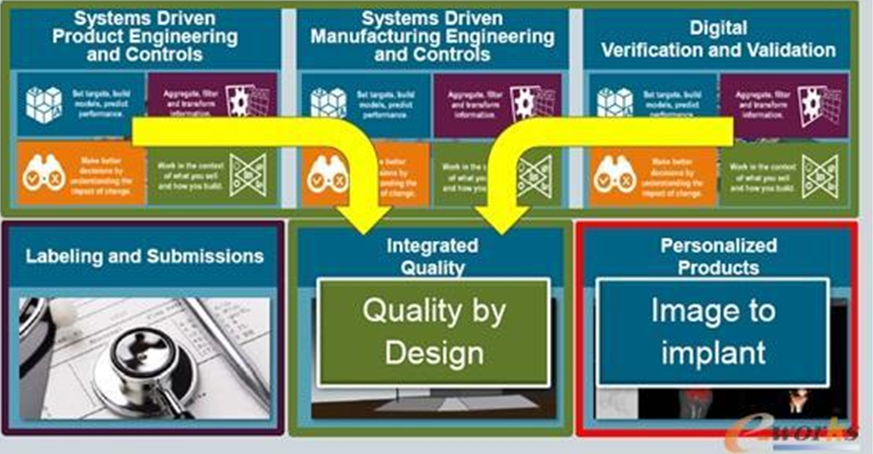 Siemens PLM's Catalyst strategy for medical device and pharmaceutical industry
IV. Case Sharing

Besides the sharing from the industries at the meeting, the presentation by Mr. Charles Camarda, former astronaut from NASA, appealed to me. He took Discovery to carry out Mission STS-114 in July, 2005, which was the first "Return to Flight" Space Shuttle mission 26 months after STS-107 Space Shuttle Columbia disaster. In his presentation, he describes how NASA finally found out the root cause of the Columbia disaster through looking for 500,000 fragments, watching the launch video repeatedly and simulation analysis and experiments. The truth was that a piece of foam broke off from the Space Shuttle external tank and struck the reinforced carbon-carbon thermal insulating blankets in the front of the left wing. When the Shuttle reentered the atmosphere of Earth, the damage allowed hot atmospheric gases which reached up to 1400 ℃ to penetrate and destroy the internal structure of the left wing , which caused the spacecraft to melt down. Deficiency in the process of installing foam materials was the major cause of the disaster. NASA uses the case to teach new engineers how to develop new solutions to complex problems. He also introduced that NASA cooperated with some universities to set up projects to solve the on-orbit RCC repair problem and alternate land landing of the orion capsule. Mr. Charles Camarda is now the Senior Advisor for Engineering Development of NASA. He is committed to changing the way of education to change the way the engineers of the new generation think in order to achieve innovation.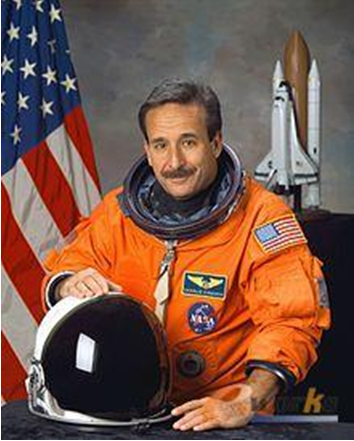 Mr. Charles Camarda, NASA Astronaut
This meeting also told a story that an enterprise manufactured artificial joint with Siemens' three-dimension design technology and helped an old Canada hockey enthusiast to stand up again to skate; and introduced a case that some students from Purdue University and MIT in the United States employed Siemens' technology to conduct remote collaborative design for UAV with complex materials, which was exhibited on site. I was deeply impressed by those cases.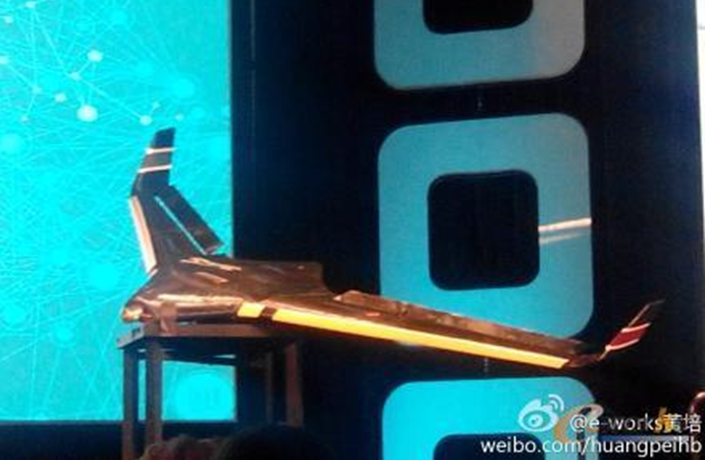 UVA with complex materials exhibited on site, co-developed by students from MIT and Perdue University
The meeting revealed the following important trends in PLM field:
1. The application of digital technology should run through the entire product life-cycle, especially for the development and application of complex products;
2. The development process of complex products should be fully based on system thinking;
3. Automation and robotic systems will realize collaborative work with human in the future;
4. The digital manufacturing and actual manufacturing execution process will achieve closer interaction;
5. PLM system should take the initiative to capture the user's intent, so as to improve user experience.
V. Trivia

The annual Siemens PLM analyst meeting is always very tightly scheduled, and provides massive information. What's new at this year's meeting is that the analysts were arranged to have a visit and a dinner in the USS Constitution Museum. USS Constitution was the most famous frigate during the American War of Independence in the 18th century, which was launched in Boston on Oct.21, 1797 and was regarded as the symbol of endeavor and victory by the United States Navy. During the war between the US and Great Britain in 1812, it participated in more than forty naval battles, and won in a lot of one-on-one frigate battles, thus it earned the nickname of "Old Ironsides". Apparently, the arrangement of the visit showed Siemens PLM's confidence and determination to remain invincible in the global PLM market.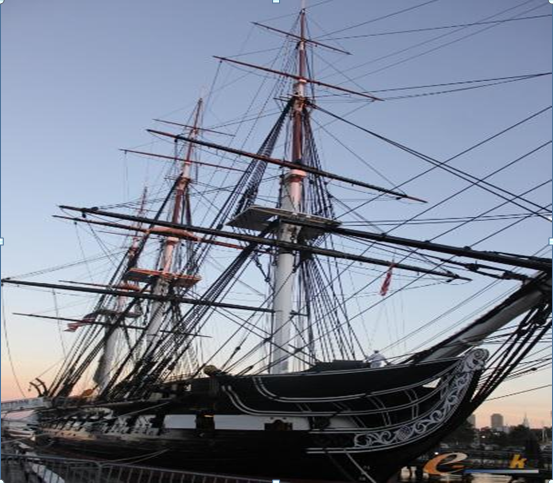 USS Constitution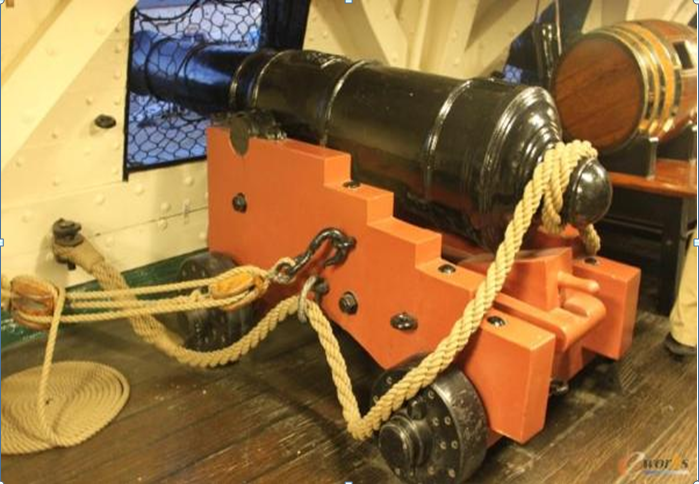 Cannon inside USS Constitution



English Editor: Weijuan Wang