Realize world-class manufacturing by lean management of internal and external value chain
On Jan 24, 2013, I interviewed Mr. Rob Rudder, CAMSTAR's Executive Vice President and Mr. Kong Eng Teck, CAMSTAR's Managing Director of Asia. As one of global leading MES solution providers, CAMSTAR has always been innovative in enterprise level manufacturing execution, and quality management solution for internal and external value chain. It provides excellent software platform and industry solutions and has helped many famous enterprises achieved world-class manufacturing. In March 2013, CAMSTAR was honored as '2012 Outstanding MES solution Vendor in China' by e-works.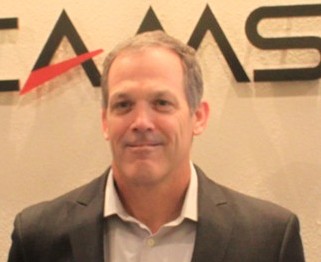 Mr. Rob Rudder, CAMSTAR's Executive Vice President
1. CAMSTAR, focusing on manufacturing and quality management
Founded in 1984, CAMSTAR has been a world leader in enterprise manufacturing software and auality solutions for nearly 30 years. Being one of the cofounders of MES organization, CAMSTAR has a deep understanding of MES technology and rich experience in various industries. It provides excellent MES solutions for industries like semi-conductor, electronics, medical devices, biotechnology, metal processing, equipment manufacturing, and solar power and for contract manufacturers. Focusing on manufacturing and quality management, CAMSTAR has 500 industry leader customers around the world, of which 85% are from Fortune 500.
The acquisition of Technology Resources Group in 2009 helps CAMSTAR greatly in their presence in Asia and China market. Mr. Kong Eng Teck, the founder and CEO of Technology Resources Group, has joined the CAMSTAR as Managing Director of Asia. CAMSTAR APEC offices include Shanghai, Shenzhen, Singapore, Malaysia, and Pune.
In 2010, CAMSTAR acquired another company called SigmaQuest. It enables CAMSTAR to manage supply chain quality besides MES. CAMSTAR SigmaSure is based on SaaS model. It is able to do monitor and measure metrics for critical suppliers, contract manufacturers, the ODMs, and look at those relative metrics and terms to what's really mattering to manufacturers and can give early warning signs to problems. CAMSTAR enables global manufacturers to leverage global supply chain to reduce cost and enhance flexibility, while protecting their brands and quality at the same time.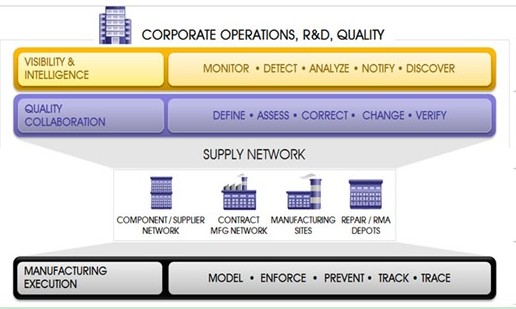 1. CAMSTAR solution framework
2. Enterprise-level MES solutions support global manufacturing operation
Many brands have multiple manufacturing sites of their own, so it's very important for them to properly manage and adjust their manufacturing resources in these sites. It brings forward the requirements for enterprise-level MES system. Under this background, MESA proposed the concept of collaborative MES, which emphasizes on the effective collaboration within several manufacturing bases. CAMSTAR's enterprise-level MES solutions are in tune with this trend.
Mr. Rudder gives an example of Lenovo, which is negotiating with CAMSTAR on the application of MES system. Lenovo has several production bases. Their homegrown systems in manufacturing were very single-plant-focused which resulted in restriction in flexibility to go to the market. Therefore, global manufacturers like Lenovo need an easy-to-use MES system to support their unified operation in global manufacturing bases and rapid mass production of new product.
Rob said that CAMSTAR released CAMSTAR 5.1 in 2012, which introduced the new function of dashboard and performance management, support process management in multi-plants, and enhanced data analysis function. This version greatly elevated the software's ease of use with the clear user interface, flexible configuration, and operation on mobile devices like iPad.
It is very easy to use CAMSTAR 5.1, even for those SMEs who are insufficient in professional talents. It has three tiers of architecture and users don't have to touch the source code to configure the software functions, define their rules, or to modify and extend. With CAMSTAR 5.1's platform and Web service technology, customers can define their UI, processes, and manufacturing resources in plants or in enterprise level. It largely reduces the difficulty in MES implementation and can support multisite operation. Besides, the self-defined dashboard reports and real-time control of key indicators in manufacturing execution can help manufactures drive correct and timely decisions. CAMSTAR 5.1 uses new internet technology and can run on any browser anywhere including smart phones.
CAMSTAR interoperability has the whole way of integration. At the bottom, it integrates with any hardware equipment like barcode scanner, testing equipment, PLC or CNC machine. At the top, the product also can integrate with PLM and ERP.
Mr. Kong stressed that MES is an important application for manufacturing so manufacturers should focus on the value the system brought. They need to choose vendors like CAMSTAR which is MES specialized and has advantages in core technology, product functions, industry focus, implementation methodology and experience to meet their extending business requirements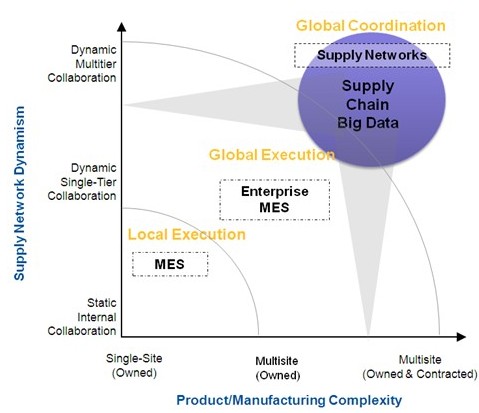 2. The evolution of internal and external supply chain
3. Supply chain quality—a new and prospective direction
The unique advantage of CAMSTAR is that SigmaSure can analyze the immense data growing in the whole supply chain and make predictions. Many supply chain vendors are focus on collaborative planning between upstream and downstream companies, while SigmaSure can do correlation analysis by extracting effective information in big data from supply chain and predict the suspects that may cause enterprise problems so as to avoid the risk of recall.
Rob told me that, "CAMSTAR is doing some business with DELL in early warning on supply chain quality. Right now, we deal with 200 major suppliers of whom 85 are in China. Usually, problems occur in the specific individual supplier on the production site. For example, chip vendors changed the characteristics of the chips and it passed testifying. But if the change information didn't reach DELL timely, it may cause problems for customer's usage. It will cost large amount of losses in money and brand reputation as well because of the recall and rework. Therefore, enterprises like DELL need multi-tire visibility of supply chain. While the application of CAMSTAR's supply chain quality solution can avoid such unnecessary losses. On the other hand, individual suppliers can't see Dell's return data. CAMSTAR solution can help them understand the return data relevant to them and the correlation so that they can analyze and make improvement to avoid the same problem.
CAMSTAR now has 25 companies using supply chain quality system to monitor and analyze the key supplier quality metrics. The system can do intelligent analysis, warn the risks in supply chain, and learn the rules and prevent problems from happen.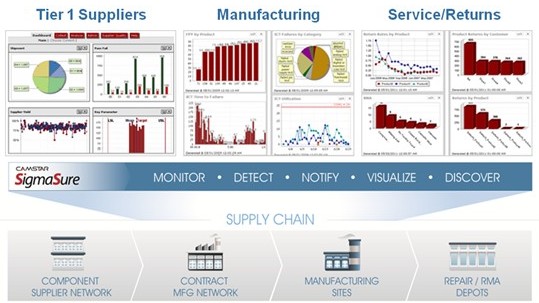 3. CAMSTAR SigmaSure solution
Kong said that CAMSTAR has started from MES, but as they take stride forward to manufacturing industry, CAMSTAR extended to quality and supply chain quality. In the near future, CAMSTAR will use cloud computing to analyze big data in supply chain.
Rob thinks that the supply chain of global manufacturing right now is going more complexity with more product structure, more electronics, smarter components, shorter lifecycles, and more changes, even some natural disasters. Therefore, the quality assurance becomes a great challenge for companies in this complicated environment. The system has to deal with hundreds of terabytes of big data emerged from the exploding data of product type, quality and test, WIP and finished product, and production. These big data cannot be analyzed by traditional relational database. CAMSTAR has several patents in this area and has unique advantage on SCM and supply chain big data analysis. According to Rob, CAMSTAR will release their cloud service on supply chain big data analysis in the second half of 2013.
4. CAMSTAR, serving Chinese leading manufacturers in realizing world-class manufacturing
Rob thinks that Chinese MES market is very promising. After Chinese manufacturing enterprises applied ERP and PLM, they start turn to manufacturing, which is actually a global trend. Market competition is getting fierce. Manufacturers have to raise delivery speed and promote flexible and agile manufacturing.
The largest value CAMSTAR provided is to make sure manufacturers can deliver quality products timely, which is essential for those export-oriented manufacturers who are serving the global customers and building up an international brand. They need raise quality standard to meet the international level.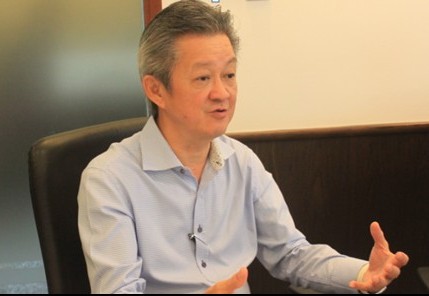 Mr. Kong Eng Teck, CAMSTAR's Managing Director of Asia
Kong pointed out that, "In this difficult period in China, Chinese manufacturing enterprises will go through industry consolidations. However, for manufacturers who want to be world-class players, we believe the slowdown is actually good for them to invest heavily on building IT infrastructure and systems so that when the economy picks up again, they will be ready."
Kong gives an example of TCMC who invest so much on automation and technology that win customers' trust. They are now growing to be the industry leader. Chinese manufacturers should also promote their internal and external supply chain management and quality assurance system to enhance their brand reputation.
Kong said that CAMSTAR is working with Chinese local partners like UFC to provide better service for Chinese leading manufacturing enterprises and help them realize world-class manufacturing.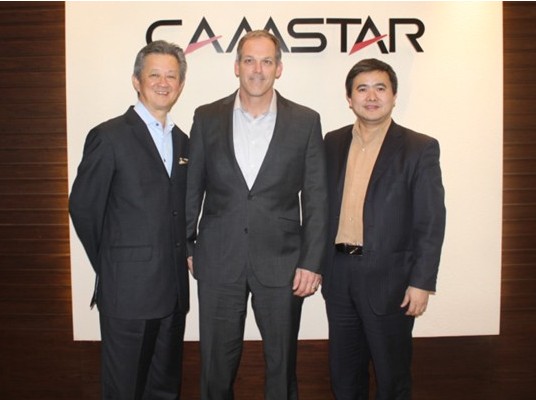 Kong Eng Teck, Rob Rudder, and Dr. Pei Huang (from left to right)
For Chinese version, please visit:
http://www.e-works.net.cn/interview/leader_589.htm