EMC: accelerate manufacturing upgrading and transformation
As the second Five Year Plan released in China, the global IT giant, EMC's strategic focus in China is becoming much clearer. On March 7, 2013, Dr. Pei Huang, e-works CEO interviewed Mr. Geoff Haydon, EMC's Chief Operator Officer in Asia Pacific and Japan. It is the first time for Mr. Haydon to visit Wuhan and he gave a comprehensive interpretation for EMC's strategy and market development in the future.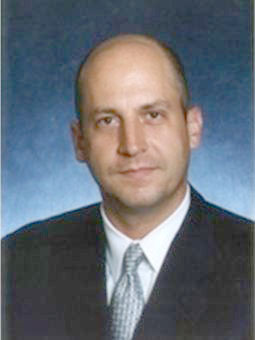 Mr. Goeff Haydon, COO of EMC in Asia Pacific and Japan
Pei Huang: Please introduce EMC's strategy focus of EMC.
Geoff Haydon:
There are three very predominant areas that EMC has focused on right now: IT transformation, trust in the cloud, and big data.
IT transformation:
It is focused on the journey to the cloud. It involves the virtualization of IT infrastructure, including server virtualization, storage virtualization, and network virtualization etc. VMware, a subsidiary of EMC, made an acquisition of a company called Nicira in 2012. It is based on a software defined network, which can help EMC transform from traditional network to software defined network. Now EMC and our partners provide virtualization service and technologies including server virtualization, storage virtualization, network virtualization, and desktop virtualization. It can provide virtualized- and cloud- based next generation data center and help enterprises improve IT ROI and cut IT investment.
Trust in the cloud:
It is really a trust towards security broadly from identification, access control, to security analytics. With the development of vitalization and cloud computing technology, traditional based security has shifted to information based security. EMC has grasped the trend to create the strategy of trust in the cloud. It cannot only prevent attacks but detect them and contain them, which can increase enterprises' response time on information security.
Big data:
EMC is the world's largest information infrastructure provider. EMC has been making a lot of acquisitions in last few years including most recently Greenplum in a record to build a solution set that customers will be able to enable their platform for big data.
Pei: Please introduce EMC's development status in China and EMC's prospect in China in the future.
Geoff:
EMC's China business revenues increased five times in last five years. I think a lot of it has to do with our endeavor of our employees and partners in China. We had a very strong senior executive board of director level commitment to China and many elite employees. Our strategy in China is to listen to customer requirements and help them solve their challenges. We are very optimistic about the future of our business and continual growth in China. In the future, we will focus on IT transformation, trust in the cloud, and big data and help Chinese enterprises realize transformation.
Currently, EMC's next generation of growth in China certainly is going to be the first-tire cities like Beijing and Shanghai. However, EMC also see growing trend in some non-traditional large cities like Wuhan. Wuhan is also EMC's focus in the future. EMC is aggressively focused on making more investments and elevating a presence in a much larger number of cities like Wuhan.
Pei: What is EMC's market strategy in manufacturing?
Geoff:
Manufacturing has been a strategic focus of EMC. There are two main directions in manufacturing markets:
Firstly, virtualization technology can be used by manufacturing enterprises to reduce IT investment and maintenance cost and increase the efficiency of IT systems. Manufacturing industry applies information application broadly. For R&D and design, manufacturing needs CAD, CAE, and PDM systems, and ERP, CRM, SCM, OA for management, and various control systems for production. These systems are all necessary to provide IT support in manufacturing.
Secondly, manufacturing enterprises are focused on rapid deployment of new applications. With the development of virtualization and cloud computing, on demand has become a trend.
In the past 15 years, the progress of IT application in manufacturing is accelerating rapidly. The deepening integration of IT application with industrialization will drive the development of manufacturing industrialization significantly. In recent years, EMC is working with manufacturing experts and companies closely on developing this market.
Pei: According to e-works Research, some manufacturing enterprises are outsourcing their data centers, so what's your view on this point?
Geoff:
Many companies are buying infrastructure as a service, platform as a service, software as a service but I think companies at manufacturing space still regard IT very largely as a source of competitive advantage. I think that the outsourcing of data center in manufacturing is not trying to outsource everything but to keep the core business in private data center and outsource the non-core businesses. This model can effectively reduce enterprises IT cost, balance resource and price.
Pei: Do you have any idea on the application of big data in manufacturing?
Geoff:
EMC has been dealing with big data business for many years. One of the things EMC spent a lot of time working with manufacturing is the collection of information at every stage of manufacturing process and then associate the information automatically with failure rates and quality rates to realize the data analysis of processes and quality rates. Here is an example of EMC serving the manufacturing in big data. In fact, EMC has rich experience in the application of big data in manufacturing industry, especially in discrete manufacturing industries. Now, EMC can help realize customer requirements analysis and market analysis through collecting information of purchasing features and patterns and analyzing it effectively for making decisions in manufacturing R&D.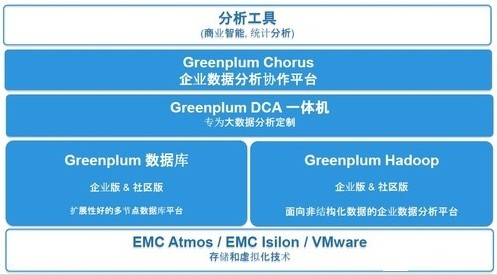 EMC big data solution
Pei: What's the operation strategy of EMC to different subsidiaries?
Geoff:
The most typical one is VMware. VMware is an important subsidiary of EMC. EMC has been enabling VMware to operate independently since the acquisition. We think it can enhance the competitiveness of EMC in the market. EMC has been keeping close partnerships with VMware. The integration of EMC's product with VMware's technology will create outstanding products. RSA is acquired by EMC, it is a strong brand. EMC is enabling RSA with high degree of autonomy and many EMC's solutions have blend in RSA's security idea. The operation strategy of EMC towards our subsidiaries is to give them more space and closely cooperate with them to leverage their technologies and create best products.
Pei: In China, many cities are investing heavily on cloud computing center but there are not much cloud applications in the center. Many local governments cannot get ROI. What's your opinion on this point?
Geoff:
In our view, it's just a matter of time before the wide application of cloud. Now applications based on the cloud is developing very fast, so we are very optimistic about the city cloud initiative. During the conversations we involved in with Chinese regional governments, we know that many of them want to build some type of cloud computing platform that they can provide applications services to departments and industries. The advantage of cloud computing center is to realize tremendous efficiency and IT cost reduction by establishing highly scalable and very efficient cloud computing centers. It's a global phenomenon.
Pei: What's EMC's position and status in global IT market?
Geoff:
EMC is no longer a storage vendor. With the development of cloud computing, EMC's business has extended to cloud computing, big data, and security. Moreover, EMC is more than a leading provider of technology and services in all three of those. We cooperate with customers to provide more excellent solutions. Currently, there are many players competing with EMC in the field of storage, virtualization, backup, and big data but there are very few companies that have the capability that EMC does. IT market needs vendors with more broad capabilities because they can offer more comprehensive and better services and solutions.
Pei: EMC's revenue is mainly from product sales. Do you offer consulting or training services for your customers?
Geoff:
EMC has always been very specific in character of distinguished itself as a technology company not a services company. Joe Tucci, our President has always said there are great technology companies, there are great services companies, but there are very few examples of sizable multinational companies who are great at both. They are very different business models. The vast majority of EMC's revenue today is from technology and product. It will be no change for the foreseeable future. Meanwhile, our service revenue is also growing very fast. For training, we are investing heavily in enabling those kinds of certifications here in China. We are working with universities on a number of certification programs that will enable them to educate their student on things like information infrastructure, cloud architecture, and data scientist capabilities.
For Chinese version, please visit:
http://www.e-works.net.cn/interview/leader_580.htm
About EMC
EMC Corporation is a global leader in enabling businesses and service providers to transform their operations and deliver IT as a service. Fundamental to this transformation is cloud computing. Through innovative products and services, EMC accelerates the journey to cloud computing, helping IT departments to store, manage, protect and analyze their most valuable asset — information — in a more agile, trusted and cost-efficient way. Additional information about EMC can be found at www.EMC.com.
About Geoff Haydon
Geoff Haydon is Chief Operating Officer of EMC Asia Pacific & Japan. As COO, Geoff focuses on developing and driving sales strategy and managing key global sales functions to accelerate growth for EMC in Asia Pacific & Japan. He also oversees the success and performance of the channels, marketing, global accounts, insides sales, alliances and product divisions within the company.
Prior to this role, Geoff was Vice President of Americas Sales at RSA, a division of EMC, where he was responsible for creating and executing RSA's market strategies. Under his leadership, RSA's business in the Americas consistently outperformed its business and market share objectives, and delivered strong double-digit growth. Before America, Geoff ran the RSA business for Asia Pacific & Japan based out of Singapore where he more than doubled RSA's market share in the region.
Geoff has more than 20 years of experience as an IT veteran, of which 17 were spent with EMC and RSA. He has successfully built and led businesses in EMEA, the Americas and the Asia Pacific region, and has held several senior executive leadership sales and operations positions for organizations in those geographies.