AVEVA: Constructing China Digital Factory
In April 2012, Dr. Pei Huang, the Editor-in-chief of e-works interviewed Mr. Paul Eveleigh, the head of Greater China of AVEVA at Shanghai. During the interview Paul first introduced about how AVEVA's digital factory solutions developing in China and what's their future developing strategy, then we discussed about the related fields of technology development and applications. AVEVA is an internationally renowned engineering information technology company providing full life cycle solutions and services for shipbuilding, oil and gas, paper, power, chemical and pharmaceutical industries.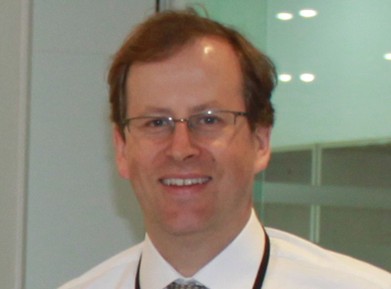 Mr. Paul Eveleigh, the head of Greater China of AVEVA

Pei Huang: Is there any stories as you are so fluent in speaking Chinese? Please give me a brief introduction of your personal experience in China.
Paul Eveleigh: I studied finance in Canada. When I left school I was doing investment management for both the individuals and the corporations including managing stocks, bonds, and futures. But I always wish to run my own business, so after eleven years I decided to leave. When I was working I decided to learn Chinese. So I went to a night school to learn Chinese. After doing once a week for 3 years, I think I was reasonable fluent about it. This made me be able to communicate with Chinese customers. After I can speak Chinese, 95% of my business was managing Chinese companies or individuals. It's a big change for me. My Chinese customers always advised me: You know you are wasting your time in Canada, you should go to China. You got great skills and you can speak the language, you need to go to China to explore the opportunity. So, at last I took their advice and came to China spend almost a year in providing advisory services for Canada companies. Eventually I found a partner in China and set up a wind power company. That was back to 2004, and over the next 5 to 6 years we built the company as the biggest and independent foreign enterprise mainly operations in Inner Mongolia. But after a period of time we had some disagreement in company developing with some other partners, so I decided to leave.
Not long after I left, AVEVA found me and asked me if I wanted to run their Chinese business. I said that I would take the position on two conditions. One is for Chinese market you should give me the enough space to make the decision so that I'll be able to respond quickly to the market. The second condition I said is that the Chinese market has a lot of characteristics for itself. There are a lots of differences need to be recognized. So I said you need to respect this market, we should also respect Chinese customers. The Chinese customer says this product is good, but it's not perfect. Then don't throw it away, you should realize how to make it perfect. I think that most companies in China are not doing so. They just continue to think: well, it's perfect in the west, so that it should be perfect in China, which is not the way for us to running the Chinese market. Then, my boss agreed with my conditions. So, I'm start to running this division on January 2011. I spent almost a year and a half on running the business and with a lot of changes. Now I think I get the right team and place. So we start to expand our market.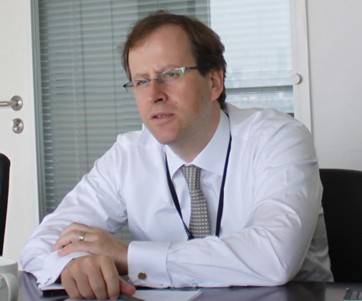 Paul talking about his development experience
Pei: Please introduce us about the development of AVEVA.
Paul: AVEVA (formerly CADCENTRE) is an internationally renowned plant engineering IT enterprise. It's originated from a project in Cambridge CAD center trying to allow engineers to be able to design plans using 3D design in 1967. But at that time between late 1970s and the early 1980s, the UK economy was in the doldrums. So the government decided to stop supporting this project. We have to kill the project or to make it as a business. The project team chose the latter. We hired some salesmen and started to run the company, developed the famous PDMS (Plant Design Management System), which achieved a leapfrog development.
AVEVA went public in 1996 at London. In 2004, AVEVA merger the Swedish ship design software company Tribon. After this, as the NO.1 design company in global shipbuilding, oil and gas, chemical and energy industries, AVEVA began to expand their product lines and developing enterprise management solutions. AVEVA aims to provide a solution allowing the designers and the engineering company design the plants for the whole process, managing design data and design process in a most efficient way.
At present, AVEVA has more than 1,600 customers all over the world. In fiscal year 2012(up to March 31, 2012), AVEVA's turnover have reached 196 million pounds, compared last fiscal year, increasing 12.6%, getting 62.3 million pounds of pre-tax net profit. AVEVA's business consists mainly two parts: design software and information management solutions. Now the challenge for us is how to expanding our solution business and promoting the brand popularity. Many people know AVEVA has very good design software, but they don't know too much about our enterprise management solutions.

Pei: Please tell us about AVEVA's situation and development strategy in China.
Paul: AVEVA went to China market in 2001. Right now AVEVA has more than 200 Chinese customers. We are leading in shipbuilding, oil and gas, paper, power, chemical and pharmaceutical industries. Important customers including China National Petroleum Corporation, Sinopec Group, China National Offshore Oil Corporation, China Nuclear Power Engineering Corporation, China Guangdong Nuclear Power Group, Dalian Shipbuilding industry Corporation, Shanghai Waigaoqiao Shipbuilding Corporation, Hudong-Zhonghua Shipbuilding Group, NACKS, Jiangsu Rongsheng Heavy Industries Group, China Power Engineering Consulting (Group) Corporation, etc.
Before I came to AVEVA, the Chinese team has already made a good job in sales of design software. But as I mentioned before, Chinese companies are getting tired of using western products which are not designed for Chinese market. What's more, Chinese companies need more professional service. AVEVA needs to improve in this area. My plan is to provide more localized and higher levels of service to the Chinese market. I hope in the future Chinese customers can feel that AVEVA is a local company, so that they don't hesitate when they cooperate with AVEVA. It also means we need to make a really good job to deeply understand what our customers need.
Recently, AVEVA will set up R&D center in China. Now we have four candidate cities. I'll visit each city, negotiating with the local government and compared with each other. We'll choose the city before this summer and begin to build in this year to realize deeply localization in development of our software products. At the same time, we'll develop more partners and strengthen the cooperation with Chinese universities.
At present the revenue of AVEVA in China accounts for nearly 10% of our global business revenues. I hope it can increase to 30% in the future. Now we have almost 90 employees in China, but with the cooperation deepened, we believe that the employees will be increased in the future.
Pei: Please introduce us about AVEVA's main products and solutions.
Paul: AVEVA's mainly products include:
AVEVA plant solution: 2D and 3D design data integration, global projects executed in parallel and 0 collision.
AVEVA DIH Solution (Digital Information Hub)(For EPC) :Integrated 3D model object from the design, purchase, and construction phase of the data. It helps the digital factory handover successfully.
AVEVA OIMS solution (Operation Integrity Management Solution)(For Owner Operators): Centering on 3D model object, this solution integrates data from the design, construction, operation and maintenance phase in building an integrated digital plant integration platform.
AVEVA's shipbuilding solutions: Integrated advanced professional shipbuilding software (AVEVA Marine), with a powerful tool. Its unique integration capabilities can contribute to the effective coordination of the various professional and factory industry, used for the complexity shipyard or offshore projects.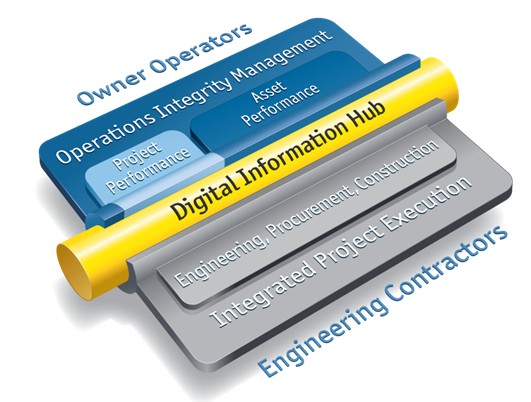 AVEVA Digital Information Hub
Pei: Could you give us a brief analysis of AVEVA's competitive landscape and also it advantage?
Paul: In the field of digital factory, the players mainly include Intergraph, BENTLEY, Autodesk and COMOS of Siemens. AVEVA provides plant and marine engineering integrated solutions covering oil and gas, power, petrochemical, chemical, nuclear power, shipbuilding, environmental protection, papermaking, pharmaceutical, metallurgy, mining industry. 90% of the TOP 50 of the global energy and Chemical industry are AVEVA's customers.
AVEVA has very great competitive advantages in ship building and marine engineering industry. Among the biggest 20 ship building companies, 19 companies are AVEVA's customers. Now the AVEVA Marine software which we provide to our customers is built on the foundation of Tribon, and added a lot of new functions like outfitting software. Our shipbuilding customers such as South Korea's major shipyards are transferring from Tribon to AVEVA Marine. So, I think if Chinese ship companies want to improve their competitiveness and rival South Korean counterparts, they should gradually transfer to our AVEVA Marine software. In the field of ship design, we have some competitive products like PTC's CADDS5, SENER's FORAN of Spain, Hudong shipyard's SPD software as well as some Europe profession companies. In the field of engineering enterprise management, we have a lot of vendors like Dassault, SIEMENS, SAP, ORACLE, etc. As we know, ship companies' management is quite different while the normal ERP system is not suitable for them. AVEVA developed shipbuilding business management solutions, which is the only software that can meet companies' unique needs. China's shipbuilding enterprises are going global, taking order from all over the world. Therefore, they need both international and localized solutions. We will become the No.1 shipbuilding enterprise management software provider in China by continuing efforts.
All in all, AVEVA's competitive advantage mainly reflected in deeply understanding and long term focusing on the area which we care about. AVEVA's software is greatly focused on the platform and openness.

Pei: Could you give us a brief analysis of your business and your future goals?
Paul: Now we have two main businesses. One is engineering and design, another is information management solution. At this moment our business is probably 85% to 15%. So in the next 3 years we want it to become about 50% to 50%. We has different industrial solutions in shipbuilding, oil and gas, power, chemical and pharmaceutical industries. Globally shipbuilding business accounts for 25% and business outside the shipbuilding is 75%. In China it is about 50% to 50%. In the future, we hope the business outside the shipbuilding can grow to two thirds.
As you know the whole industry is going through a really difficult time at the moment, but I think it will recover and then come back to be prosperous again, China surely is no exception. For now the plant design and management market in China is about 65% of petroleum and chemical industry, 35% of the energy and electricity. But with the increase of China's nuclear development, AVEVA will also increase input in this area. AVEVA will focus on nuclear energy and smart grid management, providing enterprise asset management and analysis of operational data management system. We hope the ratio will reach 1:1 for China's petrochemical energy and electricity industry in the future.

Postscript:
After the interview, Mr. Paul Eveleigh's fluent Chinese and the clear development strategy in China gave me a great impression. Paul made great emphasis for the localization, truly understand and respect the needs of Chinese customers. AVEVA is trying to provide Chinese companies with Chinese characteristics products and helping Chinese enterprises in internationalization. I believe this clear target will bring AVEVA a better development and more prosperous future.


Pei Huang and Paul Eveleigh

For Chinese version, please visit: http://www.e-works.net.cn/interview/leader_368.htm