The beauty of specialization and the art of balance
How to make the right operation and investment strategy, which is not too radical and risky, and is not too conservative to lose chance? How to control operation cost, which will not lead to the stagflation of revenue due to cost saving, or the reduction of profit due to cost out of control. It is the challenge which should be balanced by the CFO of global high-tech company. Especially under a sluggish global economy, it has been greater challenge to maintain business growth with steady profits. Mr. Daniel Lender, the CFO of QAD is an excellent expert good at managing this art of balance. QAD is a famous global management software company. In the 2012 fiscal year by Jan 31, 2012, the profits and revenues of QAD has increased steadily. Recently, Mr. Daniel Lender interpreted QAD's art of balance in my interview. Asia Pacific CFO of QAD, Mr. Jeremy Lai and Mr. Jay Cao, the General Manager of Greater China also participated in the interview.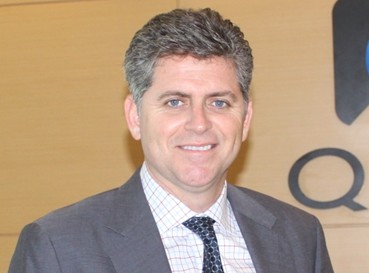 Mr.Daniel Lender, the CFO of QAD
1. Devotion makes expansion
Since its establishment in 1979, QAD has been focused on manufacturing management software market. QAD provides integrated IT management solutions for automotive, consumer products, electronics, foods and drinks, industrial products, and life science industries. In 1997, QAD go public in NASDAQ in the United States.
In the global software market, QAD is a special company. On the one hand, it is more focused and professional in verticals. Benefited from its accurate positioning, it has built competitive advantage in the market segment. On the other hand, QAD has a steady ownership structure. The couple, Mrs. Pam Lopker, the founder, President, and Chairman of the Broad and Mr. Karl Lopker, the CEO is holding over 50% shares of the company. The steady structure made QAD effectively execute the strategy and avoid any hostile takeover.
Mr. Daniel Lender thinks that QAD's positioning makes competitive advantage in market segment. Through deepening cooperation with industrial customer and industry association, QAD has a deep understanding of customers' common demands and improved its software continuously and preset many unique features. At the same time, QAD offered professional services to help customer implement quickly and get return of investment quickly.
The long-term devotion gains reliance from QAD's customers. Followed its customer's globalization journey, it has left global footprint across China and South America and realized continuous development.
Daniel pointed out that "Continued focusing is critical for QAD. We don't merely seek to be the biggest, but to be the strongest in the market. We hope to offer management software and professional services with high quality in our target market. In many industries like automotive and machinery, there are many small companies with well-known brands and high-quality products. In fact, we do take a conservative approach to beget our customers the security of knowing that QAD is a reliable long-term partner for them. We don't want to be an all-round winner, but the best in our focused area."
Because of the devotion, QAD is growing steadily out of the global economic crisis and overcoming the operational risk bought by the slow development and even setbacks of the industry. For instance, for the past several months in 2012, production and sales in Chinese automotive industry has fallen slightly. But in the eyes of Mr. Cao, the General Manager of Greater China, it is also an opportunity for them because companies have to control the cost and improve the operational efficiency to build agile and lean manufacturing considering the fact of the intensifying competition in Chinese automotive industry. Therefore, their management software demand is more urgent, which is a very good opportunity for QAD, the loyal cultivator in automotive industry.
Daniel believes that, as the growth of Chinese economy and people's living standard, Chinese people will become more concerned on health care, so it is a good opportunity for life science industry. QAD has many experts and customers that analyze the business process together and make QAD's industry solutions satisfying different customers' special needs. Now, QAD has developed a significant customer base in life science industry like pharmaceutical and medical instruments companies.
2. The beauty of specialization
Accurate positioning and professional service navigated QAD out of the global economy crisis and made QAD's revenues grow stably. In the fiscal year of 2012, QAD"s revenue achieved $247 million and net income $10.78 million, realizing an increase in revenue and net income for three consecutive years.
Daniel emphasized that, "QAD has maintained growth in last fiscal year and improved profitability significantly. QAD has come out of the global economic crisis and grew stronger. We are become more successful in navigating those difficult times."
According to Denial, in the last year QAD continued focusing on elevating customer experience. QAD's SAAS-based ERP service doubled the number of customer and drove the growth of the company; QAD's business intelligence (BI) and mobile solution to BI was popular because senior managers in manufacturing enterprises can execute BI solution by IPAD; QAD's professional service increased significantly making more customers upgrade to the latest version; QAD's maintenance service also increased. QAD's intensive cultivation in the target market wins a high reputation and customer loyalty.
3. The art of balance
Daniel is not a traditional CFO who cares only about financial figures. He was in charge of QAD's global marketing and operations in Latin Africa, so he is very familiar with company business. He thinks that a CFO should know the information behind the financial figures. His most concerned figure is profitability-based revenue growth. He believes that profitable growth and revenue growth is of the same importance and enterprises need to keep balance between the two because the CFO has to consider the long-term development of the company and the return of investment for shareholders at the same time.
Daniel told me that in the last year, QAD didn't cut the cost but increased costs and hired nearly 10% additional employees. The premise of the increased costs obviously is the revenue growth. The efficient spending enables QAD to improve development and service ability and expand channel cooperation so as to form positive feedback of business growth. This is Daniel's art of balance.
As a listed company, over half of the shares are held in the hands of founders. Are the common shareholders interested in buying the stock? Daniel's answer is convincing. He said that the true shareholders are those who have the long-term view in building value for them. Those opportunistic shareholders are not appropriate to be the investors of QAD. To show the confidence on the good growth, QAD's leaders started a stock buy-back program before several quarters.
Talking about acquisition, Daniel pointed out that QAD has a clear acquisition strategy that they are not simply acquire a company for expansion but for the product complementarities and effectiveness of market expansion. If a software solution developed by a company is required by QAD's customer and the product has a customer base which verifies its performance and at the same time the independent development will cost more, then QAD will look forward to acquire it and integrate the personnel and products and finally promote the product using QAD's global customer resources and sales teams. Another type of acquisition QAD has done is to do channel acquisition in order to quickly occupy the market. Recently, QAD has spent $6 million acquiring French supply chain company, DynaSYS. It is a triple win for the company, which expanded the product line, strengthened European sales channel, and developed customer base.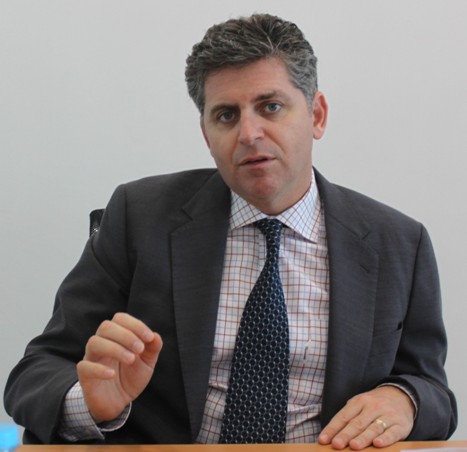 Mr. Daniel Lender, the CFO of QAD talking QAD's art of balance
4. Customer value first
Daniel said that, the global manufacturing competition has transited from looking for lower cost to providing highly cost-effective individualized service and products with less cost and high efficiency. Especially for the emerging economy like China, as the labor cost continues to rise, manufacturers have to utilize raw material, equipment, labor force, and knowledge resources more effectively to keep competitive. When manufacturers are becoming more dependent on management information system, they are putting forward higher demands for software vendors.
So, QAD established a close-to-customer strategy which focused on continuous improvement on customer experience and help customer gain value from QAD's application. In order to increase application effects, QAD's professional consultant will assess customer's ERP application status for free annually. The assessment method is called Q-SCAN, which evaluates customer's ERP application results through a set of KPIs and makes improvement plans to uplift the application status giving the strategic view of the company.
The only constant of today's manufacturing is change. For example, many manufacturers will build new plant in a new place considering the source of raw materials or to be close to downstream customers; manufactures move their plant because of fluctuation of labor and logistics cost and the law requirements. These factors make flexibility of implementation and application become more and more important. It is under this situation that QAD's SAAS-based ERP deploy model and mobile application are favored by their customers. For a group company, QAD's new system greatly strengthened its financial control function so as to satisfy the control requirement in manufacturing enterprises located in different countries, especially for those Chinese innovative companies that go abroad.
In order to improve customer service and create value for them, QAD strengthened training and evaluation of its partners. On the one hand, QAD has an all-around training to improve their partners' capability including system implementation, technical support, project management, and marketing management; on the other hand, QAD builds a certification system for implementation consultants and channel partners to secure the quality of implementation and services. Besides, there is an evaluation system that QAD evaluate partner's implementation service quality through the ratio of purchasing maintenance and upgrade services.
As a management software vendor that focusing on several sub verticals, QAD considers the current situation and makes competitive differentiation and service strategy. Through lean management, QAD realized steady development around the world, especially in the emerging market like China.
The accurate positioning, global operation, localized service, and value creation for customers, all these vividly show us the way of continuous development of a high-tech company in the 33 years' evolvement of QAD.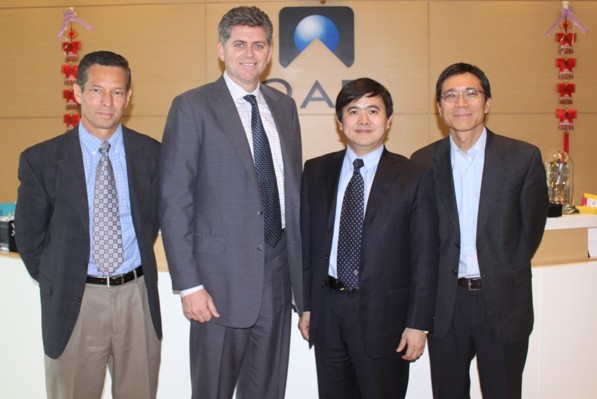 QAD's leaders and Dr. Pei Huang
For Chinese version, please visit: http://www.e-works.net.cn/interview/leader_369.htm