Solid Edge ST5: design better products by better design tools
From June 12 to 13 2012, I attended the Solid Edge University 2012 in Nashville, the capital of Tennessee and also the city of country music. This is the second time for me to attend the forum.
The scale has doubled and more lectures were delivered compared with the last year. Siemens PLM paid great attention to the forum, and the chairman of board of Siemens PLM, Mr. Tony Affuso attended the forum again. According to Tony, the worldwide license revenue of Solid Edge increased 30% in 2011, and in the first quarter of 2012, Solid Edge's license revenue increased 40% on U.S. market, more than other mainstream CAD software. Famous companies like P&G and Emerson replaced their CAD software by Solid Edge. SVP of Siemens PLM, Mr. Karsten Newbury hosted the forum.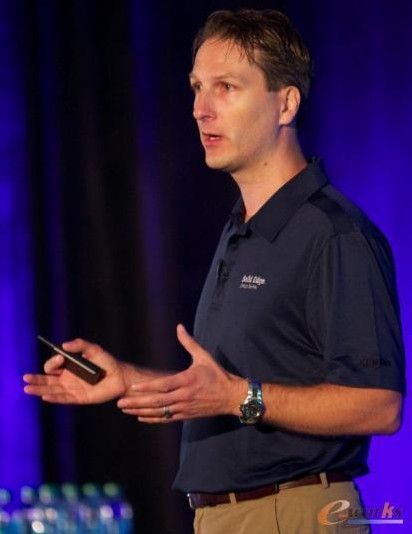 Mr. Karsten Newbury, SVP of Siemens PLM
The forum was focused on the newly released Solid Edge ST5 and its innovations. I think the core concept of the product is design better product by better design tools. Mr. Dan Staples, the development director of Solid Edge introduced the details of Solid Edge ST5 and show the use of it. The CEO of Local Motors, Mr. John Rogers introduced their new development model by using technologies of Siemens PLM. He presented a new car model, Rally Fighter. It was developed and manufactured by its internet community members. Based on Solid Edge, Local Motors promotes the use of Design1 among its community members and charged them at only $19.95 per month.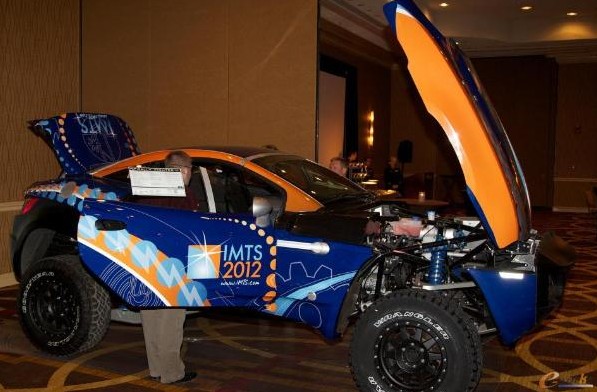 Rally Fighter, designed by internet community members

In my view, the main trend of CAD technology is: Capturing the design intention better, meeting the thinking and modeling style of engineers, improving the efficiency of both new product design and variant design, simulating the performance of product while designing, managing the design document and process easier. I think that Solid Edge ST5 meet this trend very well.

According to Mr. Dan Staples, Solid Edge ST5 made over 1,300 new customer-driven productivity enhancements. Specifically, the highlights are:

1. Synchronous Technology can be used faster and more flexible.
Solid Edge ST supported mechanical design; ST2 supported sheet metal design models; ST3 supported plastic/cast design models; while ST4 strengthened above capabilities and imported 3D model generated by other CAD software can be identified and edited. ST4 integrated synchronous and ordered design methods smoothly.

While Solid Edge ST5 made following improvements:
Provide multi-body modeling which enables merge or split parts and makes feature modeling flexible;
Quicker and easier design products with sliding parts (slot feature). It can be used directly in Assembly to allow sliding animation;
Bounded surface improvements;
Speed part and sheet metal modeling during Assembly design;
The holes in imported models can be recognized and redesigned;
Inspect and optimize the problematic imported models;
Enhance dimension editing;
Temporarily relax a face or a dimension to flexibly edit the feature.
2. Important progress with engineering drawing functions.
For manufacturers, drawing is critical in instructing production. Solid Edge ST5 made substantial improvements in hundreds of detailed functions, including:
Create production ready drawings for manufacturing 3D wire harnesses;
Expand top level BOM to multi-sheet Atomic Parts List;
Alternate position assemblies can be represented in a single drawing view;
Use mouse locate to align and snap dimensions, quickly align linear and angular dimensions;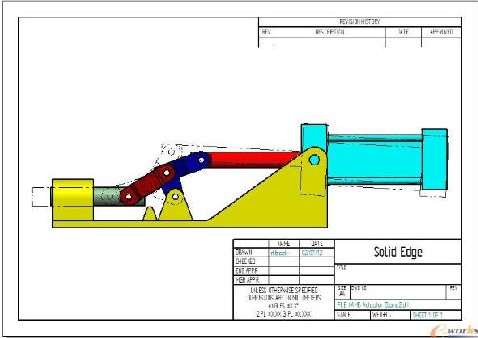 Preview positions in Drawing View Wizard

3. Steady state heat transfer analysis
Solid Edge ST5 provides build-in simulation for steady state heat transfer. By using Solid Edge ST5, designers can set many parameters and conditions and can do heat transfer studies coupled with static or buckling analysis. In addition, it can mesh faster with automatic removal of bad geometry and unnecessary detail in mesh simulation.

4. Insight XT with advanced data management capability
Solid Edge has design data management software based on Microsoft SharePoint platform called Insight which has strong in vaulting and with some good basic capabilities in workflow and creating web-accessible data. It does not go far enough in managing the design process. Insight XT is updated to the latest SharePoint platforms and with strong capabilities in ECO/ECR management, workflow, and information access. It has product structure management and project management function. Insight XT supports SME development teams to realize synchronization of R&D and share CAD files between scattered institutions through web (without VPN.)

In addition, Solid Edge mobile viewer is provided freely on iPad. The new functions strengthen the ease of use, better satisfy innovative design and remodel design. Users can benefit from shorter design cycle and higher quality.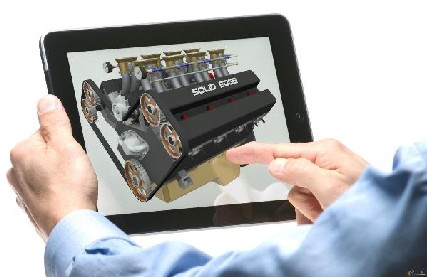 Solid Edge mobile viewer
During the forum, I participated in a hands-on training of part modeling by Solid Edge ST5. Followed the instruction, I completed a motorcycle seat design through editing various features and applying synchronization technology. It is very easy to learn and use because it is in accordance with engineering design methodology.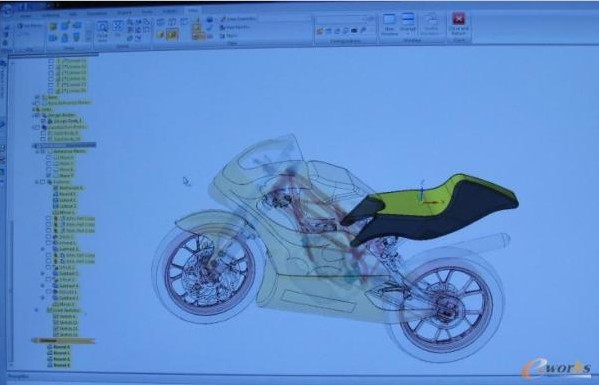 The motorcycle seat I finished by using Solid Edge ST5

I interviewed with the CTO of Energist, Mr. Andrew Thomas during the forum. Energist is a high-tech SME focusing on designing and manufacturing laser aesthetic skin treatments equipments. Its 50 employee including 10 R&D engineers based at U.K., Denmark, and U.S. Founded in 2003, the company's revenue has reached $30 million and its products certified by the United States FDA. Andrew used many types of CAD software from I-DEAS, AutoCAD, mainstream 3D CAD and even SpaceClaim. He uses Solid Edge every day and is experienced in its synchronous modeling technology. Since their company acquired several small companies, the engineers in different companies used different CAD software. By applying synchronous technology of Solid Edge, models generated by other types of CAD software can be imported easily and edited flexibly and can be exported to other CAD software accurately. Solid Edge achieves the reuse of design and improves design efficiency greatly. Andrew pointed out that in the practice of product design, much modeling and editing work cannot be finished by traditional feature modeling, but by applying synchronous technology, it can be easily done and the modification of feature is visible and visualized. Designers don't have to go back modify the size in the sketching status.

Andrew told me that direct editing function was existed in Solid Edge for a long time. Synchronous technology is developed on that basis with the biggest advantage of quick editing and modifying. Its efficiency is much higher than traditional ordered feature modeling. Solid Edge provides the functions required in 3D annotation design based on ASME Y14.41, so enterprises can use Solid Edge as a single digital model to express all the information of product. Synchronous technology enables designers follow their own ideas and focus on the designing without worrying the limitations and modeling in the process, which is a great advance. Live Rules in Solid Edge ST5 can automatically remind the designers the mistake and the reason of the problem so that they can be more focused on design. The operation of the new function is very easy. It's unnecessary for designers to relearn the skills, so they naturally learn it in the design process.

My impression of the forum is that Solid Edge is continuously accumulating capacity through listening to customers to realize sustainable growth. Siemens PLM is turning technology advantage to competitive advantage and going to change the market structure of global mainstream 3D CAD market.