JDA FOCUS 2012: The new thought of SCM
I attended the JDA FOCUS 2012 in Las Vegas from April 30th to Friday 1st. JDA is a leader in global supply chain management. The theme of the conference is: It's now, think new. It's the 22th user conference of JDA and over 2,000 people attended the conference.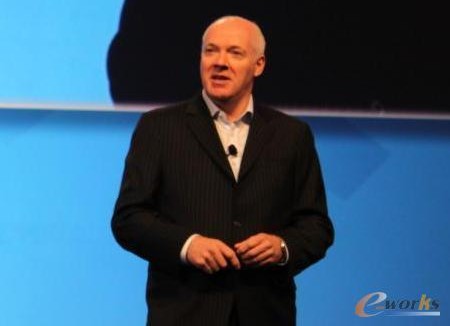 Mr. Hamish Brewer, the CEO of JDA

Mr. Brewer pointed out that the connotation of "it's now" refers to:
Reduce the waste in supply chain process and increase the accuracy of forecast and responsiveness to supply chain shifts;
Realize deep cooperation between retail companies and manufacturers so as to exceed customer expectation, to avoid understock or overstock, and realize excellent supply chain management.
While "think new" of the theme according to Mr. Hamish refers to:
Retailing companies should think new on reducing waste of supply chain and fulfilling customer expectation to realize profits and provide data based on mutual benefits since supply chain is originated from retailing.
Manufacturers should think new on how to integrate with retail companies to get instant information on the shelf so as to make timely replenishment based on product sales. It can also help manufacturers to realize information integration with upstream enterprises and keep profits.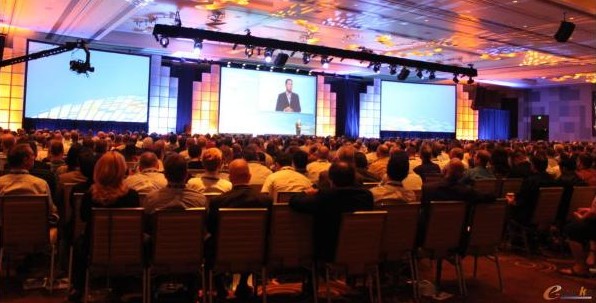 The grand occasion of JDA FOCUS 2012

The positioning of JDA is very clear to be the global leader of supply chain management market focusing on providing supply chain management solutions for manufacturing, distribution and retailing. James D. Armstrong co-founded JDA Software in 1985 and became a NASDAQ listed company in 1996. In 2011, the revenue of JDA reached $672 million, an increase of 9% over the previous year.
There have been a few major strategic acquisitions along the way that have shaped the company and increased its growth. JDA acquired Arthur In 1998, Intactix in 2000, and E3 in 2001 which led to a covering of the complete scope of retail management. The acquisition of Manugistics in 2006 made JDA supply chain solutions cover the process manufacturing, especially the CPG industry. In January 2010, JDA acquired the famous supply chain management software company, I2, which led to the covering of discrete manufacturing including hi-tech electronics and automotive industry. These acquisitions made JDA a global leader of supply chain management software. The CEO of JDA, Mr. Brewer introduced the major strategic decisions of the company.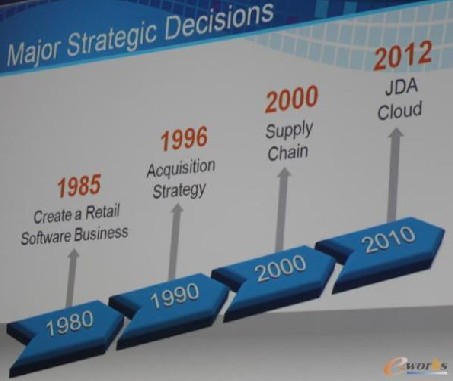 Major Strategic Decisions for JDA

Mr. Hamish pointed out that in the following years, JDA will thoroughly change its original service which includes Cloud Strategy and Integrated service delivery. JDA launched Managed Services in 2009 which focused on run/maintain service, developed platform, process, organization, and integrated with I2 managed services customers. So far, JDA has provided managed services for approximately 100 customers around the world and with a good reputation. Based on that, JDA is going to transform to a cloud based solutions and services company over next three to five years. JDA customers will benefit from faster time to value, lower cost of implementation, higher quality service, lower cost of support, easier upgrade, and increased agility to achieve superior results. JDA's cloud based service is actually a turnkey project providing server, application software, implementation and secondary development services etc. The delivery model of JDA is integrated with consulting, training, cloud service, and local support. They provide high quality services in the process of both globalization and localization through a worldwide united service standard, service process, knowledge base, and implementation tools. The changed service model can release their customer's IT Department from the complex work of deployment, implementation, and development to focus on how to fully utilize the software in supporting business operation and transformation. It can largely create value and cut cost of applying JDA software.
I think the transformation strategy of JDA represent the trend of global enterprise-level application software development. Lenovo has been awarded as one of the eight excellent users. Global E-commerce Vice President of Lenovo, Mr. Ajit Sividasan shared with audience their experience of applying JDA software. Lenovo used JDA's Web Commerce and Agile Business Process Platform in building their B2C e-commerce platform on which users can choose PC configuration, order, and pay on line, while JDA's supply chain management system enables Lenovo release production orders and arrange delivery. By applying JDA's cloud services, Lenovo reduced hardware investment largely and doubled revenues over the last five years with a profits increase of 350%.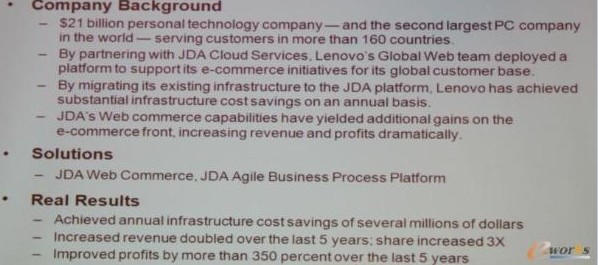 The case of Lenovo

The most impressive thing for me is the live presentation of JDA Customer Engagement Cloud technology. Several employees from JDA respectively played the role of customer, salesman, and deliveryman to show how JDA help retailers increase revenues and achieve customer satisfaction.

A female customer walked into a store and wanted to buy a bag. She was interested in one bag but felt it may be a little expensive for her. So she was wondering whether she should buy this bag. The salesman used an IPAD to see the information of the product and the customer. He found that she was a loyal customer and offered discounts based on their purchase price and profits. The deal was done. The customer bought the bag on IPAD by her credit card and she was informed that there would be a new product which had 10% off for her. The promotion of the new product was done through this way. Next, distribution center would deliver the product to the customer according to the address the customer left and the customer could receive relative promotion and delivery message. The using of mobile terminal accessing to the information system and pricing flexibly according to the customer's purchasing history is a new way in enhancing customer stickiness and increasing sales revenue and customer satisfaction.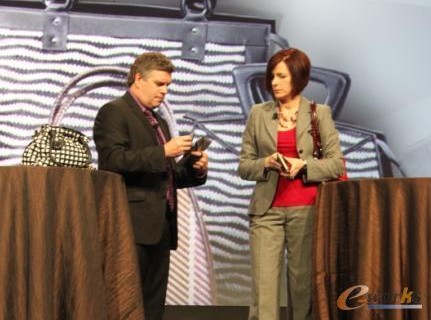 Live presentation ofJDA Customer Engagement Cloud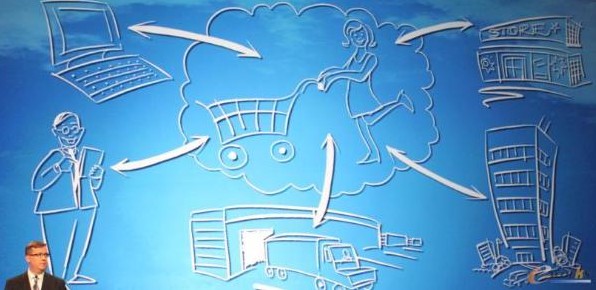 The application of JDA Customer Engagement Cloud

I interviewed Mr. Tom Dziersk, the Executive Vice-president of Marketing. He thinks that the main advantage of JDA is supply chain planning and optimization. It can help manufacturers realize lean management through collaboration with retailing companies, instant visibility of product sales, and quick production adjustment to market needs.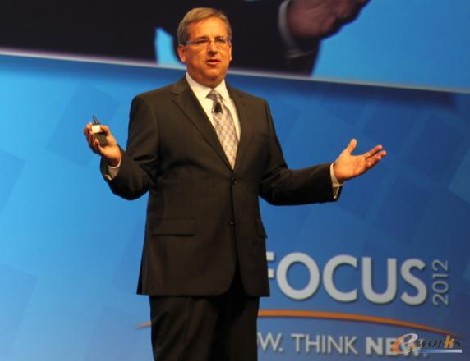 Mr. Tom Dziersk , JDA's Executive Vice-president of Marketing

I met with many excellent manufacturers and retailers at FOCUS such as Daimler Trucks, JC Penny, and TCL. I am very glad to communicate with their leaders about supply chain management and learned from excellent cases like LOWE'S and Coca-Cola. Besides, I participated in a practical training from which I learned how to operate JDA storage optimization software. It provides appropriate classification through multi-dimensional properties of the storage products so that storage capitals can be reduced largely.

Another highlight of the conference is the speech of Ms. Condoleezza Rice, the former Secretary of State and a professor of Stanford University. She shared with the audience her understanding of the current global politics and economy and analysis of the development status in Europe, Russia, China, and the United States. She also shared her experience of becoming a state leader as an African American woman. All the audience gave her a warm welcome and responded with three times of standing ovation during the speech. At the end, Ms. Rice and Mr. Hamish answered several questions from the audience.