Accelerating Digital Transformation and Driving Innovation
Companies with a digitalization strategy in place are able to evolve and adapt more quickly.
Compare today's innovators with those who paved the way for their success—for example, today SpaceX is able to minimize risk and make decisions because it is able to prove out ideas through digitalization. The development of its high-pressure rocket nozzles, central to its ability to ascend and descend from orbit, were only possible because SpaceX was able to trust the simulations. While its forebearers like the Wright Brothers achieved a leap of faith when they tested in Kitty Hawk, North Carolina, SpaceX can achieve the previously thought impossible on much more than pure faith and a good deal of luck.
Statistics, however, show that most are still on the sidelines when it comes to developing and embracing a digital strategy. In fact, studies show that only 11 percent of companies have a clear digital transformation strategy.

This statistic is quite remarkable when compared to the value and the benefits that have been realized by companies who have implemented a digital strategy. Take, for example, the upheaval to manufacturing and industry that took place as a result of the COVID-19 pandemic. Factories were shut down, supply chains interrupted and companies were forced to switch to remote working conditions. Companies with a digitalization strategy in place were able to evolve and adapt more quickly.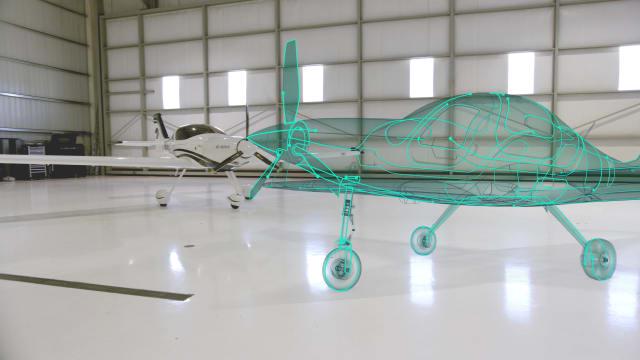 (Image courtesy of Siemens Digital Industries Software.)
Take Bye Aerospace, which is building an electric airplane for general aviation use. As a relatively small company, it cannot build a lot of physical prototypes and relies heavily on simulation. When the engineers at Bye noted a slight problem related to the stability of one of their prototypes, nearly every part of the plane had to be redesigned, a process made easier by the digital twin. The team completed the redesign and the updated reports for certification in just seven days, all while working at home due to COVID-19.
Digitalization is how we are redefining what is possible—but what is digitalization, and how can companies fully embrace a digital transformation strategy?

Defining Digitalization
A comprehensive digital twin should be at the core of any digitalization strategy. While the digital twin is not a new concept, not all digital twins are created equal. A comprehensive digital twin includes everything about the product, the production process, the simulation and the feedback loop of what is happening with the product as it is being used—which is then used to further refine each subsequent generation of product. The value of a digital twin stems from how closely and across how many domains the digital represents the real.
A comprehensive digital twin enables a closed-loop connection between the digital world of product development and production planning and the real world of production system and product performance. (Image courtesy of Siemens Digital Industries Software.)
Earlier in my career I worked closely with Ford, a long-time key customer, on one of the most complex product lifecycle management (PLM) deployments in the world. The software allowed Ford engineers and suppliers to create 3D models of many vehicle components and see how these would fit together, dramatically improving the design process.
Today, automakers and other manufacturers will ask many more questions of their workhorse software. How will the car perform? What about vehicle handling, passenger comfort and noise? How effective is the automobile in energy optimization? And what about all-important vehicle electronics, commanding a steadily increasing share of total vehicle BOM? To provide answers, a digital twin must extend far beyond mechanical design into the realm of chips, boards and electronic and electrical systems to be considered truly comprehensive.
Additionally, manufacturers need to not only be able to design and simulate the product, but also the manufacturing process and the factory in which the product will be built. This means optimizing the layout, defining work cells and programming robots, as well as ensuring a safe working environment by using virtual humans to test and improve workplace safety and avoid issues like worker fatigue, injury and stress—all before the ground is broken and the foundation poured.
Even as the underlying tasks and operations get ever more complex, using the software needs to become easier, more intuitive and more personalized. This is as true in industrial software as it is in consumer applications. Information must flow easily between various tools and systems in a flexible and open ecosystem.
Speeding Up Digital Transformation
Two years ago, Siemens introduced Xcelerator, an integrated portfolio of engineering software, services and an application development platform that brings together the industry's broadest and deepest technologies available to make industrial customers' digital transformation goals a reality.
Xcelerator enables customers to create a personalized, modern and adaptable road map for the development of a comprehensive digital twin managed in a flexible and open ecosystem. Xcelerator is how Siemens is enabling customers to transform every day.
Take for example, BioNTech, the pharmaceutical company that worked with Pfizer to co-develop a vaccine against COVID-19 that has been given to millions. Imagine being the people at this company, who know the world is depending on them to deliver a vaccine at unprecedented numbers, at a rapid pace, all while working virtually. They needed to not only develop the vaccine, but also plan out the process for scaling and rapid production—so they turned to Siemens and solutions from the Xcelerator portfolio.
(Image courtesy of Siemens Digital Industries Software.)
Then there is the U.S. Air Force which, like many companies, has data sitting in over 20 different systems. These systems have been running their business for many years, and they are the backbone of their operation; however, when there are multiple systems instead of a single system of record, there is no single source of truth. The U.S. Air Force needed a way to bring all these systems together, so they chose to standardize on Teamcenter to modernize their fleet and establish a digital thread across not only their internal business, but also their supply chain.
These are just a few examples of the many organizations around the world that have selected Xcelerator as the foundation for digital transformation. But as I noted earlier, there are still many companies that have not yet fully embraced a digital transformation strategy.
Xcelerator as a Service
To fully embrace a digital transformation strategy, customers need solutions that are accessible from anywhere in the world, are scalable as projects and programs demands and ensure that data is available where and when needed, with tools to collaborate on that data, securely, from anywhere. They are increasingly asking for their mission-critical tools to be delivered in a Software as a Service (SaaS) focused manner that truly leverages the power of the cloud, rather than just pays it lip-service. This is what Xcelerator as a Service brings. Flexibility of choice, accessibility of toolset and data and scalability when you need it.
(Image courtesy of Siemens Digital Industries Software.)
Siemens is not new to the cloud. Not only has Teamcenter X provided cloud-hosted access to the widely used PLM solution since launch, but our low-code development and customization tools sit alongside our Industrial Internet of Things (IIoT) solutions and have already been benefiting our customers and helping them drive innovation.
Imagine the process of designing a dishwasher with one engineer working on style and functionality, another simulating performance and potential customers offering feedback by using augmented reality to see how the appliance will look in their kitchens—all using tools from the same toolkit, referencing the same data and shared securely with everyone that needs it. Then imagine taking that rich set of data and feeding it into a global supply chain to start to plan and execute product ramp up all in a quick, easy agile approach that scales on demand.
The cloud has the potential to deliver all sorts of unprecedented computing capabilities to users who might not previously have had the resources to deploy and manage a full suite of industrial software on-premise. An example is Rurok Industries, a high-performance mountain bicycle manufacturer based in the Philippines using Siemens' software offerings for its comprehensive design, testing and prototyping process. With the power of Xcelerator as a Service, Rurok is able to compete in a highly competitive industry, take advantage of powerful yet accessible tools combined with its own passion for innovation to punch above its weight and take on far more established and well-resourced brands.
Siemens' key message to customers in the engineering community is that we will let them set the pace of the transition to SaaS with our software. That said, those that choose to come with us on a journey to explore the potential of Xcelerator as a Service and true digital transformation, will have access to the world's most comprehensive digital twin. Of course, we also think most will choose the subscription model given the many benefits, especially flexibility and personalization.
The bottom line: as we build out our Xcelerator as a Service offering and transition to a SaaS business, we will continue to accelerate customers' digital transformation, helping them to become more efficient, resilient, sustainable and competitive.
(Image courtesy of Siemens Digital Industries Software.)
How different would the story of the Wright brothers have been if they had access to the technology available today? If they had used the Xcelerator portfolio of software to design, test and simulate the flight, they could have launched off that hill with true confidence.
Written by: Tony Hemmelgarn, President & CEO, Siemens Digital Industries Software

To learn more, visit Siemens.com/cloudsolutions.