Altair: Digital innovation empowers the industry of the future
Time really flies. It has been 20 years since Altair's first debut in China. Now Altair has grown into one of the world's leading engineering companies that tackle tough problems for manufacturers and grow with them together. Last time in 2019, e-works CEO Dr. Pei Huang had an interview with Mr. James Scapa, Altair CEO and Founder, to learn the company's strategy and development. Now two years has passed, Dr. Huang had a video interview with James again recently to learn more about their products and solutions, innovations, growth amid COVID-19, and its future plan.
Mr. James Scapa, Altair CEO and Founder
Accelerated fusions in simulation market
COVID-19 pandemic has brought an unprecedented impact on the way we live and work. For manufacturers, due to the impact of working from home on employees' digital thinking, their demand for digital technology has significantly increased, thus the integration and application of emerging technologies has been accelerated after the COVID-19 outbreak. In CAE market with more and more in-depth simulation applications in industries, problems arise, such as model complexity, data proliferation, and high costs. The deep integration of simulation with reduced order models, artificial intelligence, and cloud computing has become an important trend in the future.
Firstly, the integration of simulation technology and reduced order model will be an important direction for the future. "I think it's going to be a mix of simulation driving these reduced order models that are essentially neural networks, machine learning or deep learning type models. I see that as a key to the future," said James Scapa. "Altair will be in a really good place for that future. Running and processing huge amount of simulation through neural networks to build reduced order models on the fly so that decisions by designers and engineers are happening very quickly. As you have a lot of sensor data, it can also develop digital twins fastly in the same way, decisions will be made near and far right at the edge where the devices are operating."
Secondly, the integration of artificial intelligence and CAE is also the key. "Customers are seeing that and beginning to understand that. Altair is making simulation tools easier and more seamlessly integrated, almost hidden from the users. In the future a lot of this technology will be integrated in such a way," James explained.
Thirdly, cloud computing is one of the megatrends. More and more CAE users will move to cloud over time. Many will only use cloud, some will only use still local devices, but most will use a hybrid model of on-premise and cloud. James pointed out that "Cloud is still pretty expensive and it's very challenging to manage the cost. A lot of the work is doing in HPCs to help the customer to manage the cost and gets the throughput that he wants. But it's very hard to manage those costs if you let the engineers or the users just go free on the cloud, so I think it's going to be a mix of on-prem and cloud."
Keep providing outstanding simulation solutions
Since its founding in 1985, Altair has always placed a high priority on investing in technology to ensure better service for the users. In recent years, Altair has been adding disruptive and industry-specific technologies to their portfolio to provide users with broader and superior engineering capabilities. Altair currently offers a comprehensive and open-architecture solutions that leveraging technologies of simulation, data analytics, artificial intelligence (AI), Internet of Things, and high performance computing (HPC).

Altair provides comprehensive multi-physics simulation tools
In structure simulation, Altair has Radioss for the nonlinear explicit time-based simulation that can do crash simulation, for example for cell phone drop test. Then Altair has OptiStruct for all the implicit nonlinear capabilities and is now adding, similar to Radioss, the explicit solution inside of OptiStruct as well with optimization. SimSolid is targeting more the upfront design world.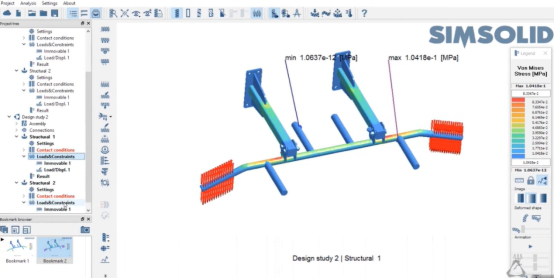 SimSolid use case
James is very confident about the future of SimSolid, "SimSolid is by far the fastest growing product in our portfolio. I really believe that it's going to displace everything over the next 10 years in automotive, aerospace, oil and gas, architectural, really every market. That's how powerful it is. We've just acquired a small company in the architectural and civil engineering—S-FRAME Software. SimSolid is going to have a pretty important play for doing the joint simulaiton and many of the simulations there as well. In oil and gas market, we have just added some new features into SimSolid that are now solving problems that the competition with the traditional codes. I think we're going to take the oil gas market by storm as well."
In electromagnetic simulation area, Altair enhanced their electronics portfolio quite a bit with some tuck-in acquisitions in electromagnetics, wave propagation and printed circuit board simulation. In 2020, Altair acquired newFASANT, an electromagnetic simulation software for defense and civil, and WRAP, a spectrum management and radio network planning software, further solidifying Altair's position as a world leader in high-frequency electromagnetics. In circuit analysis, Altair are continuing to optimize SPICE solver as well.
Besides the traditional meshing algorithms, Altair now has machine learning algorithms underneath the meshing tools. "We have machine learning algorithms inside HyperMesh and SimLab that are allowing users to determine the matching parts. If you're looking for a particular part in a big model assembly, it's these algorithms that are driving that. So whether it's a marketing decision or even a decision about parameter setting, Altair is a company helping other companies make decisions, using mathematics algorithms whether it's machine learning or neural networks or simulation. That's who we are," said James.
Embracing innovations
In optimization, although generative design brings a lot of ideas, most of them don't have any value because the user is confronted with a lot of options. There is still a need for a combined process using machine learning to sift through what the generative design tools are coming up with. Altair has done lots of explorations in this direction, including enhancing Inspire and integrating SimSolid, OptiStruct, topology technology and motion technology inside. Soon CFD will also be integrated in to expand the spectrum of multidisciplinary simulation and optimization.
"This environment is really the future kind of environment and elements like cost will be driven with machine learning algorithms. Our vision is to synthesize designs with human creativity combined with the technology, which can bring users the most optimum solutions according to what they're trying to create. Altair is moving to that elegant direction and a lot more is coming," James emphasized.
One of the advantages of generative design is to combine with additive manufacturing. Altair Inspire platform has manufacturing simulation for casting, forming, extrusion, foaming, stamping and traditional 3D. The capabilities for sintering is also on the way.
Altair Inspire - Unit Cell Lattice Generation
At the same time, Altair is staying focused on the integration and optimization of manufacturing with simulation."Not just 3D printing, it's really important to optimize around the manufacturing process as well. Altair has been investing in manufacturing simulation for 15 years. We have mold filling now as well and the next-gen mold filling is so blazingly fast. It's really impressive," explained James.
In electric vehicle, Altair has a very strong motor design solution called Flux Motor which is a conceptual design tool to fast design the electric motors that need to build. The next level is to do more sophisticated simulations, to use topology optimization with the low frequency electromagnetics to design the power output from induction motors for example.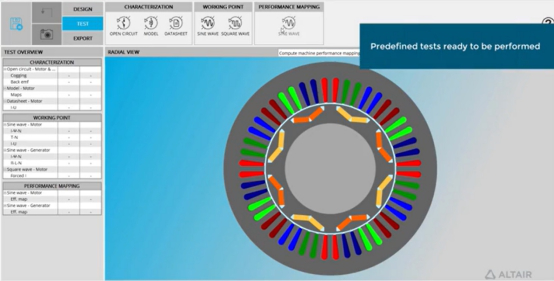 Using FluxMotor to fast complete the conceptual design of motors
Furthermore, Altair is keeping refining their simulation solutions for power batteries. "Today, most of that work is going on with specific customers to explore about how to maximize the energy density within these batteries. In the future it's very important to have efficient compact batteries, lightweight with high power density for electric vehicles," said James.
Digital twins help users foresee the future
Currently, there is an increased interest in digital twin technology. Obviously it is mostly used in the industry of automotive and aerospace, but digital twins are going to play a huge role in almost every product area, for example in the energy area, generator machines, transporting power, even things that we use in our everyday life. There's a lot of opportunity to have digital twins.
Except being a global leader in simulation software, Altair is also an engineering company dedicated to the development and application of emerging technologies. For example, Altair has 150 patents for solid state lighting that are sold in thousands of Home Depot stores. The lights are manufactured in Guangzhou by a Hong Kong company, one partner of Altair for many years. The lights look simple but they are very complex smart products. Altair has a lot of patents, designs, and intelligence in them to help make decisions. Today the digital twins run in the cloud, but over time they'll run at the light tube or at the fixture to make decisions about lowering the light level to preserve power by using sensors that measure the light coming in from the natural light. So in the night the lights are brighter in the day the lights are dimmer. They can also change the color to emit a softer yellow light or a brighter light depending on the mood.
"Almost all the products have an opportunity to leverage digital twins and it's a function of cost. These twins are going to be built from simulation, using neural networks to build these reduced order models and run instantaneously making decisions on the fly. They have to have a very small foot print to be uploaded everywhere and run on very small micro controllers. For example, the sneakers could have digital twins to adjust the performance of the sneaker, depending on running or walking or the force of stepping," said James.
There's a huge potential of digital twin technology and obviously Altair will play an important role in the middle. James pointed out that, "Altair is investing in IoT and analytics and we invest today for 5 years from now. Altair have the products that everybody uses today that we're continuing to make better. All these IoT technology and solutions we're developing will let customers build an IoT distributed solution, being able to provision the software. Actually Altair Toggled product is using SmartWorks IoT. We're the first and most important customer for our own technology."
Altair's digital twin use case
Many customers are leveraging Altair technology in building digital twins for their complicated products. For example, one project of Rolls Royce Germany in air aircraft engine business. They use analytics and AIto predict failure, improve the designs, and bring sensor data in stream data in real time running through ML models to constantly make adjustments or predictions about when to replace parts and when to reduce the power.
Some of Altair's tools are very interesting like Panopticon, which is used by traders and banks for real time data analytics. It's actually applicable to many environments, even the manufacturing floor.
When talking about using IoT and sensor data to optimize product, James said that "It's all integrated. The simulation is producing synthetic sensor data. The actual product is producing real data. Both are being leveraged to understand the performance under a product failure or fatigue. The neural networks are processing all of that to be able to make predictions in the future. Customers can have prediction in an optimization to really optimize the overall performance. That's what customers want to do—optimize the design but then also optimize the performance once it's in service".
HPC and cloud lead to the future of engineering
In public's impression, Altair is a global leader in CAE software. But after several major acquisitions in its history of 36 years, the company has been reshaped and rebranded a little. "We are always rebranding because I think how you define the company is really important. When I talk about the vision for the company, that's a kind of the branding. The vision for the company is all around basically helping customers to make decisions leveraging simulation, high performance computing, and AI."
In the high performance computing area, Altair has acquired two more companies in 2020—Univa and Ellexus. "Univa has a product called Grid Engine, which is a leading HPC solution for workload and workflow management in life science and oil and gas and a little bit in the financial market. We also acquired Ellexus out of Cambridge near Cambridge University with a brilliant female entrepreneur, Rosemary Francis. Her background is a PhD in Electronics from Cambridge but her company is focused on storage and I/O. I believe the storage aware technology is going to be really important for the future in data analytics area."
In the data analytics area, Altair has acquired Datawatch in late 2018. Founded in 1989, Datawatch is focused on data analytics and visualization in the banking and financial service industry and has released a number of innovative products and technologies over the years, including Monarch and Knowledge Studio for data preparation and data science and Panopticon for real-time data analysis and visualization. "This acquisition is strategic to Altair's vision for the convergence of simulation, HPC, data and AI," James said. "It will help Altair deliver the vision of convergence for the data-driven enterprise in the future."
About the cloud native, James stressed that "We've been investing really enormously to take products to the cloud so we have a cloud-native offering called SmartWorks. Our goal is to bring all of that technology together in a cloud native environment along with all the machine learning ops. So the MLOps capabilities area very low code, no code environment which is what everybody is looking for. "
Machine learning models in SmartWorks
Altair just announced the launch of Altair One cloud platform in May 2021, which integrated all the product suite and HPC capabilities, enabling users to apply various simulation technologies, data analytics, scalable HPC capabilities and cloud services in a dynamic and collaborative manner. In the future more and more technology will come in a form like Altair One to continuously provide an advanced collaborative data-driven design and development environment for users.
Altair One use case
Presently Altair's cloud computing services already support big players like Amazon, Google, Microsoft, and Oracle and have a lot of cooperation with AWS China. Altair will support more Chinese cloud service providers as long as they support high performance computing and GPU technology. "Even the major players in the US have been slow to support, for example, GPUs. This is also why we're going to play in hybrid environments because the vast majority of the cloud computing market is not at the high level where we are expecting," James said frankly.
Postscript
With 12,000 customers and more, Altair has its products and solutions being widely applied among leading companies in manufacturing, engineering, banking, life sciences, earth sciences, energy, and technology. The company's spending over 25% of total revenue on R&D every year, coupled with new technology acquisitions, have enabled its technology leadership and the steady growth over the years. It has even continued to thrive despite the COVID-19 outbreak, with revenues of $470 million in FY2020.
Looking to the future, Altair will continue focusing on promoting the convergence of cutting-edge simulation, HPC and artificial intelligence technologies. The more comprehensive products and solutions will enable users to make optimal decisions and lead the industry of the future through digital innovation.