Internet of Things: The Third Leap of PTC
On May 5th to 6th, I attended PTC LiveWorx15 in Boston. The topic of the conference was no more about the heavily invested PLM but a brand-new area—the Internet of Things (IoT). With the acquisition of an IoT application development platform ThingWorx, PTC has stepped into this hot field since the end of 2013.
I think it's the third leap in PTC's history, after the first two being the global leader in CAD and PLM. PTC has thought over this transformation for several years. PTC CEO, Mr. Jim Heppelmann as a senior industry expert has foreseen the trend of global manufacturing transformation several years ago. The developing trend of smart, connected, and service-oriented products has paved the way for PTC marching towards IoT world.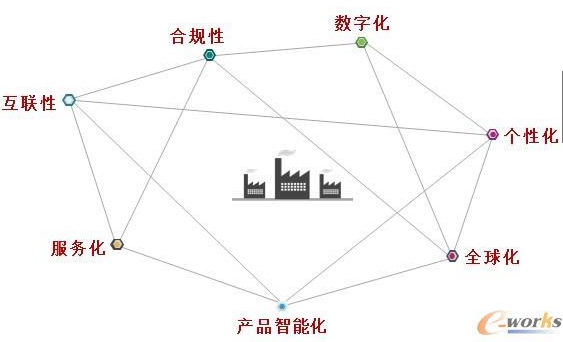 PTC CEO Jim Heppelman's view on global manufacturing transformation trend
PTC has invested heavily in the area of Internet of Things. After the $100 million dollars of ThingWorX acquisition in 2013, PTC has another acquisition of Axeda in August 2014. Axeda provides secure solutions for connecting machine and sensors to the cloud. At the conference, PTC announced the $105 million dollars of ColdLight, a frontier on big data machine learning and predictive analysis. Besides, PTC has announced to build strategic partnership with ServiceMax, a cloud-based field service management solution provider. We can find out from these strategic acquisitions that PTC is having large business transformation. In the future IoT applications will be the strategic business to support PTC's continuous development.
This year, more than 2,000 audiences attended the LiveWorx15. Mr. Michael E. Porter, Professor of Harvard Business School and Mr. Steve Mozniak, co-founder of Apple Computer attended the conference and delivered keynote speeches. Users of ThingWorx were also invited to demonstrate IoT applications in various industries including manufacturing, transportation, and agriculture.
According to several research organizations, IoT market is of trillions of US dollars and bringing huge business opportunities. Cisco estimated in 2013 that global connected things would reach 50 billion by 2020 and create a $19 trillion-dollar opportunity, in which manufacturing industry would be the largest market, taking 27% of the whole IoT economy. According to IDC's research in 2014, there are 30 billion connected things and IoT technology and service revenues will up from $4.8 trillion in 2012 to $7.3 trillion in 2017, with an 8.8% CAGR. McKinsey predicted that the potential economic impact of IoT will be $2.7 trillion to $6.2 trillion per year by 2025.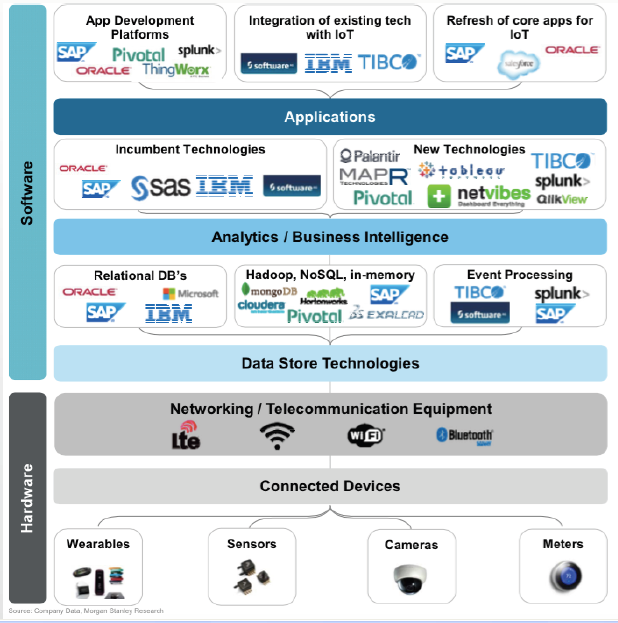 Internet of Things Stack (Source: CIMdata)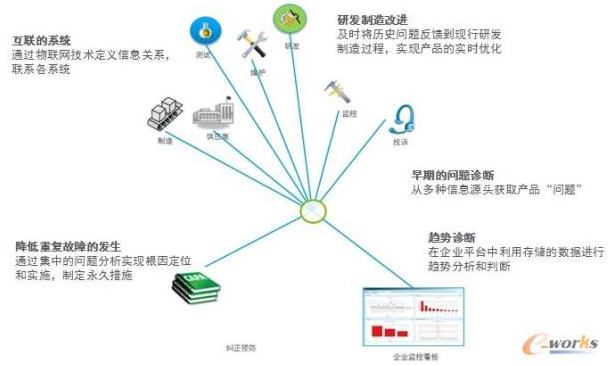 Enterprise product and service improvements through IoT
As a global leader in PLM, PTC has extended their solutions from CAD and PLM to Application Lifecycle Management (ALM) and Service Lifecycle Management (SLM). ALM deals with integrated design issues of electrical, mechanical, and software, which is also the research and development platform for developing smart products. After the sales of products, SLM will deal with predictive maintenance and feedback of product performance data and design and manufacturing problems to help manufacturers gain more revenues from service and after-market product sales. IoT platform is essential in realizing SLM applications. Therefore, I believe that the join of IoT product line will not only bring PTC revenues from the platform itself, but also increase sales from CAD, PLM, ALM, and SLM solutions, and help PTC realize intelligent service and differentiated competitiveness advantage as well. Following picture shows PTC's ThingWorx-based IoT and SLM applications.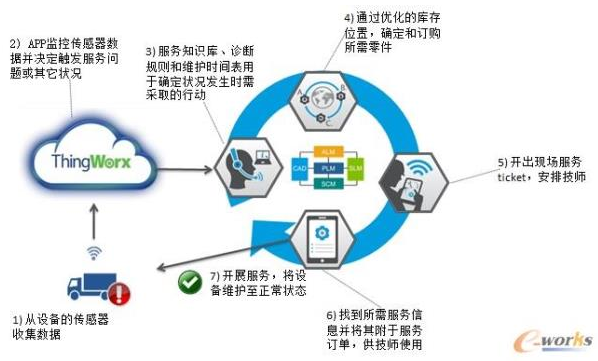 PTC ThingWorx-based IoT and SLM applications
ThingWorx is an open IoT application platform, providing visual configuration interfaces. Users can build various IoT applications easily on the platform without programming. It provides interfaces with all kinds of different sensors, from which sensor data can be transmitted to the platform for displaying, analyzing, and alerting. There is a very interesting demo on the conference that combining with Augmented Reality (AR) technology we can see the various related data of this running bicycle on the iPad.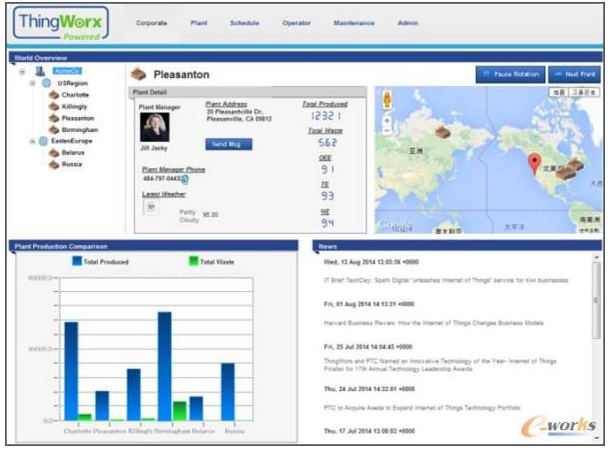 ThingWorx platform
Sensor readings showing on the iPad enabled by Augmented Reality (AR) technology
Now global IoT economy is growing vigorously. Cisco proposed the concept of Internet of Everything (IoE), GE put forward Industrial Internet, IBM recently announced a $3 billion Investment on IoT business, Germany also put forward the concept of Internet of Service. I think PTC will again stand at the forefront of this wave in this mobile internet era. Let's wait and see whether or not this IoT platform ThingWorx will sweep around the world just like its first 3D modeling software Pro/E did.
More information about PTC LiveWorx15, please visit
http://zh-cn.ptc.com/liveworx
.