ANSYS: The Simulation Giant's Secret of Success
On January 31, 2015, I interviewed Mr. Jim Cashman, CEO of ANSYS in Shanghai. Mr. Cashman has over 40 years' work experience in the field of simulation and analysis. During his 14 years as ANSYS CEO, ANSYS business revenue has a tenfold increase. In this interview, Mr. Cashman shared with me his secret of success and the corporate culture of ANSYS. He also gave some advice for Chinese manufacturing companies on how to transform to be innovative. Francis Sun, ANSYS Greater China General Manager also joined in the interview.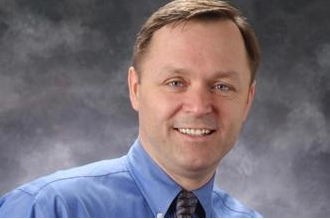 Mr. Jim Cashman, the CEO of ANSYS
Pei Huang: As the CEO of ANSYS and a very successful entrepreneur, how could you keep the balance of your family and your work?
Jim Cashman:
When you try to work with the team to plan a company and figure out all the prioritizations on where you are going to invest and look into the long term, it takes planning and discipline. I think prioritization links to the key word "balance". There's a saying that nobody can sprint in the entire course of Marathon. You need to have balance and pace. So basically, you have to make plans for all things and have balance because sometimes you might get really worn out on something and your family rejuvenates you. Anytime when my kids have a soccer game or a concert, I'm always there. I can find other time to do my business. I work several hours after my family goes to sleep at 11 pm, because there are some people in ANSYS working at that time. I have to keep balance because you won't have a chance to get your personal feelings back once it's gone.
Huang: Managing such a fast growing public company, how could you balance the short term and long term target?
Cashman:
The one comment I make on that is sometimes being a private company is attractive, because as a public company, besides pushing the technology forward and serving the customers, there are a lot of things you have to do in order to comply with the regulation. It takes a lot of my time and energy. I'd rather spend more time with customers rather than with accountants and lawyers. One thing I would say is that you have to be attentive to the short term, but it should never be the primary driving functions. It takes us several years to realize it. Enterprises need to do prioritizations well. You should be able to chart a course to allow you to build better customer relationships. That's one reason why ANSYS had a good long history, because when it was very difficult, we gained customer confidence. Two years later when we have new capabilities, they are already to apply. They are actually growing with ANSYS. In some cases, we've been working with them to help them develop what they need. In other cases, they've been helping guide us. Customer effort is about 30-40% of what we get involved with, but as an important part.
ANSYS has clear vision and technology roadmap. We were working on HPC long before anybody thought about that. Nobody was asking about multi-physics simulation 15 years ago when we were first doing that. People thought about system simulation in a much simplified way, so that is why we can't just solve the current pain that customers are facing. We knew there were certain things we need to prepare when the .COM came out. ANSYS didn't simply want to be a .COM company, but we need to leverage its technologies. It is no doubt that Internet change the way we interact with the customers, the way we deliver software, and it provides a new computing architecture, which may be a big problem. Even today, a lot of legacy providers of CAE software, they have got old abandoned code for a long time. There was other code that wrote some of the most amazing software in 1960s, which doesn't play well in a web-enabled object oriented collaborative environment. So we knew we need to build a platform, but still we have to create good business along the way. When we hit rough patches in 2009, maybe we were the only company in the States that grew, though we grew much less than we had in previous years in 2009, but we grew because we had a very strong customer base.
You can get up in a short time, but the short term can really mislead you or you can make short term decisions that hurt you in long term path.There is really no shortcut. Some people may say this is really difficult but if it is easy someone else would already have done it. We think we've progressed along with good background. We are cautious. The reason why ANSYS progresses from year to year is that we provide the money to fund the next year tool development, so we keep that pace going on in a long term. It's easy to lose. You need to have the idea of a long term goal and continuously marching toward it and you should have a short term discipline to stick to the goal but also be able to react to the changing occurrence that happen time to time.
Huang: I think that's what the Chinese companies really need to learn. Could you please tell us the kernel of the corporate culture of ANSYS?
Cashman:
I think that's passion for driving the technology development and for taking care of the customers, and also the understanding of long term strategy. Besides, honesty, integrity and culture of innovation and collaboration are key elements. The companies we acquired must share the core value with us which allow us to build collaboration. Those are basic elements.
Our sales turnover is relatively low. ANSYS sales people always know our key technologies. They retire after 30 years but they just tend to stay the people who have the ability to be innovative. I don't think there's people inside or outside the company that doubts the fact that we are going to continue to induct the technology.
The other thing is that it's not bad to make a mistake but it's bad to make the same mistake twice. Our people can learn from mistakes and turn them into valuable learning experience, which teaches them to hit a few bumps on the road. So it won't happen that in the third time you hit a disappointment and quit.
Huang: As the visionary of CAE industry, what's your view about the trend of global CAE market and CAE technology?
Cashman:
Actually, there are five main trends:
Big data application. As technology gets more prolific, enterprises have increasingly large files and terabytes of information. Maybe a dozen teams from different parts of the world are utilizing it. It's not just managing data or grabbing on the files but you have to be able to extract the relevant information, find trends and learn critical points of occurring things through sensitivity of the mathematic world. That's why we bring up the big issue of big data and whole concept of analytics.
Internet of thing can take a lot of different shapes. It's definitely heading in that direction. But we have to move and adjust because it's not like we are going that way and the things show up there.
System simulation is going to be critical. It used to be too difficult because it had to do a simple abstraction since the computer was not powerful enough. When you do that you may miss a lot of the real stuff which is going on and phenomenon while you catch.
It is a commercial model to provide cloud computing. There's issue of how useful is the software from the technology standpoint and also how available at the commercial standpoint. You have to be able to do both of them to reach customers because day by day they will make a purchase decision. ANSYS customer can choose deployment mode with flexibility.
Multi-discipline analysis will be more important. People are using more and more combustion models for better fuel efficiency aircraft and turbine engines. I think you are going to see the convergence between electronic and mechanical, software with physical systems, life science and information technology.
Huang: Can you give an example of IOT linked to CAE technology?
Cashman:
Take aircraft engine as an example. There's rule for how often you change the blade. If you can start measuring the conditions it gone through, such as flying through ice lands, volcanoes, boom cloud or even have birds strikes, then something happened in the studio site will say maybe you need to change that more often or not as often. You don't want a failure, but each time you do that, the service may cost millions of dollars. Another example is harvesting on the ocean floor, it takes a lot of energy to pump up oil, water, sand and refine it on the land. You need a constant input as to what is going on in the overall conditions and environment and continue comparing them with the theoretical models calculated by CAE software. Then, you can adjust and optimize the relevant parameters.
Huang: Why ANSYS can grow so quickly?
Cashman:
I think it's the demand. ANSYS always link to the customer and has the best technology, so that it is a safe choice for long term viability. ANSYS is in a good position. Once our customers utilize our software, they want to use it on a regular basis as it posts on the show. What happens is that they can incorporate it inside the company.
Huang: There is a lot of CAE software. How could customers choose the right CAE solution for them?
Cashman:
Well, each customer makes a choice in a different way. There is a kind of prevailing trend particularly when software is more prolific, cost and interface become an issue, so that companies are reducing the number of choices and scope, because sometimes it gets very difficult to link them together to get real value. ANSYS customers are not looking for a snapshot of a day's technologies. They are considering the persistence of technologies, the company, and the leadership in a long time. Will this be around in ten years? Will this company exist or somebody will buy them? Are they still be a leader in ten years from now? Nobody can predict what will happen in the future but there are few companies could sit there and say 45 years. We were the leader in every year of the past 45 years.Although the past performance doesn't guarantee the future, it's kind of an indication of the trajectory. The fact is that ANSYS builds relationships with our customers along that line.
Francis:
Many other CAE vendors just address the technical issue for customers when they engage with customers, such as structural analysis. We address the business problem for customers, not only the technical issue, but also strategic issue. ANSYS management team makes great efforts in customer satisfaction. We are excellent in addressing the technical issues, but the biggest differentiation of ANSYS and others are that we can address platform, multi-physics and strategic issues and also we can help customer improve the development efficiency and ability.
Huang: How to manage the simulation data and process? Some people think we should use PDM or PLM to manage all the data, including simulation data and all the process including the simulation process. But CAE vendors, like ANSYS, have your own solution data management and process management. What's your view?
Cashman:
It's not just grabbing on the files and locking them into a position. To us, it's more about the knowledge in the files than management of data or files. It's a collaboration issue. In my mind, the No.1 thing of collaboration is not about control, but it's about sharing and facilitating free flow.
It's very complicated to deal with simulation data and product lifecycle data in one system. Some big ERP vendors acquired several products, and years later, they don't have those products interact with each other. So it's not easy as some people say, but there's value needs to be extracted at both levels. I think there's one thing that helps manage, control or define data but there is other things in terms of facilitating the process of innovation and real time juggling and balancing of hundreds of different design parameters.
Huang: ANSYS has acquired some companies successfully, and what's the next direction?
Cashman:
We will continue adding new branches to the trees, so you can see a mix of technical tuck in type of capabilities but also some other larger and more branched out technologies. We also have a number of things that help facilitate the computing infrastructures, and also the continual advances in the individual physics.
Huang: Please share your view on how the Chinese manufacturing transfer to innovation oriented?
Cashman:
Chinese manufacturing need to be more flexible and start working with virtual prototype. Although virtual prototype is not 100% accurate, the product can bemore promising than before, and change the design quickly. Simulation software won't automatically do the innovation for the people, but provides the tool as quickly as possible for engineers to think, evaluate and optimize the product, so, Chinese manufacturing need to have creative personality and the desire to innovate.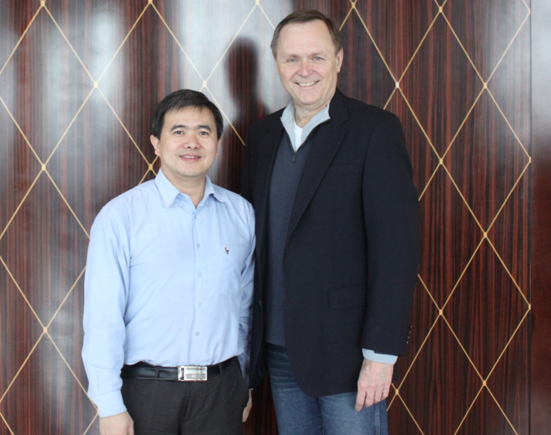 Mr. Jim Cashman and Pei Huang
Chinese version: