Synchronous Technology, radical innovation in CAD history
On June 15-16th, 2011, I attended the Solid Edge ST4 launch event at Huntsville, Alabama. During the conference, I interviewed the executives of Siemens PLM Software's Velocity Series team.
On June 15-16th, 2011, I attended the Solid Edge ST4 launch event at Huntsville, Alabama. During the conference, I interviewed the executives of Siemens PLM Software's Velocity Series team, Mr. Karsten Newbury, Senior VP and GM of Velocity Series, Mr. Bill McClure, VP of Velocity Series Development, Mr. Dan Staples, Director of Solid Edge Development, Mr. John Fox, VP of Marketing for Velocity Series, and Mr. Say Tiam Go, VP, Velocity Series, Asia Pacific. I also joined the hands-on training session of Solid Edge ST4. I received a deeper understanding of Synchronous Technology through the interview and hands-on practice experience.
Picture with Karsten (Middle) and Bill
It is interesting that in the 1990s, when I developed KMCAD with my tutor, which was a unique 2D mechanical CAD application popular in China at the time, we developed a dimension- driven (Parametric design) algorithm. It could maintain the consistent of dimensional relationships and topological constraints in multiple views of a 2D drawing when the user changed a dimension. The user could also use the mouse to choose the lines and arcs to be moved, and the CAD system would consistently maintain all user-specified constraints. We called it 'stretch' function. However, there is obviously a significant limit in a 2D CAD system and it is very difficult to drive sophisticated views, part section hatching, features and constraints.

After I began to understand Synchronous Technology, I became very impressed with its power and user interface. I believe that the key value of ST is realizing parametric design (Dimension drive and stretch) in the 3D CAD environment, and also enabling direct editing the features so that the designers could rapidly modify the design and keep the dimensional and topological constraints consistent. Thus, engineers can focus on product design and innovation, rather than focus on how to use the CAD system. It is really a big breakthrough in the CAD history.

In traditional Solid modeling systems, the CSG history and B-Rep information of 3D modeling are saved to express the modeling history and result respectively. In a parametric modeling system, design feature information is added to the CSG tree and it becomes a feature tree.

The pro of parametric modeling is that it can clearly show the process of part modeling by automatically revising the model to enable variant design. However, the con is that when the user wants to change the shape or the position of the feature, the CAD system has to recalculate the 3D model from scratch to maintain the topology of the part. This recalculation will take a lot of time for a large mechanical part, and the system could not drive the 3D model by the dimension, unless the dimension is an original one in a feature, such as the diameter of a hole, the length, width and height of a cube, etc.

Usually, the designer will dimension the part based on the design and manufacturing requirements. The dimensions of a part will define the distance, angle of the features to the base. So, the algorithm of parametric design needs to calculate the dimension chain, based on the dimensional and topological constraints. The normal parametric modeling systems, which are inside most mainstream MCAD applications, could not realize real dimension driven design because there is only ordered feature information in the feature tree. On the other hand, a direct modeling 3D system could possibly realize dimension driven design, because I'm sure that it only saves B-Rep information and has no feature tree, so, it can move the face and boundary by dimensions and topological constraints and does not need to maintain the feature tree. However, a direct modeling system is not good at modifying the features to realize variant design and design product portfolio.

In my view, ST is a hybrid modeling and constraint calculation algorithm combining the advantage of feature modeling and direct modeling. It keeps feature tree and B-Rep information, but also adds more constraint information, and builds a brand new type of user interface to improve the user experience and capture the design intent intuitively. ST is not just the right tool for the right job; as Karsten told me, it is really a radical innovation in the history of CAD. Bill said that ST could determine the over constraint and could freeze any dimensions to drive the feature correctly. Bill also said that Solid Edge will focus on improving the efficiency of mechanical design.
Picture with John and Say Tiam (Left)
ST2, ST3 and ST4 versions of Solid Edge are an expansion and an upgrade of ST, which could recognize and define the dimension and topological constraints from an imported 3D light weight model and from neutral 3D files, get shape and dimension information from 2D sketch, drive the sheet metal and assembly, which is very sophisticated, and could also drive the 2D drafting base with the change of 3D model. ST3 provided the hybrid environment which enabled the user to use feature modeling and synchronous technology together.

In Solid Edge ST4, Siemens PLM Software pays a lot of attention to improving the 2D drafting functions and meeting the sketch standard of different countries, especially to meet Chinese GB. Say Tiam told me that Extech, a well known Chinese PLM vendor, and a partner of Siemens PLM Software, provided much useful information of Chinese engineering standard and helped to build ST4 to meet Chinese GB. This version also improves the collaboration ability for a design team using Insight, which is based on Microsoft SharePoint. Dan pointed out that the whole ST plan has a revolutionary roadmap, and ST4 is an important milestone.

John told me that Solid Edge has built a large user community globally, and Siemens PLM Software will focus on the education market. He is very optimistic about growing mainstream 3D CAD market, especially in emerging market like China. Say Tiam told me that in China, the Solid Edge online community, WWW.3DST.COM, already has over 46,000 members.
Picture with Dan
Mr. Tony Affuso, the CEO of Siemens PLM Software, attended the conference to show the importance of Solid Edge business for Siemens PLM Software. I'm glad that he declared that Siemens PLM Software will promote Solid Edge as the flagship brand within the Velocity Series business. I think that it is a right choice to promote a well known brand rather than a new brand.

I also interviewed Mr. Ron Mathis and Mr. Brad Jaeger from Edison 2, which is a start-up automotive engineering company. Edison 2 joined the famous Automotive X-Prize competition and won 5 Million US dollars for their energy efficient car designed using Solid Edge. Brad and Ron told me that Solid Edge brought them the great power of quickly modifying 3D assembly. Ron has used Solid Edge for 10 years, and in his view, SE is really reliable and stable, and synchronous technology enabled him to make design change much quicker than traditional feature modeling.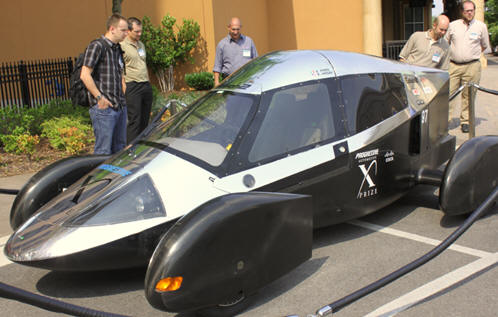 Edison 2 Car which won $5 Million Automotive X Prize designed by Solid Edge
In 2010, the license revenue of Solid Edge grew over 50%. In 2011, Siemens PLM Software launched a Solid Edge innovation incubator plan in China to help the start-up manufacturing companies to experience synchronous technology to improve their design efficiency. Each start-up enterprise could get two licenses of Solid Edge for free. Say Tiam told me that thousands of Chinese manufacturing enterprises have registered to join the plan. I'm sure that Solid Edge, with the cutting edge synchronous technology, will drastically improve the design efficiency for manufacturing enterprise.