Supply Chain Disruption? Or Our New Normal?
Are todays' first-mile supply chain disruptions simply the new normal and what can organizations do to survive in this new environment?
To adapt supply chain operations successfully to new global realities companies must prioritize new investments in first-mile technologies.
We supply chain professionals find ourselves in a completely different world than the one we operated in prior to 2020. For example, the ready availability of cheap freight capacity and the negligible inbound freight costs in COGS calculations have vanished. Evidence mounts for increasingly frequent supply chain disruption and geo-political instability that will continue to add to our economic uncertainties and inform our professional decision making. All signs point to a new, disruption-heavy normal that supply chain professionals will have to navigate in the years to come.
To adapt supply chain operations successfully to new global realities, companies must prioritize new investments in first-mile technologies and service provider relationships. They must put a premium on greater supply chain transparency and collaboration. Improving resilience with increased flexibility and supply chain visibility is critical in the face of higher costs for almost every source-make-move decision going forward. How did the first mile get to be so important? COVID-19.
In 2020, soon after the pandemic hit, efforts to mitigate illness risks quickly surpassed manufacturing and supply chain priorities at many companies. Demand for PPE and medical devices boomed as factories shut down and travel and transport barriers were imposed. Unexpected consumer buying trends emerged during lockdowns that shifted import/export trade volumes far out of balance. Freight rates began to surge in late 2020 both internationally and domestically and remain historically elevated today.
Also in 2020, consumers stuck at home diverted their spending to household needs, and the steady growth of ecommerce exploded to more than 21% of Total US Retail sales. More telling, the Pitney-Bowes Shipping Index recorded a whopping 37% increase in parcel volume in 2020, vs. average annual growth of 10% the previous five years. The last mile was getting more costly and challenging.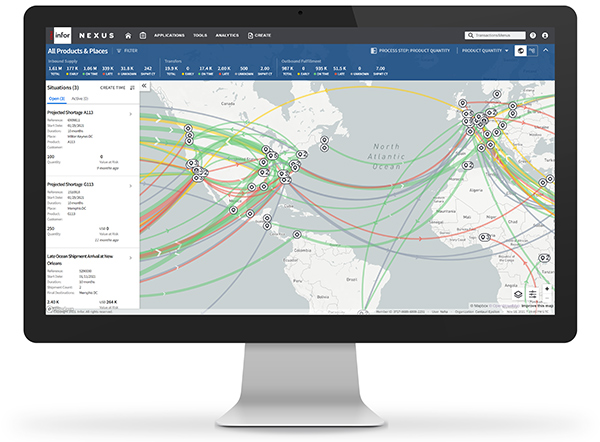 Tracking inbound freight in transit, or before is a significant benefit with first-mile solutions.
In 2021, parcel problems receded and were replaced by ocean shipping issues symbolized by the pile-up of container ships outside the ports of Southern California. When a container ship became wedged in the Suez Canal, companies watched in alarm knowing they might soon have nothing with which to fulfill customer orders if they couldn't gain better control of the first mile of their supply chains.
There has never been a more strategic time for businesses to upgrade their first-mile supply chain technologies. While many may understand that multi-enterprise business network application platforms can help them to increase transparency, visibility, and control along the first mile, there are other strategies that should be considered immediately.
Think beyond transportation management. The inbound supply chain, the first mile, is often owned by direct procurement or purchasing operations. The first mile begins with purchase orders to suppliers, or perhaps internal orders to overseas factories. These orders come with tariff implications, duty optimization strategies, transfer points for inventory ownership, denied party screening for governmental compliance, even letter-of-credit or other financial instrument payout triggers that all hinge on timely, accurate and multi-enterprise information exchange. Supplier order management and collaboration tools, along with factory packing and labeling automation solutions provided to overseas factories, can streamline downstream receiving and handling processes, taking days out of long product transit times.
If an organization outsources most inbound supply operations to freight forwarders, it should consider having all 3PL partners feed the organization's own supply chain control center with data. Instead of having staff bounce from one forwarder's online portal to another as they chase the state of freight around the world, they can monitor multiple partners and order activities from a single system, gaining faster insight to current operations and developing issues. It's also faster and easier to add new 3PLs or to move to another partner if needs change.
Now that international shipping is a bright red expense number, spend visibility is a key value area for first-mile logistics with potentially greater ROI than simple shipment tracking and carrier visibility. A global freight management solution differs from conventional TMS software in its capabilities for the more complex, multi-party world of cross-ocean cargo shipping. Designed for first-mile operations, such a solution offers a cost tracking framework for deeper analysis of planned vs. actual freight spend, along with objective measures of carrier and forwarder/3PL performance.
Tracking inbound freight in transit, or before–as it nears readiness to ship from various overseas suppliers–with granular insight to handoffs between freight modes and service providers and real-time location data—is a significant benefit with first-mile solutions. Look for predictive and dynamic freight arrival projections that reflect real-world shipping patterns to improve receiving operations and inventory planning.
Supply chain professionals will be strategizing over the next 2-3 years to optimize service and costs in a global environment where many of the old rules no longer apply to the first mile. It is imperative that technology support the breadth of information, partner and provider connections, control and visibility that are needed to emerge successful from the present storm of uncertainty.

Monica Truelsch is Senior Director of Supply Chain Management Strategy at Infor, the world's third-largest ERP software company, where she supports the Supply Chain Management product group globally. She joined Infor from Trimble, a world leader in geo-spatial technologies and transportation applications. Her career includes roles in product management, marketing and sales leadership for advanced technologies in telematics, domestic transportation management, chemical handling, engineered materials, artificial intelligence and industrial laboratory management.