Visit to Fastems: Exploration of Flexible Automation Production
On the morning of April 4, e-works 10th Industry 4.0 delegation to Germany came to Fastems Issum plant. Fastems is a world-renowned automation solution provider, specializing in machining-oriented flexible manufacturing systems (FMS). Founded in 1901, the company is a Finnish family business with a history of more than 100 years. Mr. Peter Wahner, General Manager of the plant, and Mr. Teemu-Pekka Ahonen, Product Manager, warmly received the delegation. The delegation visited the factory and several flexible manufacturing units and automatic feeding systems to be delivered.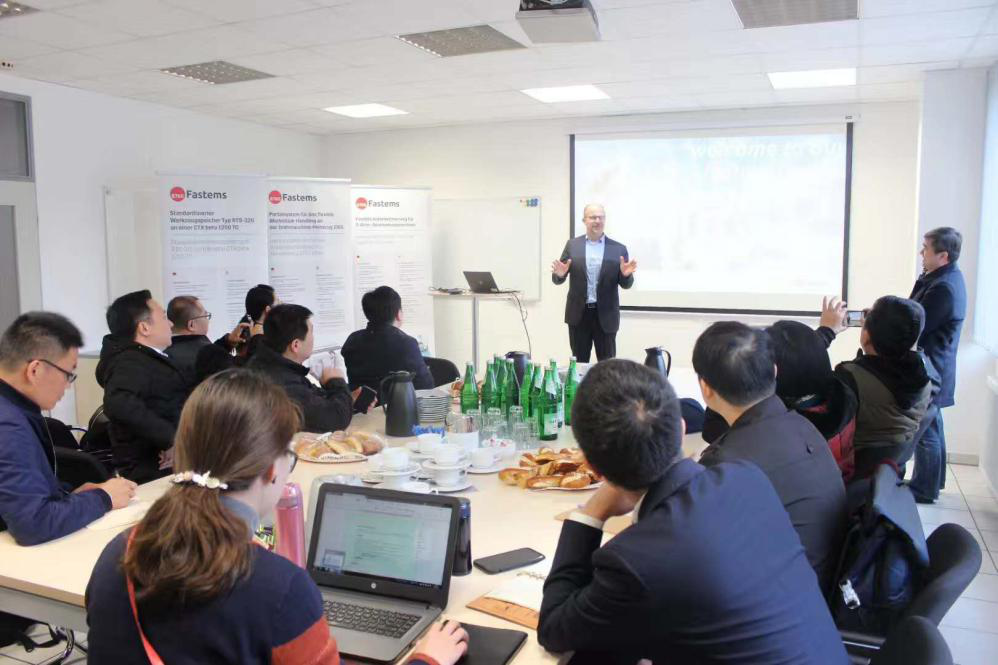 The delegation visiting Fastems Issum plant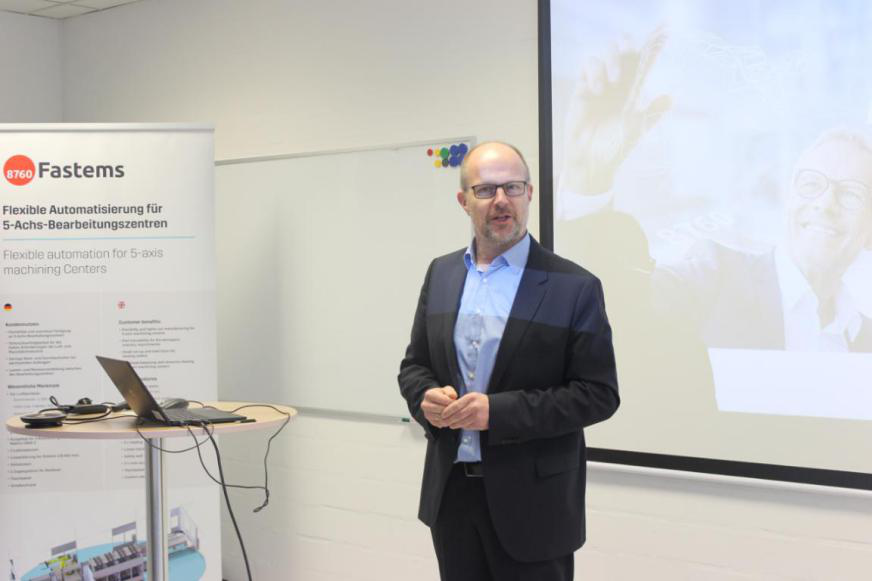 Mr. Wahner, GM of Fastems Issum plant
Focusing on Flexible Automation, Continuously Upgrade Equipment OEE
Fastems has branches in Europe, North America and Asia. It now has 450 employees and has a turnover of more than 90 million Euros. Mr. Wahner introduced that since the first flexible production line was delivered in 1982, Fastems has been focusing on Pallet Handling Systems and Workpiece Handling Systems, efficient and intelligent Production Planning and Execution management software and customized intelligent manufacturing solutions for more than 30 years. Fastems is clearly positioned to concentrate on providing factory automation systems to help manufacturers improve OEE of CNC equipment. The goal of Fastems is to help its customers achieve continuous production of machine tools for 8760 hours per year (365 days, 24 hours).
Mr. Wahner pointed out that in the complicated environment today, manufacturing enterprises are facing a variety of key challenges, including low-cost small-batch production, requirements for shorter product lifecycle, shorter delivery time and lower unit manufacturing cost, loss of workers with advanced technical experience, product traceability and quality requirements and so on. With all these challenges, Fastems serves the function of "threading the needle" in production and processing. It can design and deliver the automatic robot system for machine tools, and provide automatic material deliveries using industrial robots for multiple equipment, and flexible manufacturing system which can integrate multiple CNC equipment. In addition, it enables automatic scheduling with flexible manufacturing systems (FMS) through the self-developed manufacturing management system (MMS). It can ultimately solve the manufacturing bottleneck and help the enterprises to fully automate the processing of different parts and achieve unattended operation.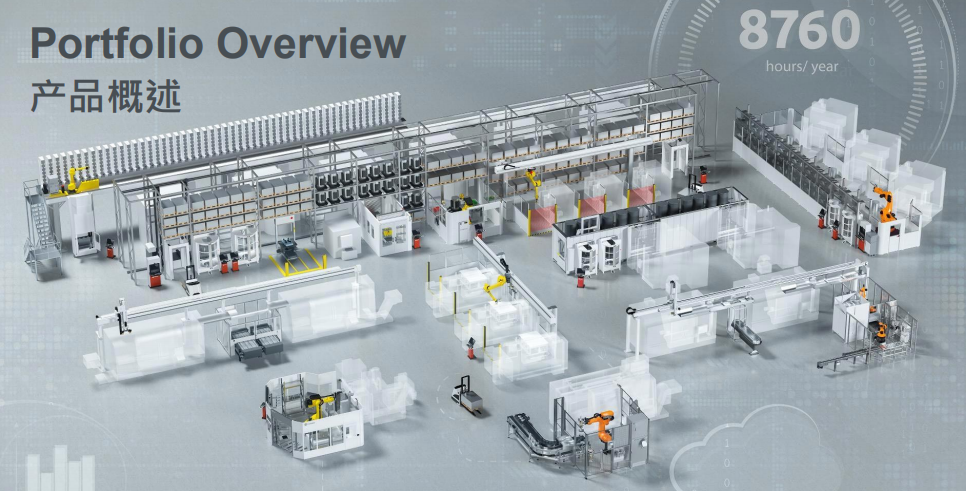 Fastems provides integrated flexible automation solutions
At present, Fastems has customers in many leading industries, such as aerospace, automobile, manufacturing technology, machining subcontractors and so on. According to Mr. Wahner, as of 2018, Fastems has customized and delivered more than 4,000 sets of automation systems to more than 40 countries and regions around the world. The annual continuous cutting of machine tool spindle has reached 8,000 hours.

Mr. Wahner emphasized that Fastems' solutions are particularly suited to users of small-batch production. Compared with hardware devices, background software systems and control are one of the core capabilities of Fastems. The advantages of its solutions lie in:

1. Improve production efficiency. Resource sharing among machine tools solves manufacturing bottlenecks. Automatic production scheduling and production simulation help achieve continuous unmanned production.

2. Achieve quality stability. Stabilize the quality of production and ensure predictable manufacturing process and non-delayed delivery.

3. Reduce costs. By predicting the bottleneck of production in advance, dynamic real-time adjustments can be made to reduce production costs.

Integrated Flexible Automation Solution Based on Software, Hardware and Service

Fastems showed the delegation automation solutions for a wide range of processes, including its flexible machining system (FMS), automation cells for metal cutting CNC machines and all automation-related services.


Integrated Flexible Automation Solution of Fastems
1.Production control system adapted to multiple scenarios
Fastems MMS is an open system independent of machine tools. It does not require separate software to manage NC programs, tools, materials or workshop production orders. MMS can automatically calculate and optimize manufacturing instructions and achieve production scheduling based on orders, and can adapt to the daily changing production requirements. In addition, MMS can meet the control requirements of various production scenarios. It is a completely modular solution and is able to realize the control and change needs of any machine tool, equipment or process automation. For example, when new machine tools or equipment need to be added, customers can easily upgrade the system to adapt to the management needs of automated production.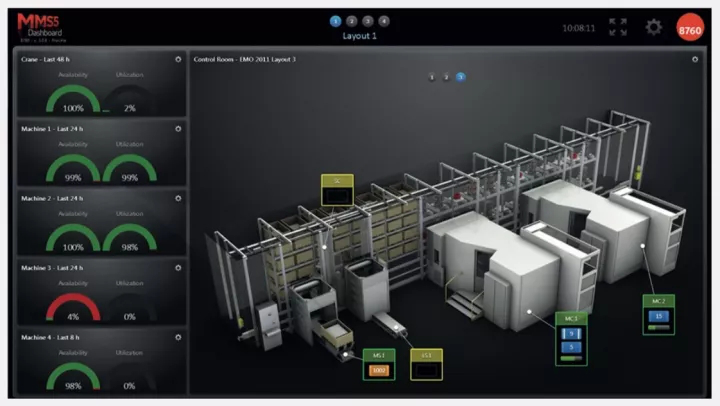 Manufacturing Management Software (MMS)
(Via: Internet)
FMS can integrate any machine tool, materials, wash machine, CMM, central tool storage, robots, etc. In order to cover different application scenarios, FMS solutions include FPC, FMS ONE, RoboFMS ONE, MLS, RoboFMS, and all solutions are based on the concept of flexible manufacturing. The delegation learned that Fastems has delivered more than 1500 MLS systems and has achieved integration with more than 60 machine tool brands and more than 3,000 machine tools.
2. Flexible industrial manipulators and robots
In addition to production control systems, flexible industrial manipulators and robots are also featured products of Fastems. Fastems provides three solutions for different scenarios in its workpiece-handling automation solutions based on gantries and industrial robots. In the large-scale automated production line solution, the production line change time is long, and a small amount of labor is needed to replenish materials and tools. The flexible manufacturing cell solution is suitable for small and medium batch production, which can achieve 2-8 hours of unmanned production. The flexible manufacturing system solution is suitable for small-batch production, which can automatically change setups and realize unmanned production for 72 hours. Based on the classification of applications, Fastems' hardware can be adapted to a variety of scenarios. In addition, Fastems is actively working with companies such as Fanuc, Kuka, and ABB to continuously seek product innovation.
3. Integrated flexible automation solution
With its rich industry experience and support of hardware and software systems, Fastems can design and provide integrated flexible automation solutions for customers through in-depth communication and cooperation with the customers. During the inspection, Mr. Ahonen detailed a set of solutions the factory is providing to customers. This is a solution that includes automatic vertical storage, material pallets delivery, material loading and unloading etc. Through the equipment layout of the upper and lower layers, it helps realize the integrated flexible automation from material storage, material sorting, material handling, material processing and reprocessing to product storage. Mr. Ahonen also repeatedly stressed that flexible automation in the factory is inseparable from the software management and data support behind all hardware devices.

The delegation learned that consulting and after-sales service have become one of the important businesses of Fastems. Fastems provides 7/24 remote technical support and handles over 1200 customer requests annually. Over 85% of the problems can be solved through remote technical support. In addition, Fastems currently offers local service support in eight countries around the world. Through the Fastems rich industry experience and software and hardware system support, as well as good communication with customers, it can provide customers with good solutions.
The members of the delegation are deeply inspired by the flexible automation solution of Fastems. Especially for the current small-batch and big-variety manufacturing demand in China, the flexible automation solution for continuous production has a very broad prospect. After the visit, many members of the delegation had in-depth communication with executives of Fastems and expressed their intention to purchase the technology.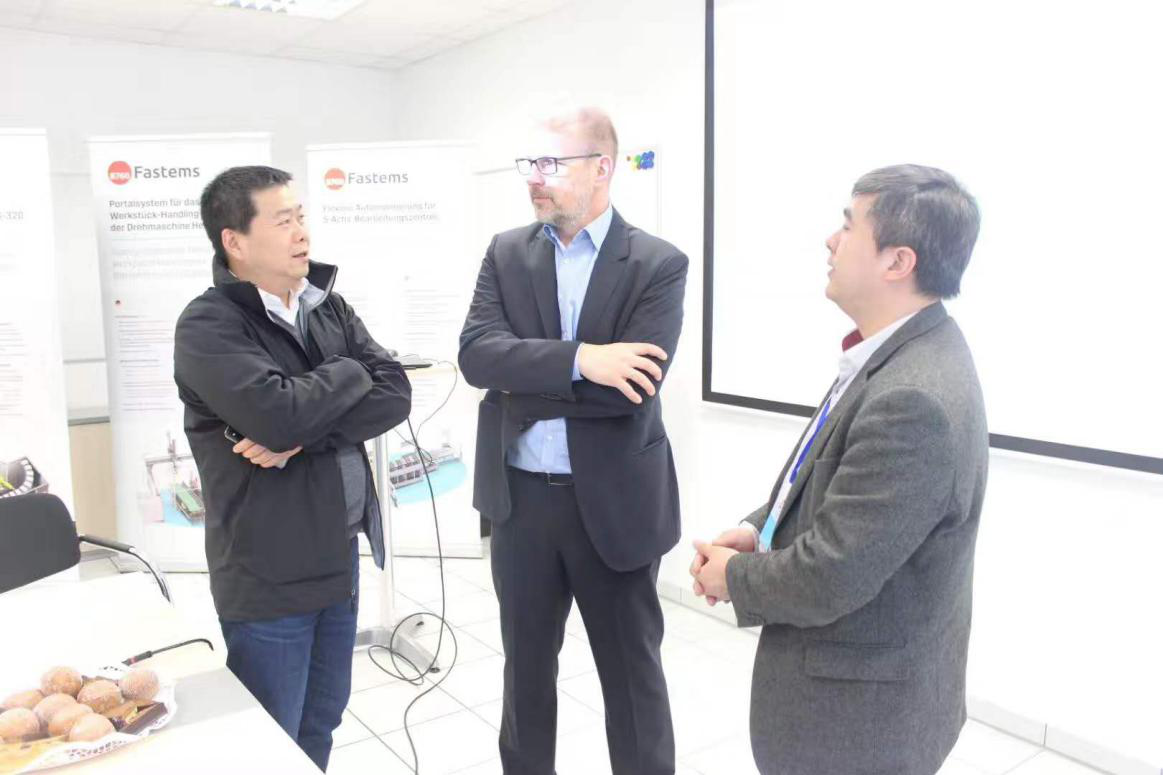 The delegation members having an in-depth discussion with the GM of Fastems Issum plant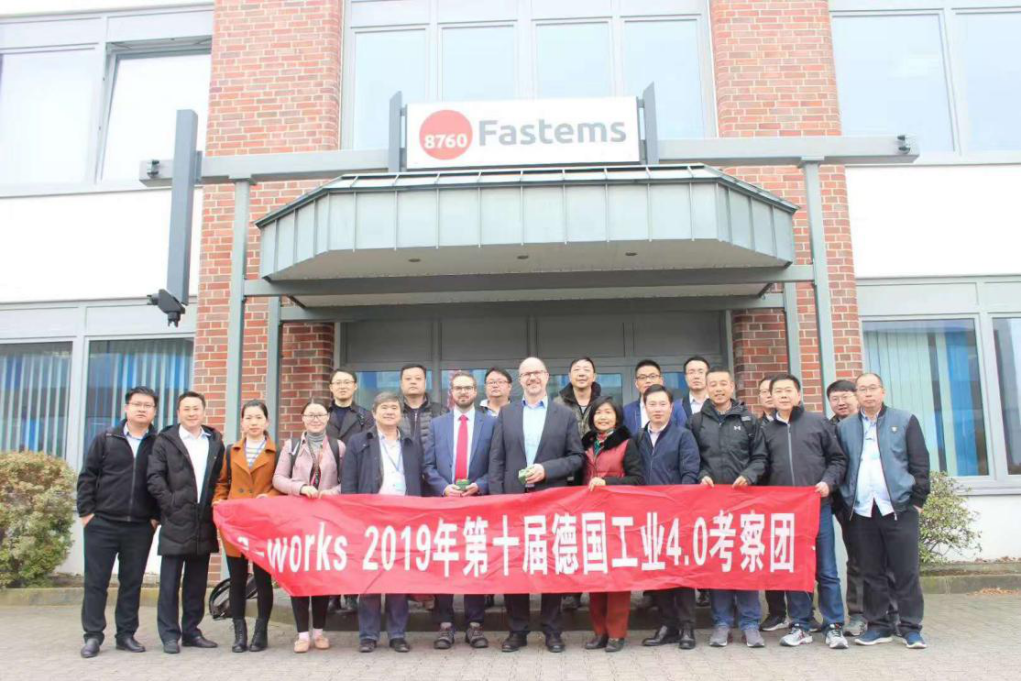 Group photo of the delegation in Fastems Issum plant