"2017-2018 China MES Software and Service Market Research Report" Officially Released
On April 11, 2019, Dr. Huang Pei, CEO of e-works, officially released the "2017-2018 China MES Software and Service Market Research Report" in Beijing.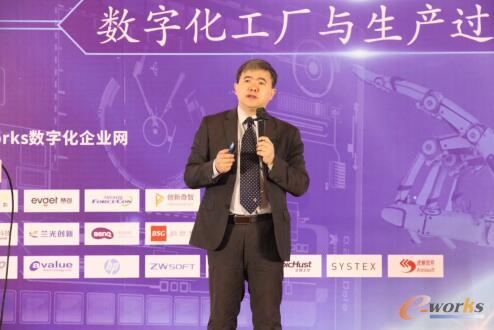 Dr. Pei Huang releasing the report
"2017-2018 China MES Software and Service Market Research Report" was compiled by e-works Research. From the dimensions of market size, market characteristics, demand characteristics, supplier market performance and supplier dynamics, the report analyses in depth the development status of China's MES market in 2017 and 2018, and forecasts the future trend of China's MES market.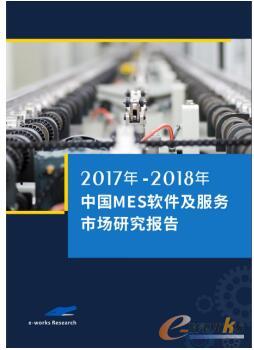 In terms of market size, Chinese MES market continued to grow steadily in 2018, with a market size of 3.39 billion yuan and a growth rate of 22.0%. Compared with the high growth rate of 31.1% in 2017, the growth rate of Chinese MES market slowed down significantly in 2018. The discrete industry was affected by the decline or slowdown of growth in some manufacturing industries, the growth rate dropped to 18.4%, and the total scale expanded to 2.19 billion yuan. In contrast, the growth rate of the process industry is slightly more stable.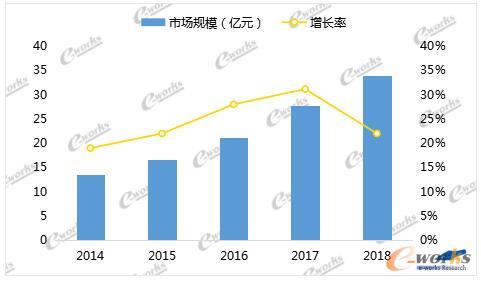 Overall scale of Chinese MES market from 2014 to 2018
In 2018, MES software licensing market accounted for 59.1%, with a market size of 2.0 billion yuan, an increase of 23.9%. The implementation and service market accounted for 40.9%, and the market size was 1.39 billion yuan, an increase of 19.4%.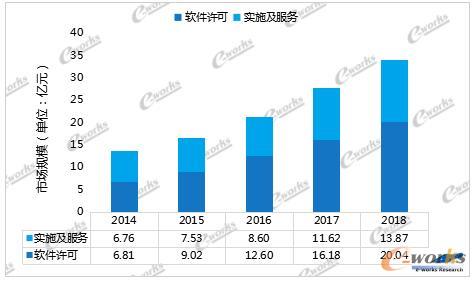 Market Scale of MES Software Licensing, Implementation and Services in China from 2014 to 2018
In terms of industry performance, the MES market of metallurgical, petrochemical, food and beverage, aerospace and military industries increased slightly, the MES market of machinery and equipment, electronics and electrical appliances industries remained stable on the whole, and the MES market of automobile and parts industries declined in 2018. Each industry presents the following trends:
The investment in automobile and parts industry shrinks, and the MES suppliers are facing transformation pressure.
Machinery and equipment industry is generally stable, and the MES market is developing steadily.
The demand of electronic industry is significantly rising, and the competition of MES market is fierce.
Metallurgical and Petrochemical industry is in a recovery adjustment, and the MES market is facing new opportunities.
The MES market competitors in food and beverage industry are few, and suppliers with automation background have obvious advantages.
Aerospace and military industry has a high threshold, and the competition of this industry is stable.
According to the analysis in the report, the MES software and service market in China is still in the initial stage of "co-existence of all the major players" and presents twelve characteristics:
There are numerous companies competing for the market, and the "war time"will last a long time.
MES is in strong demand and still has growth potential.
Enterprises attach great importance to MES and have clearer demands.
The implementation of MES system is difficult, restricting the rapid growth of suppliers.
The individuation of enterprise's demand for MES software makes it difficult to standardize and platform MES software.
The price of MES software varies widely, complicating market purchasing decisions.
MES has distinct industry characteristics, and the supplier layout has some emphasis.
The proportion of large enterprises developing MES independently is high, and the commercial software market needs to be further expanded.
The MES system "cloud" is a big controversy, and it is still unrealistic in the short term.
MES suppliers cooperate with partners to develop industry chain ecology.
Financing and mergers and acquisitions in MES market are more active, and some firms get capital support.
There are numerous participants in MES market, and many forces are pushing forward its development.
In terms of MES demand, the report points out that the manufacturing enterprises' understanding of MES has been improved, the demand for MES application has been clearer, and MES investment has shown a high degree of enthusiasm. At the same time, the low degree of MES production, the difficulty of project implementation and the low success rate are still important challenges for the development of MES. The report lists seven MES demand and application status:
The potential demand for MES is still strong, but the conversion rate to the "real market" is less than expected.
The investment amount of manufacturing enterprises in MES increases and tends to shift to the high investment range.
The focus of MES selection has changed slightly, and system integration capability and industry matching degree are the key points.
Enterprises' understanding of MES is improved, and their demand for MES application is clearer.
The degree of productization of the MES system is still low. Enterprises often implement MES system in the way of self-development or cooperative development.
The implementation cycle of MES projects is generally longer and the project delays are common.
The success rate of MES project implementation is not high, and only 50% of the projects achieve the expected results.
The report also estimates the top 10 MES suppliers from 2016 to 2018, and lists the dynamic information of several mainstream suppliers. It points out that there are over 150 suppliers of MES software or implementation services in Chinese market, and the market competition is active. The current MES market in China is similar to the ERP market ten years ago. The market concentration is low and there are industry leaders, but no market monopolists. It presents the following four characteristics:
Market concentration is still low and there is a lack of market leaders.
There is a big difference in the competitive landscape between suppliers in process industry and discrete industry.
Industrial development in the central and western regions will drive the growth of MES market in the region.
Enterprises' brand recognition is biased towards foreign suppliers, while domestic suppliers lack influence.
Generally speaking, opportunities and challenges coexist in Chinese MES market. It is expected that in the next two years, Chinese MES market will continue to maintain double-digit growth, showing a trend of first falling and then rising. By 2020, the overall size of MES market will expand to 4.85 billion yuan, with an average annual compound growth rate of 20% from 2018 to 2020.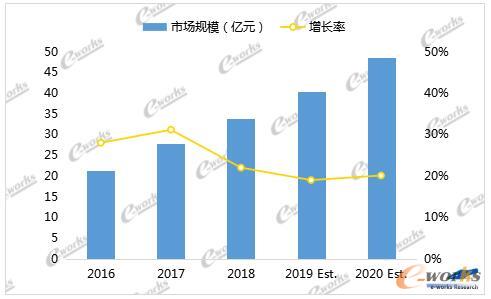 Overall scale and growth rate of MES market in China from 2016 to 2020
MES plays a connecting role in the overall framework of enterprise's smart manufacturing, and is the hub of enterprise's smart factory. After several years of development, MES system has been widely used in many industries, and has gradually become the standard of smart upgrading of manufacturing enterprises. As a well-known media, consulting and Research Institute in the field of smart manufacturing and integrationofInformatizationandindustrialization in China, e-works has been devoted to manufacturing industry for many years, and has a profound understanding of MES. We have successively published "2008 China MES Market Research Report of Manufacturing Industry", "Guidelines for Selection and Implementation of MES", "2014 China MES Market Development research report" and so on. In the process of promoting smart manufacturing in Chinese manufacturing enterprises, the formal release of the "2017-2018 China MES Software and Service Market Research Report" will provide useful reference and help for people from all walks of life to understand the current situation of China's MES market development, which is of great significance.
About e-works Research:
e-works Research is the research and analysis organization of e-works. Relying on strong industry resources and strong intellectual resources, E-works Research Institute has long been committed to providing government and enterprises with services such as integration of Informatizationandindustrialization of manufacturing industry, feasibility study of smart manufacturing, industry survey, industry analysis, development strategy and planning.It has formed a business pattern of concurrent development of government decision support and soft science research, enterprise integration evaluation and diagnosis, industrial research and planning.
For the complete report, please contact:
027-87592219-120/why@e-works.net.cn Haiyun Wang