3D design enables screw and cylinder maker to improve profitability
Founded in 1974, Tan Star Material Co., Ltd. (Tan Star) has built a solid reputation by producing high-quality cylinders and screws for the rubber and plastics machinery industry. The company has adopted a 100 percent custom design business model and produces everything from the main bodies (such as cylinders and screws) to accessories. Tan Star has continuously invested in material development and enhanced design quality to maintain its advantage in a fiercely competitive market.
Focus on custom design
Tan Star's focus on customized design and production requires the company's partner to have highly competent manufacturing capabilities. Enhancing the company's production capacity enables Tan Star to manufacture more complex products.
Recently, Tan Star made a major breakthrough in production technology by developing a bi-metallic cylinder machine with halogen-free plastics; it was put into mass production in 2013. The company has also improved its manufacturing capability, so that it can now produce work pieces with a 250 millimeter (mm) cylinder diameter; it expects to use this capability and begin delivery to its Japanese customers during the next six months.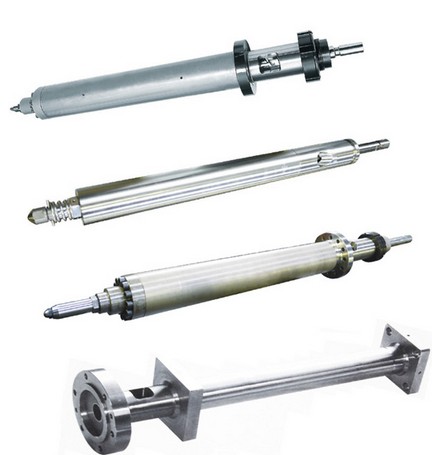 One day to two hours
With a long history of serving customers high-quality injected or extruded cylinders and screws,Tan Star has a worldwide customer base. Each year, the company has grown its business. In recent years, up to 50 percent of the company's revenues come from exports, with income from Europe, the Americas and the Middle East continuously increasing.
Tan Star does not produce standard products for mass production. As a result, precision across operations – from order receiving to processing assembly – is crucial to profitability. To accommodate its custom-design focus, the company deployed Solid Edge® software, 3D-based computer-aided design (CAD) technology from product lifecycle management (PLM) specialist Siemens PLM Software. Known for accelerated design, faster revisions and better data re-use, Solid Edge has helped the company save significant design time, make fewer processing errors and facilitate communications for marketing purposes.
"Take the screw, for example," says Wu Shijie, drafting engineer at Tan Star. "After receiving a customer inquiry for a product, we will first explore its design purpose, the best materials for the finished product, the preferred settings of the injection machine (including temperature, pressure and speed), and then deliver the relevant data to the design department for detailed execution."
The 2D drafting system used in the past could help specify dimensions and tolerances, but 2D drawings were difficult to interpret by many people and the system was unable to accurately show detailed parts. Later, when a German customer required a small auxiliary 3D map in addition to the 2D drawing, Tan Star decided to implement 3D-based CAD to illustrate precision and improve communication.
Using the 3D capabilities of Solid Edge, Tan Star now identifies design problems via drawings provided by original equipment manufacturer (OEM) customers. "When we redo the customer's drawing using Solid Edge, we sometimes discover that the original sizes are inappropriate, which would likely cause the product to break," says Shijie. "In such cases, Tan Star informs the customer of the issue and proposes design changes to eliminate any possible loss. This proactive handling of accounts helps bolster the customer trust in our solutions and approach, and win repeat business."
Importantly, the design change process has been reduced from a full day to only 2 to 3 hours, markedly reducing the company's project turnaround time and enabling improved customer responsiveness.
Substantial savings in time and money
In addition to helping significantly reduce design time, Solid Edge exposes errors that previously would have gone undetected until late in the production process. The result is substantial savings in time and money.
In the rubber and plastics machinery industry, a design drawing is extremely important to the overall design-through-production process. Customer review and understanding of the final drawing is critical to project success. Any mistake at this point can result in manufacturing errors, which means financial losses, often hundreds of thousands of yuan.
"Now, when communicating and carrying out design changes with the customer, we use 3D simulation. This enables us to discover dimensional problems and make design changes in a timely manner. Our communications with the customer transparent and clear," says Shijie. "Using our 2D drafting system often resulted in 'blind spots.' Visual clarity simply wasn't possible. But now, using the 3D design capabilities of Solid Edge, we can clearly see the appearance and location of each part, so it is no longer necessary to have a prototype made beforehand.
"In addition, we can also use the 3D flip function during simulation, repeatedly confirming the requirements of critical dimensions and significantly reducing the error rate. This is particularly helpful for new technicians, many of whom can't readily imagine the specific physical appearance based on 2D drawings. Now they can easily resolve any potential issues using Solid Edge."
Use of 3D substantially augments marketing
Tan Star also uses Solid Edge as a tool for business marketing and communications. "The product description we often see on a traditional company's website mostly consist of 2D pictures with captions, which cannot reflect texture and details," says Shijie. "However, we render products in 3D using Solid Edge, then display these on our website, which has not only helped us to target our marketing efforts, but has also allowed interested customers to have an immediate and direct view of our work. This has resulted in increased business opportunities. Our use of Solid Edge is especially advantageous at international exhibitions, where we can only bring a limited number of actual parts and products. Demonstrations using 3D design allow us to quickly and easily explain sectional details to potential buyers and stimulate further conversation and business opportunities."
"We are professionals, engaged in more than just design and production," notes Shijie, explaining, "With an annual turnover rate of only about five percent for our technicians, the company is capturing and utilizing significant valuable knowledge using Solid Edge."
Shijie concludes, "The use of 3D simulation with Solid Edge significantly improves the quality of communication with our customers, as well as helps detect errors earlier in the product development process, saving manpower, material, time and money. This is a win-win for Tan Star and our customers."