PTC: Help Chinese manufacturers build product and service advantage
Oct 9, 2012, I interviewed Mr. Robert (Bob) Kocis, Senior Divisional Vice President of Asia pacific Sales and Distribution of PTC at the Asia and Pacific quarter of PTC locating at Shanghai. Bob joined PTC in 1998, he was the divisional VP in charge of the worldwide channel program and all the emerging countries and got great success. He was promoted to manage the A&P business of PTC and went to Shanghai on March, 2012. Robert shared his view about the challenge of Chinese manufacturing and his suggestion, he also introduced the strategy and transform trend of PTC.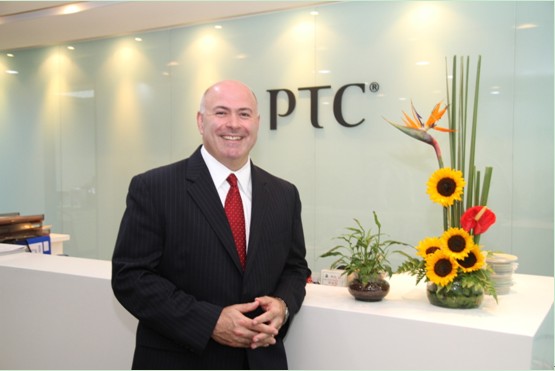 Mr. Robert (Bob) Kocis, Senior Divisional Vice President of Asia pacific Sales and Distribution of PTC
Pei Huang: How do you think the economy slowdown will impact PTC's business and the whole PLM industry in China?
Robert Kocis:
For sure, we are seeing a wide adoption of PLM in the biggest and best Chinese companies. Every CIO and executive that I met with, PLM global collaboration platform is on the top their list from platform development initiatives. We were very excited about that and feel that's a great opportunity. One of the things that I believe in my 14 years in PLM that's unique about the PLM industry is that as the economy slows, people want to invest in solutions that bring them productivity gains and the entire supply chain to allow them to service the customer better, to allow them to be more innovative because they need competitive advantage. So even if the economy does slower a little bit, sometimes it gives people an opportunity to deploy some technology like PLM. When the economy speeds up again, they can come out of it with competitive advantage. I have talked to some executives about the exact point that they agreed that they feel that sometimes when the economy slows it's a great time to make that investment in technology that will enable them to be more competitive. I understand that time of changing economy is different, but right now we see very robust business, widespread adoption, and big customers in PLM.
Pei: PTC is one of the few companies that headquartered in Shanghai for A&P business. What's the benefit for this choice?
Robert:
The reason we put the headquarters at Shanghai in 2008 was that we knew it offered for us to be the No.1 player in China we have to have a deep commitment in China. So, we put our R&D center here. We have a technical support team here. We have over 600 employees here in China now with 6 offices. We have our Asia Pacific headquarters here. We have many Asia Pacific functions that operated out of here. That's our important steps and we did that to show commitment to the market. We believe that's a very critical piece to our future growth and future expansion. If you look at the most recent CIMdata report, we are listed No.1 in cPDM market, No.1 in A&D, and No.1 in electronics and hi-tech market in China. I think it's a testament of our investment here that we are able to achieve that status in the market place.
Pei: What's the difference of your Chinese PLM market compared with the market in Korea and Southeast Asia countries?
Robert:
There's no doubt that Chinese market is the biggest opportunity for us in PLM. Korean market is critically important and we have good and growing business in Korea. HKMC (Hyundai &KIA Motor Company) adopted Windchill PLM and is at the second phase of deployment. HKMC is the fourth largest automotive OEM worldwide and the fast growing one, so it is a big win for us. We are also making strategic investment in entire South Rim of Asia and Vietnam being one area we make investment both recently and in the future. But without doubt, we are making the majority of investments in China. We are expanding our automotive vertical and recently we appointed a new president of China. We are continuing to make investment because we feel that's the biggest opportunity.
Pei: Recently, we have seen several important acquisition of PTC. Please analyze the acquisition strategy of PTC and the vision of PLM technology.
Robert:
We announced maybe six months ago that we realigned our company into five segments. We believe it's the key to the future of PLM in the market place. If you looked at how we branded, we used to be a product development company, but now it's all about
product and service advantage
. The reason we did that was we realized that companies want to create world-class products and want to leverage our technologies to do that, but they also want to offer world-class service and there's lot of gains they can offer when the products reach market, how do they service those products?
As we build out our product portfolio, we really build them around those key themes. Those five segments I talked about are MCAD and PLM, being our largest two; service lifecycle management is the third largest segment; the fourth is application lifecycle management and that is really around managing embed software. If you think about an automobile 20 years ago, there was no software. Today there are millions of lines of code. Somebody reads that code, the code needs to be managed. We acquired a company called MKS, they have a product called Integrity which is a very good acquisition for us. It allows us to really bridge app in PLM around software development.
Lastly, which is emerging for us is supply chain management. The idea is really integrating the supply chain into product development and offering tools that you can use to do analysis work and other types of work to really analyze how the supply chain is doing and how you are doing in different markets and optimize that piece of business.
In terms of service lifecycle management, we've made some other acquisitions in that area. One was a company called 4CS, which is a warranty application. It's a nice fit because we already had technical documentation, so we added the warranty piece. Then we added Servigistics which was a fantastic acquisition focused around parts management, repair, and field service management. We were missing those three key areas in our portfolio. Now, we've rounded up a full service lifecycle management offering. So customers are leveraging our creation tools, Creo product line, and PLM product line can now leverage service lifecycle management solution and application lifecycle management solution as one overall portfolio that can really help their business. However, if they are not using our Creo technology or PLM technology, if they are using something else, they can still leverage our SLM product line and they can still purchase our application lifecycle product line.
One more point I want to make is after Mr. Jim Hellpelmann, who obviously is one of the key visionary in the industry, decided to acquire Integrity, we have fully integrated it to Windchill, but we also offered standalone because we know some customers are going to use that technology on Windchill but some other don't. They still want to use that technology, so we offer both for the market.
When I meet with different CIOs, CTOs, and VPs across big manufacturing companies in China and elsewhere, they all have interest in service lifecycle management, application lifecycle management. The reason they had it is they realize the value they are getting from PLM in the extension that those solutions can bring to them. For example, Huawei heavily invest our PLM technology and is evaluating all the other key segments I just talked about. They have the vision about how to take the whole portfolio and extend that to really benefit their business.
Pei: Does PTC have any plan to extend to other industries?
Robert:
We are very focused on our core verticals. I think our belief is we want to be really expertise in our six core verticals. We don't have plans to go out of the six core verticals: automotive, aerospace and defense, electronics and hi-tech, industrial equipment, medical device, retail and footwear and apparel. We want to be experts in those areas. We believe our products have most value in those areas. So we are trying to keep our sales teams, services teams, and R&D focused on delivering value in those areas. One thing I would like to point out is probably one of the reasons why we took a leadership position in China in electronics and hi-tech and in aerospace and defense because we are so focused on the markets.
Pei: Please summarize the competitive advantage and the sales, marketing and service strategy of PTC in China.
Robert:
From the stand point of our competitive advantage in market place, there is a few things come in my mind.
First one is our focus in our core verticals. In fact, we are committed to those not only from sales and service perspective, but also from R&D perspective. We offer full suite of solutions to the customer around our core verticals and focus on delivering the value around that.
Another one is we put around 17% of our revenues back to R&D, focus on those key programs. I believe we have the most robust platform in the market from the standpoint of architecture. It allows us to be flexible with the cloud and have flexible deploying options, because we have the most modern architecture when it comes to PLM. By reinventing Creo, we are on the way to have one of the robust CAD platforms in the market place. With the release of Creo 2.0, we really see customers want to adopt it. We've seen more and more request come through around how they can adopt that, how it impacts their business and strategy around the adoption. We are excited about that.
We help our customers to improve their product development capability by implementing our PLM solution with our Value Roadmap to get full value from our solution. We called it Value Centric Engagement Model.
Pei: What's the impact of PTC changing the brand name of Pro/E to Creo? How about the growing trend of your CAM, CAE, and 3D visualization products?
Robert:
We are starting to see positive impacts. There are more new customer acquisition and customer adopted more widely. In the most recent version of Creo, Creo 2.0, we enhanced all 9 applications that we originally launched and added the tenth application called Options Modeler around advanced assembly which was significant for the market. We also drove over 500 user enhancement in that release of Creo 2.0. We are investing heavily in our R&D. We've seen customers want to deploy it. We are working with many big customers today on planning for them for how to migrate to Creo 2.0. It starts to see more and more opportunities for displacement of other legacy CAD platforms. Those are the indicators we see today. I see that trend continue because people like the solution. They like the fact that we incorporate some direct modeling in the solution. There are some applications that are very useful.
We will continue to provide robust CAM and CAE solutions to customers who are leveraging our Creo platform, but we are not going to creating CAE solutions to compete with companies like ANSYS. That's not our core strengths.
The need for our 3D visualization solution is growing rapidly. Recently, a major China state-owned company is deployed Windchill in a fast pace. They are talking about the fact that more and more Windchill be deployed, more and more need there is for the standard ecosystem that accesses the visualization. We definitely have customers use Arbortext solutions and visualization solutions for other industries. But it's not necessarily our core competence or how we are going after those market places.
Pei: Please introduce the new progress with the industrial solution of PTC.
Robert:
One is the acquisition of Servigistics. It's about how big industrial companies will service the product better. It allows us to offer world-class technology on the service side of the business. Servigistics provides whole Service Lifecycle Management solution, in addition to warranty and technical information solution, it also offers service parts management, repair management that are really critical for the manufactures.
Windchill 10.1 platform was our latest release. We have made some important enhancement, and one example is the full integration of Integrity, which is our Application Lifecycle Management solution, into Windchill PLM platform to help our customers manage their embedded software code.
Pei: Do you have any cases to show that all the product data including mechanical, electrical, electronics and software data managed by Windchill together?
Robert:
We are working towards those cases. One recent case is Continental AG, a German company and one of the biggest automotive suppliers in the world. They are leveraging our Windchill technology and Integrity technology to manage both. In the next 6 to 12 months, I hope to have some Asia Pacific cases that we can talk with you as well.
Pei: I know PTC reorganized greater China team recently. Please introduce the new organization structure of PTC in A&P and China.
Robert:
For A&P, it was an extension of our commitment to the market. We are deeply committed to markets like China, India, Korea, and Japan. Dr. Richard Shou is our Divisional VP and President of China now. That's being a huge benefit for us because he is an outstanding executive and he knows the industries incredibly well. We also moved a very senior executive in the US to India in April with his family. He is doing a great job and helping Indian business to the next level. So we are making bigger investments plus we are hiring more service professionals, more technical experts, more segment technical experts, more people in the ALM section to come over here to help support customer base. Those are some strategic investments in the organizational changes we've made. You won't see many additional changes in the coming months or years. I think we've put our organizations in the place in the last six months. Now we want to stay making sure our customers receive highest level of satisfaction, making sure we are presenting our products the best we can to our customer base and adding value to customers.
Pei: Are there any changes with your sales model in China?
Robert:
We always had two kinds of businesses, direct sales business and channel sales business. What we do is evolving that. We realized that there are certain strategic accounts need to be covered directly and they are very resource intensives, so that we covered those accounts with our direct resources. We are creating a middle market to pursue the huge opportunity. There are industries like energy which the biggest investors are China government. We need to cover these industries appropriately and make sure the customers understand our technology. Our channel partners are big part of our middle market strategy, and they will benefit from it.
For SME market, we already have very robust channel. We have around 80 channel partners. Our revenue has steady growth under our channel leader there. We will continue that program, expand it, and make more investment in it. We realized that's a huge growth engine for us because we are acquiring a lot of new customers in that channel space. So our channel partners are doing a fantastic job acquiring new customers in China.
Pei: Are there any conflicts between your direct sales and channel partners?
Robert:
There's very little conflict. We have very good rule of deal registration. Our partners can register an opportunity and be protected on the opportunity. Once they register it and being accepted, their margins been protected in the account. Things like that really helped us allow our partners to really build our business. It's sustainable and profitable.
Pei: How could PTC help customers improve their R&D capability and consolidate the Integrated Product Development process by PLM application?
Robert:
The key value of IPD is to optimize the product development process. Once those value opportunities are recognized by the customer, then we can come in with our technology to show them how they can actually capture the gains of those points of value by implementing the right PLM technology. We cooperate with the consulting firms such as IBM and Accenture so that they can understand our PLM technology better. We can help our customers to implement our PLM solution according to how they want to optimize their R&D process.
Pei: What's the strategy of PTC to promote cloud solution, mobile application and social application?
Robert:
We look the cloud as deployment option. The advantage of PTC is the way of our technology being built and architected. It's very cloud-friendly. We have customers today deploy it in the cloud environment. We have partners deployed our technology and serve it as a cloud offering. We don't look cloud as a PLM strategy, but a deployment strategy. We want to make sure our products are friendly towards that. So if a customer does want to deploy that way or if we want to go to market that way with our third party, our solutions are useable and friendly. They are expectable for that market place.
From mobile standpoint, we really got continue development of customer needs. As they need access information, access development data on the mobile device they built into improve things. We are going to offer those capabilities because it's critical. That's what we doing today. Sometimes it's an integrating strategy for how they do a service offering in a field, and then how they get service information in that field from mobile device back to product development very quickly. These are the solutions we are continuing focus on.
From standpoint of social media how it interacts, I think we are still looking for customers to drive us towards that conclusion. Today we have a solid value driver there in this point. As something comes up there we will be ready to enhance our solutions. It's great to have a nice application around social media, but the things really adding value to the customer is connecting to their R&D improving goals, initiatives, and value drivers. That's a challenge today.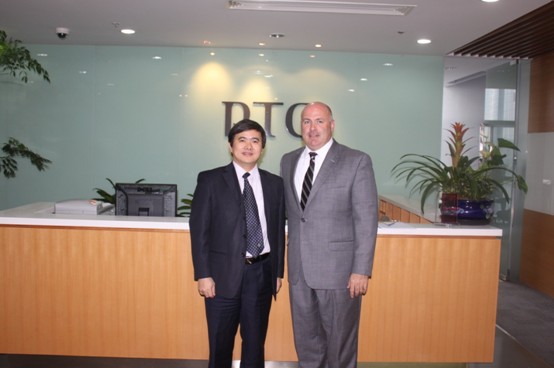 Dr. Pei Huang and Mr. Robert Kocis
Chinese Version:
PTC:助中国制造企业建立产品服务优势