Will Dassault Systemes be the next Apple?
To be a great company like Apple, is the dream of CEOs, and I believe it is also the most important question interested by investing experts. As one of the global PLM leader, Dassault Systemes is working very hard to transform and to be a company like Apple which could realize disruptive innovation at the era of Internet and experience economics.
I have listened for the speech of Mr. Bernard Charles, the CEO of Dassault Systemes for several times, and every time I was inspired by his passion and wonderful demonstration. On Oct 19, 2011, I heard his passionate speech again at DS Japan customer conference.
Bernard mentioned that, DS V6 is not V5 plus one, it is not an incremental improvement, instead, it is a disruptive technological innovation, and it is an experience platform of product innovation which could support the enterprises to get lifelike experience during the R&D phase of new products. Now, V6 platform has been used not only at manufacturing, but also it has been used at education, training and medical diagnosing. In Bernard's view, V6 platform could completely change the way of marketing, engineering, designing, manufacturing and supporting, and connect all the functional departments tightly, so that the V6 user enterprise could better understand the need of customer better, meet the need with high efficiency and high quality greenly, and make the product which the customers really love and really create value for them.
DS spent $2 billion to develop V6 platform and conducted series of strategic acquisition. Besides the famous brand of Ds, such as CATIA, DELMIA, SolidWorks, ENOVIA and SIMULIA, Bernard mentioned more and more about 3DVIA, which can support 3D visualization, SWYM, which can support social innovation, and EXALEAD, which is not only an enterprise search engine, but could also share the knowledge in the organization. Besides the industries which DS products are widely used, such as Aerospace and Aviation, Automotive, Bernard talked more about CPG, energy, Architecture, Engineering and construction, and even retail industry (3D visualization of store). About application model, mobile computing and cloud computing are the important developing areas of DS.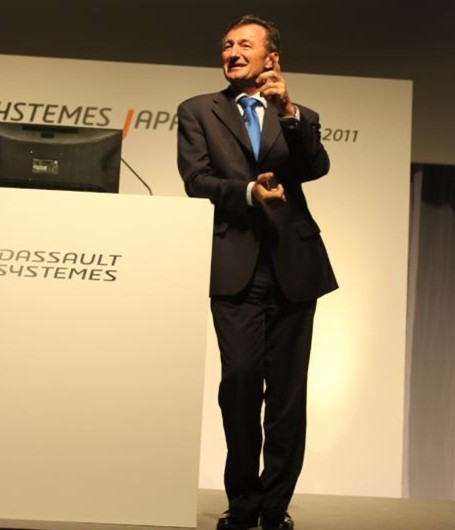 Mr. Bernard Charles, the CEO of Dassault Systemes
Bernard believed that, it is not the right and responsible attitude to tell the customers what they have done is all good. DS focus on helping customers find the problems in product innovation, and through the application of DS V6, the digital experience product innovation platform, dramatically improving the product innovation capability. Bernard indicated that the reason of enterprise realizing globalization has changed from low labor cost to the product innovation ability. Where the enterprise can find more innovation engineers and good innovation culture, international companies will build their R&D and production center there.
With the wide application of product innovation tools, such as SolidWorks, more and more SME get rapid growth with their product innovation skill and could challenge the large enterprises in many ways. Bernard considered that, today's product innovation platform need to support distributed product innovation, collaborating innovation with customers, innovation based on Internet and social network, innovation based on mobility and cloud computing, system engineering at conceptual phase, design and production of composite material, hybrid design of mechanical, electronic and software, and multidisciplinary simulation and optimization. This is actually the target of DS V6 platform. On this platform, all the products are based on the same architecture, which means that SolidWorks will also base on V6. As Bernard said, DS has totally different thought and investing philosophy, and is totally different with other PLM systems. He also indicated that Lifelike experience is the next step of PLM, and  the extension of PLM.
Apple has many cool products and lots of fans. It brings unique user experience, and builds a perfect economic ecosystem. The portfolio of Apple is from PC, laptop, digital audio and video products, cell phone, tablet computers, music downloading, and app store, which become the biggest competition barrier for the competitors. However, with the huge business success, there are also many critics about the openness problem of Apple. Maybe Steve Jobs has the DNA of adventure, so, the competitive strategy of Apple is risky, and could not be copied by the peers. Thus, the strategy of DS is to build a whole platform and application system to support product innovation, and provide total solution including product ideation, design, simulation, manufacture, maintenance and even marketing. Based on the leading brands such as CATIA and SolidWorks, DS want to promote the whole portfolio on V6 platform and build the strong competition barrier. However, based on the reality that enterprises have applied many products from several PLM vendors, the strategy of DS is also aggressive and risky. The key success factor for DS strategy to win is that the customers really love the products of DS and the position can't be replaced. Just as Bernard said at his speech, there isn't USB on IPAD, but for those Apple fans, who care? So, from my observation, DS is really want to be an Apple in product innovation IT area.
Bernard said that 2012 will be a big year for DS. Will DS be a company like Apple, which can get monopolistic competitive advantage? This question is still very hard to answer right now. Maybe the gesture of Bernard at stage is showing the confidence and faith of DS to realize this target.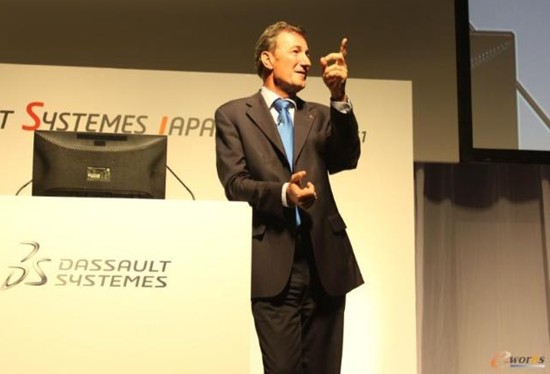 Bernard, to be No.1