Seamlessly integrate automation and information
I interviewed Mr. Ralph Carter, the president of the Rockwell Software Business at the annual event of Rockwell. Bob Honor, Greg Turner and Lei Yang also joined the interview.
Mr. Ralph Carter, the president of the Rockwell Software Business
At the annual event of Rockwell, Rockwell Automation On The Move (RAOTM) and Rockwell Automation University (RAU), I interviewed Mr. Ralph Carter, the president of the Rockwell Software Business which is part of the Architecture & Software reporting segment of Rockwell Automation. Bob Honor, VP of Information Solutions of Rockwell Automation, Greg Turner, Asia Pacific Director of Information Solutions of Rockwell Automation, and Lei Yang, manager of Rockwell Information Solutions China also joined the interview.
Pei Huang: In your view, what's the developing trend of global manufacturing now? How could Rockwell help Chinese manufacturing upgrade and be more competitive on the global market?
Ralph Carter: My view of global manufacturing is that, in North America and Europe, the focus today is still more on efficiency and profitability. The market is not growing very fast right now, so they have to invest more into their bottom line efforts. But in countries like China, India and even Middle East, we can see rapid expansion, so the attitude is around investing for growth and getting more profits.
In this week, Bob, Greg and I met with a senior manufacturing manager of an automotive company, and they will quadruple the numbers of plant they have in China. To allow all of those activities to be successful, they absolutely need our strong MES layer software, such as digital part picking, scheduling and a lot of technologies we have because they are growing so fast. We also have unique model-based optimization technology which could take a software model of the physical process and put it together with automation platform so that we can optimize the process whether it is cement, chemical industry, to reduce the variability, shift the target and that allows huge profit. But the first step is to get a good automation platform, and then you can do optimization and MES.
Bob Honor: More and more Chinese companies are becoming world class manufacturers. MES application is the key for manufacturers to get global competitiveness so that MES application is very hot globally and this trend is exploded now in China. So, Lei Yang is working with many Chinese leading manufacturers now with their MES application.
Pei: How important is the Rockwell Software Business in the whole company?
Bob: For several years, process and information has been highlighted as the major growth initiatives of Rockwell, in which information is a big part. Much of the investment on R&D and commercial expense of Rockwell is on these two areas, and the investment on these two areas has been steadily growing year over year. So, Software Business is the strategic area of Rockwell to improve the capability of the company. Ralph indicated on the conference that the global trend is to realize smart, safe, sustainable manufacturing, and all these are enabled by information solution.
Ralph: Software Business is a key part of Rockwell's strategy. We have many software R&D centers around the world including in Dalian, China as well.
Pei: What's the unique advantage of Rockwell Software Business to service global manufacturing as a part of Rockwell Automation? What's the key value of Rockwell Software Business could provide to the global manufacturers?
Ralph: There are literally hundreds of MES software companies, so the competition is vast. But most of the software companies are small and they just concentrate on one small area. What Rockwell has done both in acquisitions and R&D is to provide a platform so that the modules for MES can plug into going forward. That is our advantage No.1, a nice platform for applications to run on. No.2 is that I don't think any other MES companies have the experience in manufacturing that Rockwell has. We have experts around the world in different industries to optimize the facilities for many years. So we have a good advantage on industry expertise, especially when we are competing with the companies in ERP space, we have not only good technologies but also manufacturing experience.
Greg Turner: In fact, we can provide pure MES functions including 11 major application areas, but our solutions go beyond just MES. We also have HMI, SCADA, process control, real time database and EMI (Enterprise Manufacturing Intelligence) solution, etc. We can tie this solutions together better than anybody else. We call our solution MOM (manufacturing operation management) rather than just MES. We are always the global market leader in this area, with the consolidation of the market.
Ralph: The technologies being put together into a platform is very important. But just hand the technology to customers is not what they need. So, we configure the technology into vertical applications to hit the solutions specifically for different industries. That is also a differentiator between us and most of our competitors.
Greg: We have built industries specific applications for automotive, CPG, life science, food and beverage, etc. So, we focus on solutions rather than just software.
Bob: When we talk with analysts from Gartner, Frost & Sullivan, AMR, ARC, etc, they always pick up on the fact that we developing the platform and providing the industry applications based on the platform, and give us best appraisal. We are really the only one doing that. The platform enables everything, but the applications provide the solutions. And we can add a lot of value?to customers by giving this platform based industry solutions. From the analysts' standpoint, that's a key differentiator of Rockwell.
Lei Yang: If you look at the landscape of Rockwell software, we can provide not only MES, but also EMI, APC (Advanced process control), etc. Besides software, Rockwell also provides integrated architecture. Therefore, compared with pure software companies, we have a very good hardware platform. It's also an advantage of Rockwell Software Business. We integrate hardware and software to provide the value to customers.
Pei: Please introduce the architecture of Rockwell software platform to integrate many plug-in solutions, and to solve all sorts of management problems of manufacturers?
Ralph: The key for our acquisitions and R&D is to continue with the platform. Our technology is based on a single SOA driven platform to serve industry applications, for example, our FactoryTalk ProductionCentre could do real time optimization to help our customer make world-class products at competitive prices; Our Pavilion8 is as an engine and also has modeling and predictive functionality. On these two engines, which are SOA driven platform, we can function with the industries solutions now. Our EMI software could take the data from all of the sources which were ever existed in the plant, we are able to put it into a model and then visualize with dashboards and calculations. So, those are the three main engines that run all of the platforms.
FactoryTalk provides a complete production management solution. We have several FactoryTalk software products that could work together on the SOA platform, and could also integrate with third party software or other automation system. EMI is a subset of BI, and could get and analyze real time production data. We have a couple of very large companies such as Microsoft, would like to partner with us and use EMI tool as the manufacturing plug-in and the data resources for their BI solution.
Pei: In China, there are some discrete manufactures that do not have or only have part of automation production lines but also want to deploy MES, how could they deploy MES?
Ralph: It depends on the situation, you have to look at how much automation is required so that good information comes up from the plant floor, but also there may be to start one or two applications at MES that provides value, so you need to start with very focused applications. Probably you will look more at automation first, then MES more, and then the next level.
Bob: When MES first started 10 or 20 years ago, automation wasn't as extensive as today. But there were many discrete manufacturers, such as electronic manufacturers, semiconductor manufacturers and discrete assembling manufacturers used our MES technology without connecting with any automation system and just connected with barcode reader. They just use our execution engine to capture data manually, and then they can take advantage of the actual production management, the order management and reporting what they get on the MES?layer.
We have very good examples in Chinese high-tech and electronics industry, where they use our MES technology to basically track all the materials they use in producing high volume electronics output with add in forced quality standards. There are also a lot of contract manufactures and specialized electronics manufacturers use our MES software.
Maybe the customers don't have much automation system, but they could still get real benefit from our solutions.
Pei: How does Rockwell work with your partner to meet specific requirement of different industries?
Bob: Our direction is focused on automation and enabling information be used in context. We typically work with our partners to provide applications which are very specific to the manufacturers. There are application requirements across many different industries, so we have developed our partner network to meet their requirements. We can never provide solution 100% fit for every customer, for example, in medical device manufacturing, they need our system to view their engineering drawing, so our partners help us deploy and configure our software for those special applications.
Pei: Many Chinese manufacturers met great problems of deploying ERP. How could they deploy MES better and get real benefit?
Ralph: To make sure the difficulties do not happen at the MES level, there is a big attention that has to be paid to the change management for human and how the operation is going to be different for the employees and workers. With MES, the operation is better but different. So, manufacturers need to have good training for the operators and let them understand why it's happening, and rolling out good training of applications for each of MES modules. Working together with customers and partners to make them understand what the customers are trying to accomplish and how to do it is the key to get real value for both MES customers and MES solution providers.
Pei: Rockwell offers very good total solution, but Chinese manufacturers are very sensitive with the price. So, what's your pricing strategy in China?
Ralph: We look at the applications first and make sure there is a return on investment for the customers. So, we have to be value driven first and then decide our pricing structure. That is actually something we are formulating now with the application verses users.
Greg: I understand that Chinese manufacturers are very sensitive with the price, but they are beginning to see that the low cost solution may only last a few years and they will still have many the problems. Those small MES vendors are very difficult to maintain. So, we are targeting the market aggressively and our Chinese delivery team is working with the customers closely to help them get the real value. The value is based on delivering service around the software. In China, MES application is still at the early stage, so we are building reference with the early adapters, such as Dongfeng Automotive.
We care the price but not so much on the MES software pricing. If you look at the total of a project pricing, we don't see too much of the pricing problem. It's not just the software price but the total solution value. We are very competitive on Chinese MES market.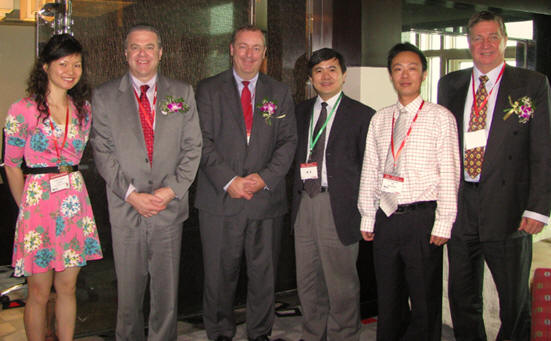 Picture of Pei Huang with Rockwell executives (Mr. Ralph Carter is at No.3 from left side.)
Editor: Sophie Shi ss@e-works.net.cn