End-to-End Connectivity: What It Really Means
Why connectivity's length, breadth and depth are important to PLM, and how to maximize the benefits.
In previous articles on engineering.com, I have focused on the "why" and the "how" of the twelve critical elements for digital transformation. Continuing with that theme, I will focus on the "why" and "how" of end-to-end connectivity in this article.
The term "end-to-end connectivity" can mislead readers into seeing digital threads as primarily linear when they actually are bidirectional. In fact, digital threads are more akin to webs and circular networks, as illustrated below. Threads that are simply linear can never accommodate continuous changes in data, information and their sources, underscoring the importance of the "why" and the "how" of connectivity.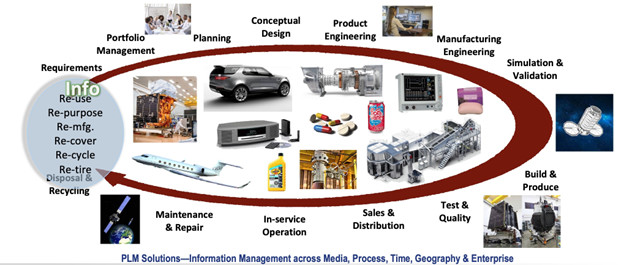 The Circularity of End-to-End Connectivity – This image points to the challenge of depicting enterprise connectivity. Circularity is readily apparent, but dynamism and bidirectionality have to be inferred; just like the breadth of repositories and the depth/granularity of the data and information accessed. (Image courtesy of CIMdata).
Webs and networks are constantly expanding and changing, placing end-to-end connectivity at the core of digital transformation and making it a big part of its payoff. The term "end-to-end" is shorthand for the connectivity of product lifecycle management (PLM), which runs from the initial conception of a product (or any other asset) to what happens to the product or asset at the end of its useful life. In other words, the lifecycle depicts "concept to customer" and back around again—over and over.
End-to-end connectivity enables and enhances digital threads and twins by spanning everything in a product's lifecycle. To maximize its value to the enterprise, end-to-end connectivity must be:
Bidirectional, ensuring that data generated in repairs and field modifications, for instance, will be considered in the requirements for the product's next iteration.
Three-dimensional, because webs and networks also have depth and width. "Depth" is about reaching agreements with "owners" about how deeply connectivity links can reach into repositories, as well as the degrees of granularity that are accessible. "Width" is about reaching ancillary and supplemental repositories wherever they might be located.
Dynamic, to accommodate constant changes permeating through data and its sources, links and feedback loops, while meeting even the newest informational needs of those using digital twins and digital threads.
Transparent, so that decision-makers can verify and validate everything they find in repositories and databases anywhere in the organization, in external Big Data sources such as the Internet of Things (IoT), and all links and feedback loops. In a word, I'm talking about traceability.
Now that I have reprised the "what" of end-to-end connectivity, it's time to look at why connectivity's length, breadth and depth are so important, and how to maximize the benefits of each.


WHY: The Importance of 'End-to-End'
The simple answer to why we should have end-to-end connectivity is that we cannot afford to overlook any information relevant to a new product, service or asset. This is what makes end-to-end connectivity essential for constantly changing digital threads and digital twins. What added up to "everything we needed to know" yesterday will be different from, and less than, what we will need to know tomorrow; that is what dynamic means.
We must work every potential strength into the product, and every potential weakness identified must be designed out. No enterprise wants to see a promising new product turn into a point of attack or a liability in any competitive marketplace.
Most PLM explanations focus on finding, compiling and tracking the information of a new product, service or asset but fail to account specifically for PLM's traceability—its capability to track and help make sense of everything new-product developers need to know. The need for traceability is why end-to-end spans requirements definition, detailed design, engineering design, production, testing and inspection. It also requires feedback from distributors, sales organizations, warranty claims, field service, actual users and even competitors.
PLM developers, users and managers may view this list as oversimplified; data is in many formats and repositories under each of these headings. Some of these repositories will be departmental data stashes ("silos"), while others may be in seldom-used formats. Regardless, they must be identified and connected.
The underlying driver for end-to-end connectivity is the hard reality that today's enterprises are totally dependent on how their data is processed into usable information. Enterprises and organizations quickly come to a stop without reliable data that is easily accessed and quickly processed into contexts vital for timely decisions.
Given that end-to-end connectivity enablement requires PLM, it is noteworthy that the PLM market, which CIMdata tracks closely, grew by 11.1 percent in the 2021 calendar year, as reported in our recent PLM Market & Industry Forum by Stan Przybylinski, CIMdata vice president.
HOW: The Challenges of 'End-to-End'
The challenges of end-to-end connectivity are how best to link people, processes, data and technology across time, geography and organizational boundaries. Some of this should be obvious to developers, so I'm just going to highlight for users and managers some aspects that are easily overlooked—and can become a potential source of friction.
People: People in many workgroups try to avoid "outside" distractions but should be approached for their insights anyway. Pay extra attention to workgroups in tooling and requirements planning as well as workers focused on the final stages of the product's useful life. Field-service techs may argue that they are too busy with yesterday's products to worry about tomorrow's.
Processes: All too easy to overlook are marketplace requirements such as innovations desired by just a few early adopters and once-sought-after features that may now hamper innovation. End-to-end connectivity can help users and managers pin down promising innovations and communicate their value while streamlining ideas for decluttering new products and services as they move toward production and distribution.
Data: Tough data problems such as validation and verification (V&V) can arise when using information gathered from the Internet of Things (IoT) and other online repositories; similar data problems lurk in the data debris cluttering every business-unit repository. Related problems include putting this information into contexts useful for decision making and accessible levels of detail (a.k.a., granularity).
Technology: Complex issues often pop up among new technologies, in new approaches, and in gauging their potential impacts. Especially challenging are artificial intelligence, machine learning, predictive analytics and virtual/augmented reality. Their impact on product development, production and lifecycle support will become inescapable in the coming years.
Each digital thread and digital twin accesses large numbers of nodes, databases and repositories, as well as the cross-links and feedback loops scattered through them. In addition, the need for traceability in end-to-end connectivity means reaching all the tools and systems used in creating new products—a list that varies from one development group to another. A broader list of these connections is in my article Striving Toward the Benefits of Digital Twins.
Connectivity developers must also strive to reach:
Key decision points in the enterprise's supply chain.
Databases in sales, distribution, service, purchasing and warranties.
Enterprise-level systems that manage engineering changes, data configuration and data governance.
Regulatory and industry standards bodies such as ISO, PLCS, ANSI and STEP.
These issues are tackled every day by developers of strategies and software for lifecycle management and product innovation platforms. End-to-end connectivity will eventually span the enterprise, so enlist their help. Expect pushback, too, as end-to-end connectivity will reach into systems and information in other people's areas of responsibility. IT organizations can help with access and permissions but may resist if they feel that end-to-end connectivity might compromise security.
Time is of the Essence
Because data and information are bidirectional and dynamic, what is happening today affects the future as much as everything that happened in the past. A useful analogy is archeology. As any archeologist can testify, newly unearthed relics regularly force us to modify our understanding of ancient civilizations while adding new layers of meaning to the previously found relics.
Other than the frequency and pace of change, what happened to civilizations millennia ago is not fundamentally different from the kinds of changes we see in our data and information every day. Newfound data and information being continually fed into requirements for new products and other assets reinforces the competitiveness of even the most innovative modern-day enterprises.
The past is a prologue for both ancient relics and today's digital realities. Given the furious pace of the 21 st century's global economy and its marketplace disruptions, end-to-end connectivity is not "something good to set up someday"—it's needed now.
In today's enterprises, end-to-end connectivity enables the digital veins and arteries. The lifeblood pulsing through them is data and processes. My next article will cover how best to manage such connectivity, stay tuned here.

About the author
Peter Bilello has more than 35 years of experience in the development of business-enabling IT solutions for research, engineering, and manufacturing organizations worldwide. He has participated in PLM analysis, selection, implementation, and training; CAD/CAM/CAE/CIM implementation and management; synchronous and lean manufacturing consulting; software engineering; and general data management strategy development and support. He has authored numerous papers and research reports on PLM and related topics, and his articles, commentaries, and perspectives have appeared in publications throughout the Americas, Europe, and Asia.