ANSYS: The Power of Pervasive Simulation in the Digital Transformation Era
In the era of digital transformation, what's the power of pervasive simulation? What differences will it make? On July 12, 2018, Dr. Pei Huang attended the ANSYS Convergence Conference 2018 and held an interview with ANSYS CEO Mr. Ajei S. Gopal, who shared his views and insights in the simulation and CAE market: "I'm really excited about the changes that simulation will bring to the manufacturing industry and everyone in and around it." Mr. Barry Christenson, ANSYS Global Marketing Director, Mr. Francis Sun, ANSYS GM Greater China and Mr. Min Tu, ANSYS China Senior Technical Manager also joined the interview.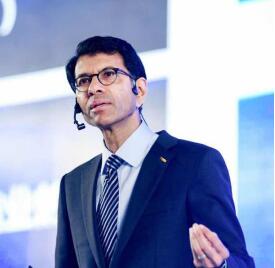 Mr. Ajei S. Gopal, ANSYS CEO
Pei Huang: As the world's largest CAE software vendor, please share your views regarding CAE technology and application trends.
Ajei Gopal:
As products become increasingly complex and more digital in nature, we're seeing growing interest in digital twin technology. Our belief is that product complexity and the demands on manufacturers to speed development and accelerate time to market drives them to think differently about how they build their solutions. Simulation is the one tool they can leverage to meet these demands and create a first-pass prototype. As an example, we can look at Lucid Motors. By adding simulation upfront in the development process and delaying physical prototyping, the carmaker was able to cut cycle time by half and deliver its product to market twice as fast — that's remarkable. I think that the promise of simulation is huge, across many different areas: We haven't seen a single industry where people will not benefit from it. We're also seeing simulation become truly pervasive across the entire lifecycle. With technologies like ANSYS Discovery Live, simulation has been extended from the traditional design phase into the ideation phase. It's becoming more relevant for manufacturing, 3D printing, operations and digital twin applications. In the latter, simulation is continuous — it's no longer a discrete, one-time event. It runs throughout the product's operational lifetime. So we now see simulation employed from ideation through end-of-life, across the entire product lifecycle, in both discrete and continuous applications.
Barry Christenson:
In our space, maybe in any space, non-commodity technologies are valued much higher. I remember back when I started as an engineer, 3D CAD was just coming out into the market, and so was simulation to some extent. Back then, the vision for simulation was building a prototype that could be validated on your computer. This was in the late 80s. The vision for CAD was that once you've designed your product on your computer, you'd send your information to a CNC machine, which cuts your shapes, builds your dies and performs other machining tasks. I think in the CAD world the vision was realized very quickly, and it's why you saw SolidWorks come on board and Autodesk, etc. But when you look at the simulation space, we haven't realized the vision yet, partly because there are so many trends in the market. The pervasiveness of electronics in so many different products keeps pushing the complexity of products. It keeps driving people to do more simulation to solve problems virtually (versus physical testing). So the opportunity for simulation just keeps growing and growing and growing, even as we deliver more complete solutions.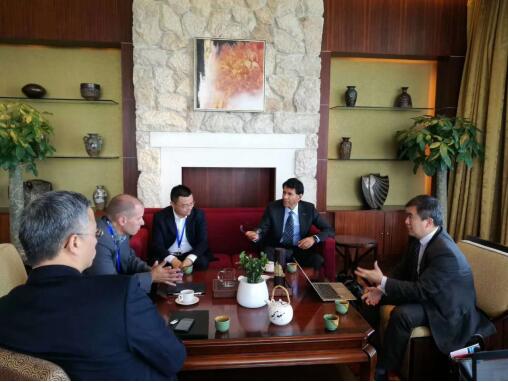 Dr. Pei Huang speaks with ANSYS senior executives.
(Left to right: Mr. Francis Sun, Mr. Barry Christenson, Mr. Min Tu, Mr. Ajei Gopal, and Dr. Pei Huang.)
Pei: Last year, after you became the CEO, the revenue of 2017 grew greatly, about $1.1 billion. So what are the key success factors?
Ajei:
The big picture is that we have fantastic products and the world's best simulation software portfolio. This makes an essential difference, and customers understand that they can build up their businesses using our technology. I think that's one factor.
We also have some amazingly dedicated and talented people around the world. I don't just mean in our R&D organization, but across the organization. We have our dedicated and fantastic R&D people building great products, and we also have a wonderful team working with our customers every day, to help them solve problems. We have people in our sales organization who build relationships with customers and ensure they are successful. We have people in our infrastructure organization who share services that make our company work.
What sets us apart is that our people are not sitting focused on themselves but are, instead, looking at the customer. They care about the customer's success and outcome. We really think this is our main differentiator and mission. When you have great products and your people focus on customer success, the results come. We are just benefiting from the fact that we have great technology and great people.
Pei: You have been the CEO of ANSYS for one and a half years. Under your leadership, what will change with ANSYS and what will not?
Ajei:
We did several things. Some changes we made to the organization involved our go-to-market strategy. We brought some new people on board in IT and adopted methodologies that are very focused on making sure our channel is successful. There were also changes to how we organize our R&D organization and some additional minor changes, but my primary focus is ensuring the clarity of our strategy and execution.
Pei: There are breakthroughs in applications of cloud computing, big data, AI, additive manufacturing, etc. Please summarize the cooperation strategy of ANSYS. How will ANSYS apply these technologies?
Ajei:
We are currently taking advantage of cloud computing. Our customers can run their simulations either on-premise or in the cloud. We are excited about both capabilities. If you look at big data analytics, we've taken advantage of big data to help solve problems in the semiconductor space. The way you should think about it is when you start to advance process analysis from 10 nanometers down to 7 nanometers. The change may seem small but the increasing complexity is dramatic. It's not a linear change, but almost an exponential increase in complexity: You are dealing with an order of magnitude of more data, which you now need to manage. A visual metaphor is that when your try to do a verification, you have a search tree and you must validate all the branches of the search tree. If you are dealing with a search tree with an exponential number of elements, it becomes, from a performance perspective, very hard to deal with. In the case of our semiconductor technologies, what the team is doing is using machine learning and big data analytics tools to allow users to traverse the search tree, so that they can focus efforts on where the simulation needs to be done. In the areas where simulation isn't needed, they can use analytics to traverse the search tree. This way you can get much faster results, so that's just a metaphor to explain what they are doing, and how they're leveraging big data and machine learning. So, we use all these techniques to allow us to be successful in the market and build great products.
Barry:
Some of the things, as you mentioned, are really targets to help manufacturers who want to be lean, have more flexibility and create an agile product development and manufacturing process. ANSYS offers tremendous value with, for example, our additive manufacturing simulation technologies. Additive manufacturing allows people to ultimately produce one optimized product rather than millions of flawed prototypes. Our customers can't afford to go through all the physical testing of many prototypes necessary to validate a single product. Simulation plays a tremendous role in additive and enables manufacturers to be ultra-lean and ultra-agile.
Pei: In the past few years, ANSYS has successfully acquired several companies. How could ANSYS integrate these new technologies into your total solutions?
Ajei:
Acquisition supports our strategy. When we build the corporate strategy, we look at the combination of organic activities, partnerships and acquisitions. Our vision of simulation is that it becomes pervasive, and all our acquisitions are focused on making it more pervasive. Our recent acquisition of 3DSIM affords us a very good technology in the space of additive manufacturing, which is one of the areas we want to expand from a simulation perspective. It filled the gap in our portfolio. Now we have the most comprehensive solution that extends all the way from simulation through manufacturing and across the entire workflow.
With our acquisition of OPTIS, we now have a broader multiphysics offering. The OPTIS solution is particularly relevant for autonomous vehicles and lighting, which are growth areas we identified. We will continue to pursue acquisitions to realize our corporate strategy.
Barry:
You know one thing that really has differentiated ANSYS is that acquisition has never been a source of top-line growth. It's never been the focus. It's really been about integrating the technology. Almost every single acquisition we completed within a year involved some form of solver integration, whether it was exchanging pressures and temperatures between mechanical influences or exchanging forces between electromechanical and mechanical. We absolutely have a very strong platform that allows processes to be created that are multiphysics in nature. It's a huge differentiator in terms of what our post-merger acquisition strategy is about.
Pei: Today, one of your colleagues mentioned SPDM, which is the management software of the simulation data and simulation process. How can you manage the result? How can you help the customer really improve their simulation capability and knowledge and process?
Ajei:
Our philosophy is strategically that we have best-of-breed physics and we want to integrate the physics together on our platform. We want customers to be able to take advantage of our simulation. As they run more simulations, data management becomes more of a challenge because there are more technologies involved. With the integration of technologies, the workflow also becomes a challenge, and so we support them with that too. Our strategy is openness, and I think this is the key differentiation point between us and perhaps the way that some others are thinking about it. If you look at our efforts with respect to SPDM simulation process and data management, it's all about being able to cross multiple backend and data sources to make sure that we can integrate them to give customers access to simulation data when they need it, and to ensure they have the tools and technologies to be able to create ultimate workflows and capture knowledge.
You can take autonomous for example. When you start running and simulating, you need to do billions of miles of virtual road testing. That's a lot of simulation data. That is a very different problem than dealing with storing a system of record.
Barry:
I would say that when you look at the data management piece, especially the integration of data, there is a requirement from customers to be able to document and control their data. Of course, they want to do that as a means of transferring knowledge from one generation to another. I think we also add a unique value. We have a lot of examples of how our work with tens of thousands of customers around the world teaches us smarter ways to do things based on what our customers' processes are, and we're constantly integrating new intelligence into our products.
One thing you can see in the simulation world is there is a lot of intensive in-process data that has been created. It's changing frequently as the design is being optimized. If you store all of that data in the PDM system, you will fill up your disk very quickly. So, you really have to focus on that. EKM was designed to be a solution for in-process simulation data workflow through a federated data model. So, you don't have to move everything to one location. You can collect and collaborate around the world regardless of where the data have been generated. It doesn't follow the standard bill of materials structure that's in a CAD system, because in SPDM systems, it's less-structured.
Tu Min:
From my point of view, ANSYS is focusing on engineering simulation. We wanted to solve the problems our customers meet in the simulation world. First, customers have to manually get data from their computers, process it over there and then write their report somewhere else. We want to help them to simply this kind of problem. Second, they have a lot of data to manage. This kind of data should keep the transitivity in the design and testing, which is also a challenge. Third, customers will find a lot of knowledge inside this simulation work. So, if they really want to adopt simulation and to realize its enterprise value for reducing NPI time, optimizing product performance or improving asset management, they'll need something like a simulation environment to support this kind of requirement. That's why ANSYS wants to evolve our EKM into SPDM and support our customers' future needs.
Our simulation environment must be open, and we don't expect that one customer can just use simulation tools from ANSYS. It should be interoperable with other enterprise systems. Of course, you must have very good data management, configuration management, lifecycle management and workflow management capabilities. With all of these requirements fulfilled, we can create a good simulation environment to facilitate the job of engineering and help the management team keep the visibility on the simulation team.
Pei: I think everyone will be excited about Discovery Live, it builds an integrated CAD and CAE environment, and I think it is a disruptive innovation. Please share your view about Discovery Live.
Ajei:
I think the really interesting thing about a breakthrough product like Discovery Live is that it will attract new users. People will start to use simulation and "play" with it like a video game. We've had situations where people (that would never have otherwise used ANSYS technologies) downloaded Discovery Live and used it to solve interesting problems. Discovery Live helps new simulation users solve their problems right away, without first learning all of the technical foundations of simulation.
The second thing is that within large organizations we need to provide tools for engineers less experienced in simulation, who can contribute in the ideation phase and free up the senior engineers to do more complicated analyses.
The third use case is that you've got expert engineers that may not have the expertise to choose which design to explore first. Discovery Live can provide direction, and with the continued use of its tools, the engineer can become an expert user.
Barry:
I'd add that although someone starts out as novice (whether they've never used simulation or need to be guided through the simulation process), he or she can become an expert user. Discovery Live is a great way for people to start to understand the value of simulation. As their skills develop and/or their needs develop further and become more complex, they can absolutely become users of more advanced ANSYS simulation tools. They are not meant to be exclusive in any way; they are meant to be used in parallel.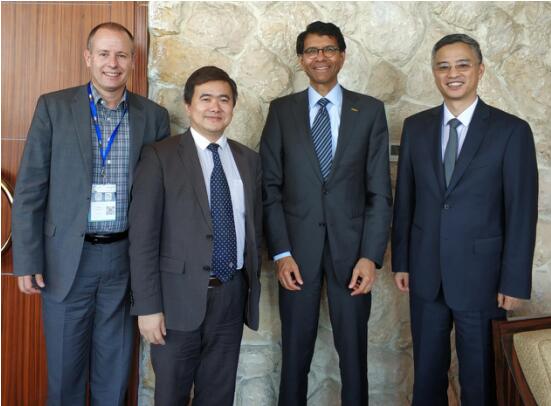 From left to right: Mr. Barry Christenson, Dr. Pei Huang, Mr. Ajei Gopal, and Mr. Francis Sun
For Chinese version of this article please click here.