China advances new drug innovations
Pharmaceutical companies invest in R&D to enhance competence, expand international presence
Thanks to their much-improved innovation capabilities, Chinese pharmaceutical companies, especially those focusing on innovative medicines, are playing an increasingly important role in global new drug development, according to experts and business leaders.
A most recent case is an out-license agreement settled between Chinese biopharmaceutical company Harbour BioMed, or HBM, and UK company AstraZeneca earlier this month, for a novel drug candidate known as HBM7022.
Currently in the preclinical stage, the molecule cross-links tumor cells and T cells by targeting a specific tumor-associated antigen and a protein complex and thus leads to potent T cell activation to fight the tumor.
According to the deal agreement, AstraZeneca will be granted an exclusive global license for the research, development, registration, manufacturing and commercialization of the drug candidate and shall be solely responsible for all costs and activities associated with its further development and commercialization.
HBM shall receive an upfront payment of $25 million with the potential for additional payments up to $325 million pending the achievement of certain developments, and regulatory and commercial milestones. HBM is also eligible to receive tiered royalties on net sales.
Wang Jingsong, founder, chairman and CEO of HBM, said the drug candidate is one of the company's representative innovative bispecific antibodies generated from its self-developed antibody development platform called HBICE and has significant potential value on a global basis.
A bispecific antibody is a molecule designed to recognize two different antigens or two different epitopes on the same antigen to treat tumors and other diseases and therefore is widely believed to have superior clinical therapeutic effects compared with traditional monoclonal antibodies.
Analysts said due to changes in the regulatory and market environment in recent years, Chinese pharmaceutical companies have had to build up innovation and R&D capabilities for better development, which has enhanced their competence in global markets.
Those changes include lower market tolerance for low-end generics, faster new drug review and registration processes, a stronger play of market mechanisms and fiercer domestic market competition even among innovative drugs.
They predict China's pharmaceutical companies are expected to have a greater presence in global new drug research over the next few years.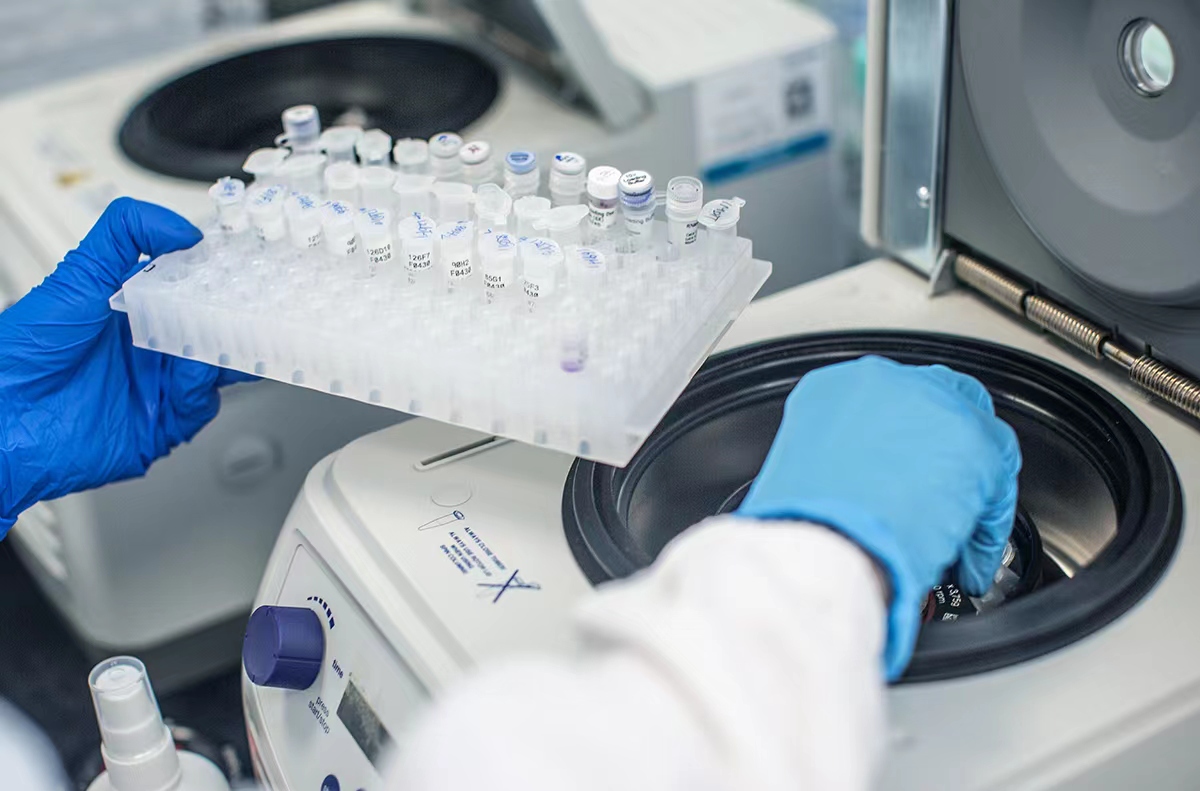 A technician extracts active proteins in a laboratory at Harbour BioMed in Shanghai. Chinese companies are making greater contributions to global new drug development. [Photo provided to China Daily]
"China's medicine reforms in recent years have been pushing Chinese companies to increase investments in new drug R&D and innovation to enhance product portfolios, instead of simply profiting from the production and sales of low-quality generics," said Shi Lichen, founder of medical consultancy Beijing Dingchen Consultancy.
"Their innovation and R&D capabilities have been on the rise very fast," he said.
Data from the IQVIA Institute for Human Data Science showed China's share is already 13 percent of all next-generation oncology bio-therapeutics. China-headquartered companies are estimated to be developing 18 percent of all early-stage oncology drugs, up from 6 percent in 2015.
According to Pharmacube, a consultancy focusing on the healthcare sector, Chinese pharmaceutical companies achieved 53 out-license deals with foreign counterparts in 2021, in contrast with 39 out-licenses from 2017 to 2020. A total of 23, or nearly half of the out-license deals last year, were on innovative medicines or candidates.
Those deals include Chinese enterprise BeiGene's two anti-cancer asset out-license agreements with Novartis, which were respectively worth up to $2.2 billion and $2.9 billion.
Liu Jianhong, an analyst with Shanxi Securities, said after years of efforts, China has established a pharmaceutical innovation ecosystem up to global standards to some extent, which enables domestic enterprises to go global more readily, while fierce competition in the domestic market also drives local enterprises to go global for more market returns.
Strengthening investments and R&D to produce not me-too, but rather me-better, best-in-class and even first-in-class drugs have now become a trend in the domestic pharmaceutical industry, Liu said.
According to Wang with HBM, the company is capable of designing unique and novel formats of antibodies, including bispecific and multispecific antibodies.
HBM aims to exponentially enhance the clinical efficacy and safety of these drug candidates which are unachievable by combination therapies, and aspires to lead the next wave of immunotherapies in oncology and immunology, he said.
Susan Galbraith, executive vice-president of oncology R&D at Astra-Zeneca, said the company is excited to enter into the agreement with HBM.
The HBM7022 is designed to harness the body's immune system's T cell response, with potential for strong efficacy across solid tumors, including gastric and pancreatic cancers, both of which comprise large populations of patients with major unmet medical needs, she said.