2021 CIMdata PLM Market & Industry Forum takes an in-depth look at post-epidemic PLM market
CIMdata recently hosted 2021 CIMdata PLM Market & Industry (China) Forum.
CIMdata, the leading independent global strategic management consulting and research authority focused exclusively on PLM and the digital transformation, recently hosted 2021 CIMdata PLM Market & Industry (China) Forum. Based on the theme"Resilience in the Face of Crisis: Bouncing Forward", the virtual forum took an in-depth look at post-epidemic PLM market and released CIMdata's 2020 global PLM market analysis results.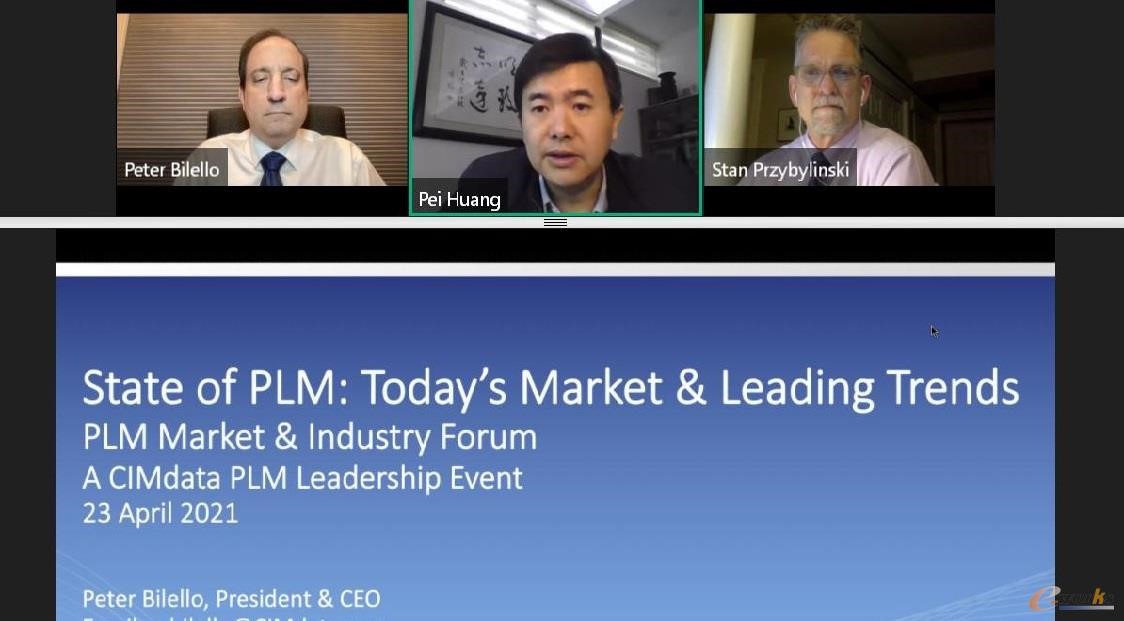 Last year, COVID-19 had differential impacts on PLM segments, but overall, PLM economies had shown strong resilience. CIMdata predicted that the overall PLM market growth for last year was up 3.46% to US$53.3 billion, higher than the previous expectation of -1.7%.
According to CIMdata's forcasts, the overall global PLM market was up 3.46%, falling short of CIMdata's forecast of 8.6%. Among which, cPDm sector at US$17.4B (up 7.2%) with software grew a bit faster than services, tools sector at US$33.1B (up 7.7%) led by AEC, Other Tools and Simulation growth, and digital Manufacturing sector at US$886.5M (up 8.6%).
In 2021, CIMdata once again executed its comprehensive PLM Status & Trends survey. Almost 60% of respondents have more than one PLM solution and have been working on PLM for more than 10 years.
Some positive figures are consistent with the conclusion that the PLM market will continue to grow. Nearly 52% of respondents' annual PLM budget are more than US$1 million each year. It was 58% in 2020 and 43% in 2019. 82% of the respondents' PLM spending are remained the same or increased compared with two years ago. 51% of respondents will increase the PLM budget for the next two years, compared with 42% last year during the COVID-19 outbreak.
In terms of business scope, short-term PLM investments are heavily weighted towards the "traditional" areas, such as engineering data management and change management. Mid-term spread across traditional & non-traditional areas such as simulation analysis and digital twin. Long-term non-traditional areas like product architecture and digital asset management. On the whole, the pandemic had little impact on PLM investment, and even accelerated the investment on digital technology to some extent.
From segment, EDA and ALM respectively grew by 10.4% and 7.6%, and simulation & analysis also maintained a 4.2% growth. cPDm comprehensive segment was up 4.3%, and cPDm focused applications segment was up 3.9%. The digital manufacturing segment was down 6%, the MCAD-multi discipline segment was down 2.2%, and the Non-bundled CAM was down 6.3%.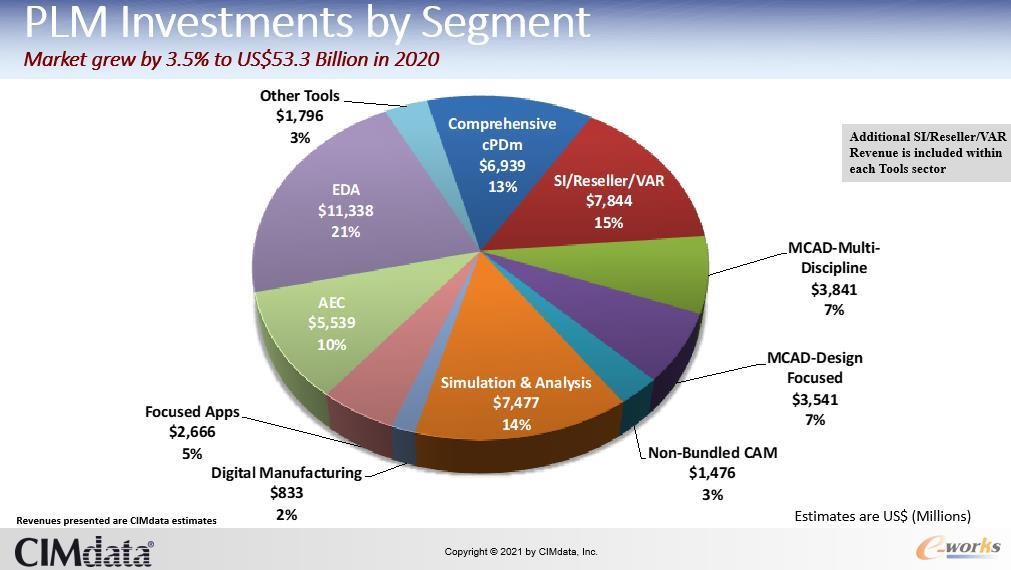 EDA, ALM, and simulation & analysis still had a strong growth. Autodesk and PTC license model transition affects certain segments.
From the perspective of M&A, although there are no major mergers and acquisitions in 2020 that affect the conclusions of the report, there are still some noteworthy:
Autodesk continued their AEC build out with Pype and Spacemaker; Dassault Systèmes tucked-in Proxem and NuoDB; PTC acquired Arena Solutions; Altair made 5 acquisitions, including newFASANT, S&WISE Co. Ltd., Univa, Ellexus, and M-Base Engineering + software GmbH; Ansys added two companies, including Lumerical and Analytical Graphics, Inc. (AGI); AVEVA acquired MESEnter and OSIsoft. What is worth mentioning is that Hexagon added 11, including Romax Technology, MECADAT AG, CAEfatigue Limited, and DP Technology.
"102 acquisitions were tracked by CIMdata in 2020, which was only slightly down from 109 in 2019, so COVID-19 has not slowed the PLM mergers and acquisitions in 2020. PLM vendors must remain focused in order to succeed in a competitive and challenging environment. 2020 was a challenging year, but opportunities abound," said Stan Przybylinski, CIMdata Vice President.
For the development trend of PLM industry in the post-epidemic era, CIMData predicted that:
First, the shares of service revenue in cPDm market will continue to decline due to the adoption of cloud technology, reduced demand for services due to packaged solutions, and changing service models required by customers.
Second, M&A will be a normal. Many PLM vendors hope to develop broad PLM platforms, and address new industries and geographies through M&A.
Third, increase in subscription revenue would provide a backstop in some segments.
Fourth, in the post-epidemic era, the PLM sales interactions will be both online and offline with more flexible workplaces. Manufacturers faced some of the same challenges in their businesses, and also increasingly had to rely on new technology to support their instantly remote workforce.
Fifth, many companies sped up their plans for digital transformation, such as the adoption of cloud, machine learning, AI, digital twin, MBE BOM, and TDA to rapidly support changing business needs.
For most, the resilience in PLM economy demonstrated has been impressive. CIMdata believes the market still has a lot of potential.