Dassault systemes, born with Innovation DNA in experience economy
On June 7th-8th 2016, Dassault Systemes hosted its two-day annual global analyst conference in Paris.
On June 7th-8th 2016, Dassault Systemes hosted its two-day annual global analyst conference in Paris. 25 analysts from 10 countries gathered in Dassault Systemes headquarter, communicating the latest technology development, industry trends and future strategic initiatives with Dassault Systemes executives. This is my first time to visit the Dassault Systemes 3DEXPERIENCE center and experience its latest 3DEXPERIENCE technologies and research projects.
Digital iceberg, smart city, Solar Impulse, driverless car and living heart, Dassault Systemes plays an important role in these world-changing innovation projects. At the analyst conference, Bernard Charlès, CEO of Dassault Systemes described their vision: Dassault Systemes is not only an innovative company, but also is helping the world to become innovative and making products, nature and life to achieve harmony.
Innovation and growth
Benefiting from IT technologies, human society is moving from the service economy towards experience economy. Usually, 'experience' is regarded as a part of service,but in fact it's a kind of economic goods. People buying products are not only for its use value but also for a better user experience, which includes both purchasing experience and use experience.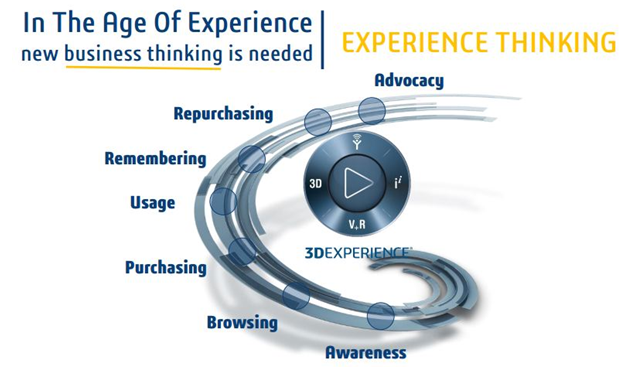 Experience economy requires new business thinking
Since the birth of 3DEXPERIENCE platform, Dassault Systemes' development strategy is further differentiation-- to make 3D technology penetrates deeply in people's lives. For many years, Dassault Systèmes has been committed to providing a complete and perfect 3DEXPERIENCE environment for virtual design, simulation, manufacturing, operation, maintenance, services and experience. The aim is to let the R&D, process, manufacturing, and services employees fully consider the future product performance in the field during its development and manufacturing process. It largely ensures product with high quality, cost-effectiveness, reliability and environmentally friendly and users with better experience. By doing so, Dassault Systemes are helping customers create business value and improving their product innovation capabilities.
Dassault Systemes' "Innovation DNA" is different from that of Google, Apple and Tesla. It prefers to offer 3D technology to inspire people to explore internal relevancy between innovation and 3D technologies so as to make innovation becomes achievable. As Bernard Charlès said, innovation is the DNA of Dassault Systemes. It also makes Dassault Systemes maintain a steady growth.
It's been 20 years since Dassault Systemes listed on NASDAQ. A set of data can show its growth: in the past 12 months, its Nasdaq index increased by 7% while its share price reached a 45% growth; in the past five years, the Nasdaq increased by 78% and shares achieved a 148% growth; in the past 20 years, Dassault Systemes share price reached a 1048% growth.
Thibault de Tersant, SVP and CFO of Dassault Systemes reviewed their performance in last fiscal year. According to him, Dassault Systemes achieved double-digit growth in fiscal 2015, including revenues, receivables and EPS. Thibault believes that it is the sustained and healthy cash flow that enables Dassault Systemes to actively make R&D investments and acquisitions.
By geography, North and South America achieved double-digit growth. Despite the economic slowdown in Europe and Japan, both regional markets still achieved double-digit growth. Asia-Pacific region still maintained a strong growth.
By customer types, Dassault Systemes offers three kinds of channels (BT,VS,PC) for three different type of customers. Large enterprise customers business achieved double-digit growth. Besides, its license revenue growth also achieved double-digit.
By industry sectors, Dassault systemes expanded largely in new industries in last four years, including life sciences, consumer-packaged goods, energy, and marine and offshore industry. Bernard Charlès noted that although Dassault Systemes focused on these new industries for a short time they grew very fast, which has contributed 30% of revenues currently.
M&A and heavy investment
Dassault systemes has been keeping promoting its 3DEXPERIENCE in the past few years. In fact, Dassault systemes has largely strengthened its Digital Twin capacity in industrial field, helping enterprises connect the real world to the virtual.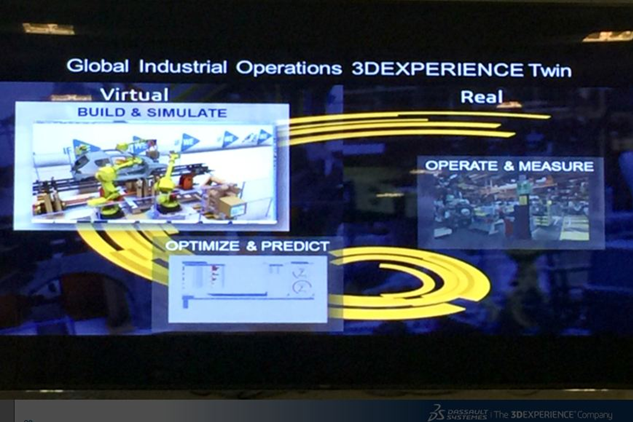 Dassault Systemes committed to 3D Virtual Experience Twin
In April 2016, Dassault Systemes demonstrated its integration capabilities of physical and virtual in Claas agricultural machinery case at Germany Hannover MESSE.
In 2013, Dassault Systemes invested a $ 205 million acquisition of US MES software vendor APRISO, achieving a direct mapping between virtual and real manufacturing; in 2014, Dassault Systemes invested a € 250 million acquisition of supply chain management and operations planning and optimization software provider QUINTIQ, further enhancing the supply chain as well as the overall operational planning and optimization capabilities. Just a few days before the analyst conference, Dassault Systemes acquired a French manufacturing operations management company Ortems to further consolidate manufacturing planning and production scheduling capabilities. The acquisition of Ortems can add to Quintiq supply chain planning and optimization features as a complementary to Apriso to bring customers better experience.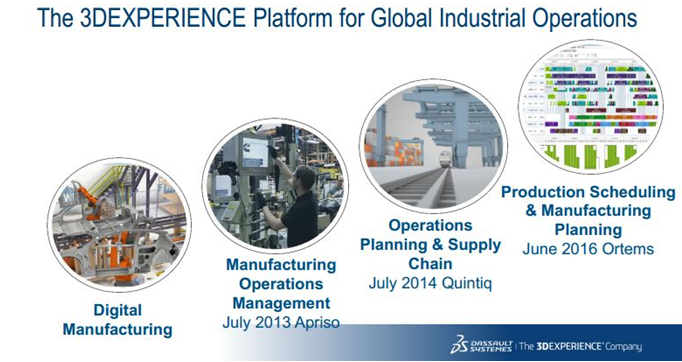 With Apriso, Ortems and Quintiq acquisition, Dassault Systemes improves the capacity of manufacturing execution management
Before the two acquisitions, Dassault Systemes' 3D virtual technology is already powerful but products of manufacturing execution and operation planning and management are lacking. With the addition of APRISO and QUINTIQ, Dassault systemes greatly enhanced Delmia solutions and achieved closed-loop management from virtual to real products. Guillaume Vendroux, CEO of DELMIA showcased the latest solutions and mentioned that besides powerful functionalities of process simulation, process design, process planning, and process management, the results can be transmitted to the Delmia Apriso thus extends to the supply chain management.
During the analyst conference, Korea Doosan Group, a global engineering machinery industry leader introduced their application of 3DEXPERIENCE platform and model-based enterprise (MBE). In the 3DEXPERIENCE platform, Doosan machinery realized modular design and enabled highly configurable products. Easy-transferring is also considered in the design process so equipment can be folded during transportation, which greatly saves the space. Other optimizations include weight reduce of key parts through the application of topology optimization, carbon fiber and additive manufacturing technology; systems-engineering-based systemic optimization; product-configuration-based engineering mechanical management, which can feedback customer needs to early design process; manufacturing execution management and digital factory enabled by Delmia Apriso, which achieves a true fusion between the virtual and real products.
Under the background of US IoT strategy, German Industry 4.0, and Chinese intelligent manufacturing initiative, Dassault Systemes, as a French company maps out its strategy to take 3D technology as a breakthrough, building a digital twin system through continuous acquisitions and closed-loop management from 3D design to virtual simulation and to manufacturing execution.
During the analyst conference, I noticed that Quintiq appeared at a very high frequency. In Dassault Systemes 2015 earnings, there are two business revenues exceeded the growth of 45%, one is Quintiq, another is Accelrys, which was incorporated into the BIOVIA brand, focusing on biological, chemical, and materials industries.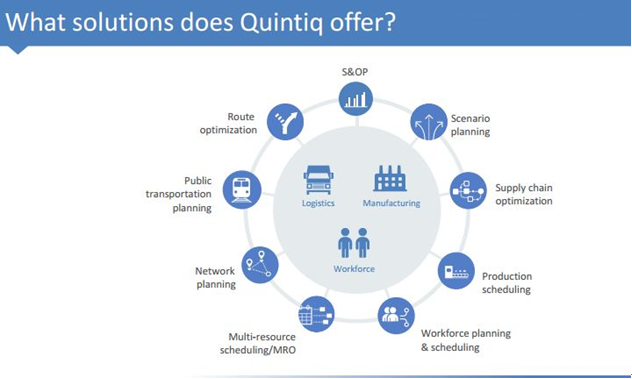 Quintiq performed very well in 2015 fiscal year with 45% growth
Pascal Daloz, Vice President who is responsible for acquisitions strategy of Dassault Systemes said, "all the acquisition cases of Dassault Systemes have a very clear logic. All the acquisitions will serve a purpose we set - -to provide a virtual 3D world before the customer create a real product. You could use our technology to experience all the process from product design to product use."

As Pascal Daloz said, through more and more acquisitions Dassault Systemes has been successfully transformed from an original PLM vendor into a 3DEXPERIENCE company, and this transformation makes the potential service market more than doubled.

Dassault Systemes and Chinese market

Another thing impressed me at the conference is that Chinese market and Chinese customers were frequently mentioned. For example, Olivier Ribet, Vice President of High-tech Industry has mentioned the case of Xiaomi Tech for several times. Shanghai Municipal Engineering Design Institute (SMEDI) appeared more than once in the AEC industry case. Monica Menghini, Dassault Systemes Chief Strategy Officer also highlighted the cooperation with Cybernaut in Chinese market.

Cybernaut is a science and technology investment company. It is the first time Dassault Systemes cooperating with an investment company. The two companies will partner in smart city in China. It is expected that in 2016 the two companies will promote 3DEXPERIENCE projects in over 20 cities, including Beijing, Shenzhen, Hangzhou, Wuhan etc. to help Chinese urban services transformation via 3D technology.

Virtual Singapore is a similar successful projects that one can learn from. Virtual Singapore leverages Dassault Systemes 3DEXPERIENCE City and assembles and analyzes data that already exists in dozens of government agencies, plus new data collected in real time from smart phones, cameras and sensors, to model and predict solutions to the emerging and complex challenges Singapore faces. Displayed in the context of a virtual 3D model of the city, Virtual Singapore will enable city planners to test various responses to everything from population growth and resource management to public events and building patterns, and implement those that create the safest, most positive experiences.

Dassault Systemes executives says that although China's GDP growth has slowed down during the past two years the overall momentum is still very strong. China has been the first big car country for seven consecutive years, the largest shipbuilding country for six consecutive years, the largest railway country, and the first major nuclear power country.

Bernard Charlèsis is also very familiar with the important strategies in China: smart city, Chinese Manufacturing 2025 and the Belt and Road initiative. Of course, the implementation of these initiatives requires a strong driving force of science and technology. This is also an important reason for Dassault systemes' fast growth in China.

In the 12 industry solutions provided by Dassault Systemes, there are more than 20,000 customers in Chinese market. This is the advantage of Dassault Systemes but also brings challenges.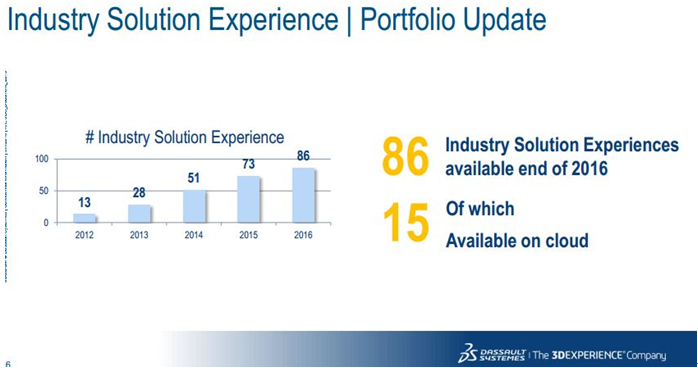 Cloud technology will become a new growing market in the China
To unleash the potential of 3DEXPERIENCE platform, Dassault Systemes need to promote wider application of cloud technology. In fact, Dassault Systemes has been actively engaged in this market for over the past few years. Until now, Dassault Systemes has launched 86 industry solutions, of which 15 can be delivered to the cloud. But in Chinese market, the IT application level and acceptance of cloud technology is far behind the international advanced level, which means that Dassault Systemes needs more education and patience for Chinese market in order to achieve greater success.